NEXT STORY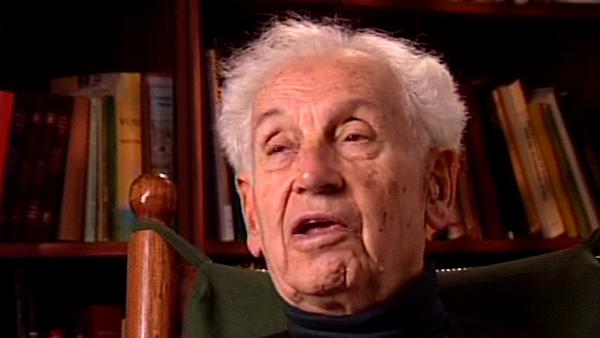 A history of the basic concepts in the field of biology
The development of new concepts in biology
1
...
11
12
13
14
15
The really important thing in biology and in the progress of biology, the advance of biology, was the development of new concepts and the role these concepts played in opposing preceding concepts and preceding opinions. And I had started working on a book on this subject right after I had resigned from the directorship of the MCZ [Museum of Comparative Zoology], in other words around 1970. I'd gone to Tübingen in Germany in 1970, and again to Würzburg in 1977, working very industriously on the history of biology and particularly on a new kind of history. Mine was not going to be a descriptive history of everything that happened, whether it was important or not, but mine was very clearly, as the title of the book that I published in 1982 says, The Growth of Biological Thought. I'm tracing what we think and believe about the living world now, I'm tracing that backward to its roots and anything that happened at the same time in the year 1800 that had no connection with these future developments I'd simply leave unmentioned. Now this has been sometimes criticized as 'whiggish' as the term is among the historians. Whiggishness refers to the fact that the certain types of… of historians have presented British history, everything that was good in British history was due to the Whig party and everything that was bad in British history was the fault of the Tories. And this kind of biased one-sided history has been referred to as whiggishness in history. And we have whiggishness in history of science also when, for instance, let us say Lamarck is criticized for… having believed in an inheritance of acquired characters; that is straight whiggishness because at his time everybody believed in this and it is not something to be criticized. On the other hand, to show where Lamarck fitted into the growth of modern thought and devoting quite a bit of time and discussion to Lamarck is not whiggishness, because he is looked at… he is part of the growth of the biological thought and we must understand his period in order to be able to understand what happened after Lamarck and what happened after the people that were after these people. So, I have always defended a historical view of the development of things and I do not consider it whiggish unless I make unfair criticism of… of people in the past for not having known what we now know. We have to judge them on the basis of the knowledge that was available at the particular time. For instance, Darwin never understood variation, genetic variation. Well, we can't criticize him for that, genetics didn't exist at that time, molecular biology didn't exist at that time, how could he have known these things? So I had to make this remark about whiggishness because certain people have used the word whiggish in a very incorrect and even unfair way.
The late German-American biologist Ernst Mayr (1904-2005) was a leading light in the field of evolutionary biology, gaining a PhD at the age of 21. He was also a tropical explorer and ornithologist who undertook an expedition to New Guinea and collected several thousand bird skins. In 1931 he accepted a curatorial position at the American Museum of Natural History. During his time at the museum, aged 37, he published his seminal work 'Systematics and Origin of the Species' which integrated the theories of Darwin and Mendel and is considered one of his greatest works.
Title: The development of new concepts in biology
Listeners: Walter J. Bock
Walter J. Bock is Professor of Evolutionary Biology at Columbia University. He received his B.Sc. from Cornell and his M.A. and Ph.D. from Harvard. His research lies in the areas of organismal and evolutionary biology, with a special emphasis on functional and evolutionary morphology of the skeleto-muscular system, specifically the feeding apparatus of birds.
Tags: Museum of Comparative Zoology, Harvard University, 1970, Tübingen, Germany, Würzburg, 1977, 1982, The Growth of Biological Thought, 1800, The Whigs, Conservative Party, Jean-Baptiste Lamarck, Charles Darwin
Duration: 3 minutes, 57 seconds
Date story recorded: October 1997
Date story went live: 24 January 2008