NEXT STORY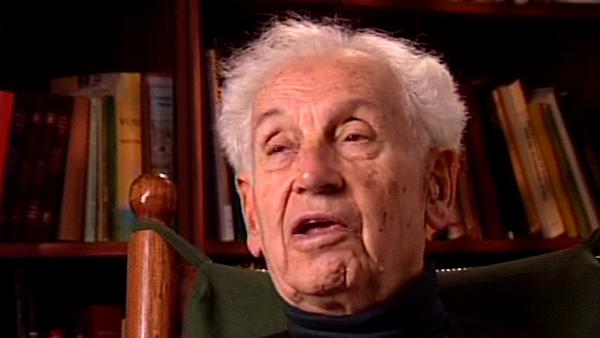 Joining the Whitney expedition
Mass baptism at Snake River valley
1
2
3
4
5
...
15
I will not give you all the details of my explorations in... in the Mandated Territory. I climbed the highest mountain there, just about a... a few feet below 4000 metres. I had very severe malaria while I was there in that area, and finally went to another mountain range, the Herzog Mountains where I was without my Dutch New Guinea assistants, all alone. And fortunately there was a German missionary who was taking care of me and was very nice, and he said, 'You're very lucky because in this valley', – this was the Snake River valley – 'I'm going to have a big christening one of these days. For three years we have been teaching the natives... the... all... all about... Christendom and they are all prepared now to be baptised. This will take place next week and there's going to be great festivals and all sorts of things. You will be most excited'. Well, the actual teaching Christianity to these people had been done by native missionaries from the coast. They were Melanesians, great big tall fellows with a fuzzy-wuzzy head and only a... a red loin cloth, they didn't wear anything else, and they had taught these mountain Papuans. And so that went through two languages, and finally the day came and they had put up a platform and a great big sort of like a circus tent where the... all the people sat that were to be christened, and I sat on a platform together with the German missionary and the Melanesian missionaries. And they gave big sermons and all that, and all of a sudden the German missionary turns to me and he said, 'Oh, these people all want now a sermon from you'. And I said, 'Well, what can I do?' He said, 'Oh', he said, 'It doesn't matter, just say something in German, I will do the translating. Nobody here knows any German'. So naturally I had to get up and say something that would please the missionary, so I gave a little sermon that I'm sure didn't take more than five minutes, that they should behave like the good Christians now and not fight with each other and not steal and not... and keep a nice clean village and few other proper sentiments. After that the German missionary got up and he translated that into the Melanesian of the coastal people, of the coastal missionaries, and of course he presented it with the proper gestures of a... of a minister... of a preacher, and it lasted at least 10 minutes. And then got up one of these Melanesian coastal missionaries who now translated my sermon into the native language of the valley out there. And he got up and he jumped up and he stamped the platform with his heels and he yelled at them in the loudest tones and the whole thing lasted about 20 minutes, and I would give anything in the world if I had the actual translation of my sermon into that language.
The late German-American biologist Ernst Mayr (1904-2005) was a leading light in the field of evolutionary biology, gaining a PhD at the age of 21. He was also a tropical explorer and ornithologist who undertook an expedition to New Guinea and collected several thousand bird skins. In 1931 he accepted a curatorial position at the American Museum of Natural History. During his time at the museum, aged 37, he published his seminal work 'Systematics and Origin of the Species' which integrated the theories of Darwin and Mendel and is considered one of his greatest works.
Title: Mass baptism at Snake River valley
Listeners: Walter J. Bock
Walter J. Bock is Professor of Evolutionary Biology at Columbia University. He received his B.Sc. from Cornell and his M.A. and Ph.D. from Harvard. His research lies in the areas of organismal and evolutionary biology, with a special emphasis on functional and evolutionary morphology of the skeleto-muscular system, specifically the feeding apparatus of birds.
Tags: Mandated Territory of New Guinea, New Guinea, Snake River
Duration: 3 minutes, 25 seconds
Date story recorded: October 1997
Date story went live: 24 January 2008