NEXT STORY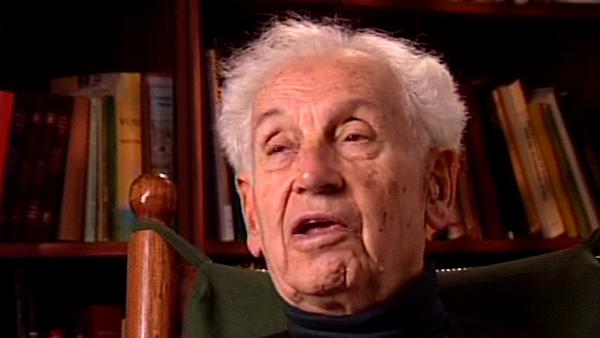 Distinguishing Darwin's many theories
Publishing a facsimile of the first edition of On the Origin of Species
1
...
11
12
13
14
15
One of the things that most people don't realize, in fact some people have even denied, was the conceptual achievements of Darwin. For instance, even such a usually insightful person like George Gaylord Simpson stated, 'Darwin was no philosopher'. Well, Darwin was one of the greatest of all philosophers, but that wasn't recognized when Simpson made that statement in about 1964. I felt that The Origin, particularly the first edition of… of 1859, was too much neglected and the reprints didn't keep the same paging so you couldn't refer to Darwin's original statements. So, I persuaded Harvard University Press in 1964 to publish a facsimile edition of the first edition. And since I had just published the, with Harvard Press, the highly successful Animal Species [and Evolution] in order to… to oblige me they said yes, they would publish such a facsimile edition. Well, it has been selling ever since. In fact, I think last year it sold in one single year 2200. It's been… Darwin's Origin has been one of the most successful books that Harvard Press has ever published and I get 5¢ per copy for my foreword, the new foreword I wrote, and so I am being enriched by courtesy of Charles Darwin.
The late German-American biologist Ernst Mayr (1904-2005) was a leading light in the field of evolutionary biology, gaining a PhD at the age of 21. He was also a tropical explorer and ornithologist who undertook an expedition to New Guinea and collected several thousand bird skins. In 1931 he accepted a curatorial position at the American Museum of Natural History. During his time at the museum, aged 37, he published his seminal work 'Systematics and Origin of the Species' which integrated the theories of Darwin and Mendel and is considered one of his greatest works.
Title: Publishing a facsimile of the first edition of "On the Origin of Species"
Listeners: Walter J. Bock
Walter J. Bock is Professor of Evolutionary Biology at Columbia University. He received his B.Sc. from Cornell and his M.A. and Ph.D. from Harvard. His research lies in the areas of organismal and evolutionary biology, with a special emphasis on functional and evolutionary morphology of the skeleto-muscular system, specifically the feeding apparatus of birds.
Tags: 1964, The Origin of Species, 1859, Harvard University Press, Animal Species and Evolution, Charles Darwin, George Gaylord Simpson
Duration: 1 minute, 49 seconds
Date story recorded: October 1997
Date story went live: 24 January 2008