NEXT STORY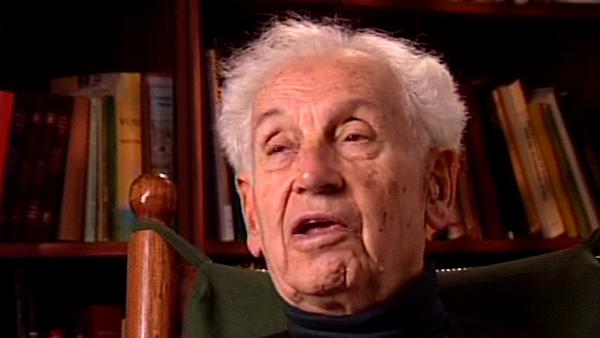 My only regret
My many honors and awards
1
...
11
12
13
14
15
I indeed have received many honors and I cherish them all, particularly because always there were some friends of mine or some people that admired my particular way of doing things that lay behind it and so I feel not only honored but I also feel very pleased by this personal interest of my friends. Now, let me take up individual honors. There're two honors, for instance, that will last beyond my lifetime. One is that the library… the absolutely marvelous natural history library that was founded by Louis Agassiz of the Museum of Comparative Zoology at Harvard has been named the Ernst Mayr library. And even after my death this will be a reminder of my activities at the Museum of Comparative Zoology. And I've just returned from Berlin in Germany where the Berlin-Brandenburg Academy of Sciences [and Humanities] together with the Wissenschaftskolleg founded a permanent lecture series to be called the Ernst Mayr Lecture, and that was a great pleasure for me to be able to give the first of these lectures. These are all to be devoted to the bio-sciences and they will continue year after year, it's an endowed lectureship to honor me, and that of course has tremendously pleased me. Now, of course I could say now the first honor that I ever received I was very fond of and I still am in a way, and that was the Leidy Medal of the Academy of Natural Sciences at… in Philadelphia. Among the honorary degrees I couldn't make any particular choice because there were so many very distinguished institutions involved like Cambridge [University] and Oxford [University] and Harvard [University] and the… [University of] Paris and Uppsala [University] and the oldest university in the world, [the University of] Bologna. And I cannot make any choice. What in a way pleases me and makes me very proud, and I probably shouldn't be, is that I am an honorary fellow of the five oldest academies of the world, all five of them and I don't know whether there's anybody else who can say that. The first one, of course, is the Accademia Nazionale… Naturale dei Lincei, in Rome, founded by… in the year 1600, Galileo was a member of this academy. The second one is the Royal Society in London, founded in 1660. The third one is the Académie des sciences in Paris, founded I believe in 1664. The fourth one is the oldest German Akademie, that's the [German Academy of Sciences] Leopoldina in Halle, founded around 1684. And the fifth one is the oldest American one, which is the American Philosophical Society in Philadelphia which was founded by Benjamin Franklin in 1743. And the only reason why I could have been elected by so many different academies is that I have been active in five different scientific fields. And quite naturally there were always somebody in one of the five fields in one of these academies who was particularly anxious to honor me. Another set of honors that I probably should mention is, in biology we don't have any Nobel Prizes, but a few international prizes were established to fill this gap, and I have been so fortunate to have received two of them. First the Balzan Prize, established by a Swiss-Italian group; and the second one the Japan International Prize, which I received in Tokyo two years ago. I think that is a long enough a list to… satisfy all purposes.
The late German-American biologist Ernst Mayr (1904-2005) was a leading light in the field of evolutionary biology, gaining a PhD at the age of 21. He was also a tropical explorer and ornithologist who undertook an expedition to New Guinea and collected several thousand bird skins. In 1931 he accepted a curatorial position at the American Museum of Natural History. During his time at the museum, aged 37, he published his seminal work 'Systematics and Origin of the Species' which integrated the theories of Darwin and Mendel and is considered one of his greatest works.
Title: My many honors and awards
Listeners: Walter J. Bock
Walter J. Bock is Professor of Evolutionary Biology at Columbia University. He received his B.Sc. from Cornell and his M.A. and Ph.D. from Harvard. His research lies in the areas of organismal and evolutionary biology, with a special emphasis on functional and evolutionary morphology of the skeleto-muscular system, specifically the feeding apparatus of birds.
Tags: Museum of Comparative Zoology, Harvard University, Berlin, Germany, Berlin-Brandenburg Academy of Sciences and Humanities, Joseph Leidy Memorial Medal, Academy of Natural Sciences, Académie des sciences, Paris, 1684, Philadelphia, Royal Society, American Philosophical Society, German Academy of Sciences, Halle, London, 1660, 1664, 1684, 1743, Cambridge University, Oxford University, Japan International Prize, Tokyo, Harvard University, University of Paris, Nobel Prize, Balzan Prize, Uppsala University, University of Bologna, university, Accademia Nazionale dei Lincei, Rome, 1600, Louis Agassiz, Galileo, Benjamin Franklin
Duration: 4 minutes, 37 seconds
Date story recorded: October 1997
Date story went live: 24 January 2008