NEXT STORY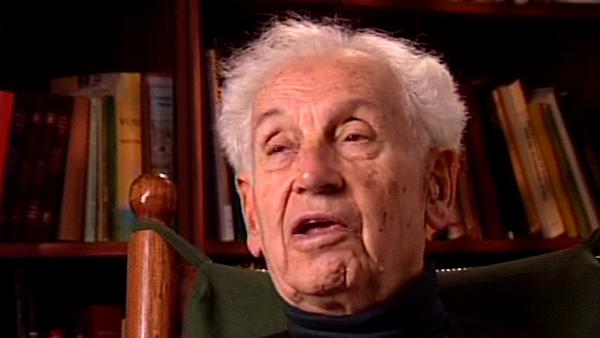 Working on collections
The importance of expeditions
1
...
11
12
13
14
15
Well it always has amazed people that [Charles] Darwin and [Alfred] Wallace, in 1858, came out with an essentially identical, at least highly similar interpretation of evolution. The question was asked, well what in their background has led them to that similarity? Well, I shall not… there are usually three or four factors indicated, but one of them is that they have been in the tropics and have studied the fauna of topical islands. And that indeed is a most important experience that any naturalist, any evolutionist can have, and that has been my fortune that I've had this experience. And not only have I gone from island to island, and this includes mountain ranges in New Guinea which are islands in the low lands and show exactly the same phenomena as low lying islands in the ocean. But the importance of barriers among islands, the differences of different populations on different islands, the differences between big islands and little islands, all this sort of thing inevitably leads you to theories of speciation and leads you to the application of these theories of speciation to other evolutionary phenomena, including even macro-evolution. Now, this is… in my case, I was even fortunate that then not only I saw these islands but I was permitted to work out the scientific results of the collections and was able to compare particular species from island to island to island which showed the pathway of evolution. And the study of such collections, as both Wallace and Darwin knew, is of incredibly high value.
The late German-American biologist Ernst Mayr (1904-2005) was a leading light in the field of evolutionary biology, gaining a PhD at the age of 21. He was also a tropical explorer and ornithologist who undertook an expedition to New Guinea and collected several thousand bird skins. In 1931 he accepted a curatorial position at the American Museum of Natural History. During his time at the museum, aged 37, he published his seminal work 'Systematics and Origin of the Species' which integrated the theories of Darwin and Mendel and is considered one of his greatest works.
Title: The importance of expeditions
Listeners: Walter J. Bock
Walter J. Bock is Professor of Evolutionary Biology at Columbia University. He received his B.Sc. from Cornell and his M.A. and Ph.D. from Harvard. His research lies in the areas of organismal and evolutionary biology, with a special emphasis on functional and evolutionary morphology of the skeleto-muscular system, specifically the feeding apparatus of birds.
Tags: 1858, New Guinea, Alfred Russel Wallace, Charles Darwin
Duration: 1 minute, 58 seconds
Date story recorded: October 1997
Date story went live: 24 January 2008