NEXT STORY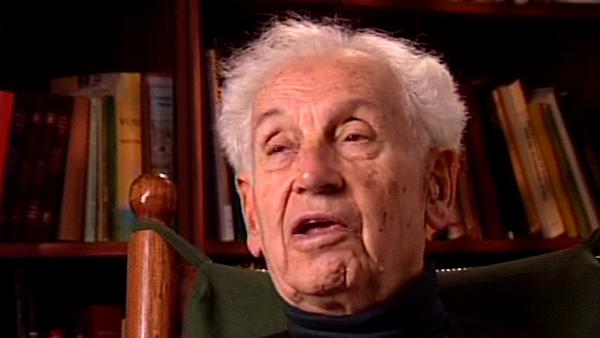 Bringing the collections together
A few words about the collections
1
2
3
4
5
...
15
I think it's about time I say a few things about the collections. Now, to begin with I have mentioned the Whitney South Sea expedition without saying anything further. Well, the Whitney South Sea expedition started as early as about 1922 or 1923 in Outer Polynesia. And Rollo H Beck was the leader of the expedition, and he went from island to island collecting birds, and gradually coming closer and closer to the New Guinea area, going over to the Tonga Islands and then from the... first Samoa and then the Tonga Islands, then Fiji, and then the New Hebrides, Santa Cruz Islands, until he finally reached the Solomon Islands. By that time he had visited literally hundreds – and that figure is not exaggerated – literally hundreds of islands that nobody had ever collected on. He had gotten comparative material for... for comparing the faunas of the different islands and seeing how things evolve in the spreading of the species from island to island, and it was an unbelievably rich and important and valuable collection. The Whitney South Sea expedition perhaps has been one of the world's most important scientific expeditions, and unfortunately it is virtually unknown among the general public and among historians and so forth. Now the same in a... in a very different way can be said about the Rothschild collection. It was the richest collection, well balanced, and it included a famous collection of Australian birds – the so-called Matthews Collection – something like, I don't know what, 40,000 or 50,000 bird skins with a great many types of new species and new subspecies.
The late German-American biologist Ernst Mayr (1904-2005) was a leading light in the field of evolutionary biology, gaining a PhD at the age of 21. He was also a tropical explorer and ornithologist who undertook an expedition to New Guinea and collected several thousand bird skins. In 1931 he accepted a curatorial position at the American Museum of Natural History. During his time at the museum, aged 37, he published his seminal work 'Systematics and Origin of the Species' which integrated the theories of Darwin and Mendel and is considered one of his greatest works.
Title: A few words about the collections
Listeners: Walter J. Bock
Walter J. Bock is Professor of Evolutionary Biology at Columbia University. He received his B.Sc. from Cornell and his M.A. and Ph.D. from Harvard. His research lies in the areas of organismal and evolutionary biology, with a special emphasis on functional and evolutionary morphology of the skeleto-muscular system, specifically the feeding apparatus of birds.
Tags: 1922, 1923, Outer Polynesia, New Guinea, Tonga Islands, Samoa, Fiji, New Hebrides, Santa Cruz Islands, Solomon Islands, Matthews Collection, Walter Rothschild, Rollo H Beck
Duration: 1 minute, 54 seconds
Date story recorded: October 1997
Date story went live: 24 January 2008