NEXT STORY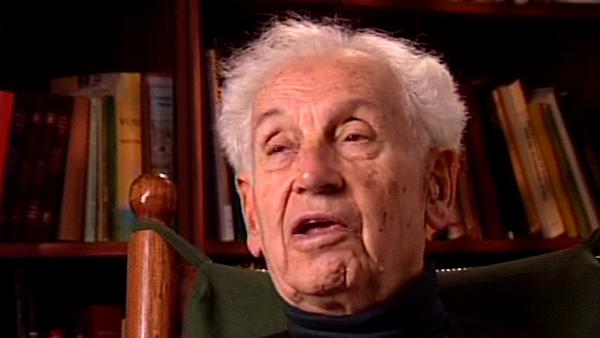 Lucky accidents that led to fame
Geographical species variation in birds
1
2
3
4
5
...
15
While I was at the American Museum [of Natural History] I was interested not only in bird taxonomy, but also in other aspects of birds. For instance, I discovered that there was a geographic variation of degree of sexual dimorphism in several species of these island birds, so that on one island both male and female looked… had the highly-colored plumage of a male. And another island the male was highly-colored, the female had a drab protective coloration and a third island, the same species… both male and female had the drab color of the female. So obviously… I don't want to get technical now, this could not not be due to the sex hormones as was at that time believed by everybody, it had to have another meaning. So I got in touch with people working on the… the genetic determination of colour in chickens at Storrs, Connecticut, and they in turn got me in connection… in contact with Professor LC Dunn at Columbia University, a geneticist who was interested in such questions. And Dunn invited me to come to seminars, to Columbia University, which I did, and as I was going… and I… and I became more and more friendly with the department there. And then Professor Dobzhansky arrived from California, from Pasadena… who worked in TH Morgan's laboratory to give the Jesup Lectures in 1936. And I invited him to come to the Museum and study my wonderful cases of geographic speciation of birds and he was quite excited about this, and I was excited about his lectures, and we became very good friends.
The late German-American biologist Ernst Mayr (1904-2005) was a leading light in the field of evolutionary biology, gaining a PhD at the age of 21. He was also a tropical explorer and ornithologist who undertook an expedition to New Guinea and collected several thousand bird skins. In 1931 he accepted a curatorial position at the American Museum of Natural History. During his time at the museum, aged 37, he published his seminal work 'Systematics and Origin of the Species' which integrated the theories of Darwin and Mendel and is considered one of his greatest works.
Title: Geographical species variation in birds
Listeners: Walter J. Bock
Walter J. Bock is Professor of Evolutionary Biology at Columbia University. He received his B.Sc. from Cornell and his M.A. and Ph.D. from Harvard. His research lies in the areas of organismal and evolutionary biology, with a special emphasis on functional and evolutionary morphology of the skeleto-muscular system, specifically the feeding apparatus of birds.
Tags: American Museum of Natural History, Storrs, Connecticut, Columbia University, Pasadena, California, Jesup Lectures, 1936, Leslie Clarence Dunn, Theodosius Dobzhansky, Thomas Hunt Morgan
Duration: 1 minute, 59 seconds
Date story recorded: October 1997
Date story went live: 24 January 2008