NEXT STORY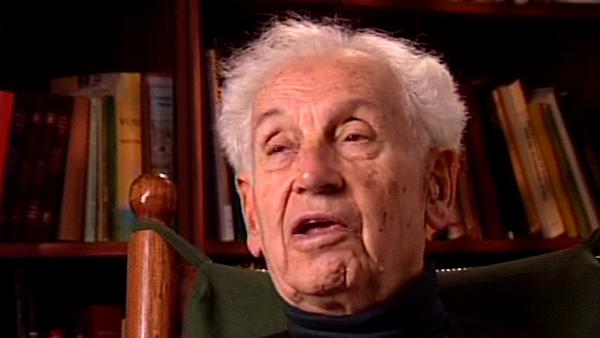 The importance of being a true naturalist
My effort to complete my doctorate
1
2
3
4
5
...
15
My way to the University of Greifswald where I was going to study medicine required changing trains in Berlin. So, I took this time of changing trains and went Professor [Erwin] Stresemann's office, and he was exceedingly nice to me but he was quite severe. He checked my diaries, he asked me hundreds of questions, he showed me specimens – I had to identify specimens – and after a very long examination he finally said, 'Yes, I believe you and I'm going to publish your observation'. And, of course, I felt absolutely elated: my first publication having made such a, as I felt at the time, important discovery. What was more important was that Stresemann was very much taken by me, my enthusiasm, my knowledge of birds, and he was looking for students for... for other young ornithologists. And so he suggested to me... he said, 'Why don't you in your college vacations come here to the museum as a volunteer?' And I was delighted. It was like somebody offered me the key to heaven, and so surely enough, after my first semester I went to Berlin and I was a volunteer in the department. And after this repeated itself several times and Stresemann... I told... talked to Stresemann about my aims and I talked about the wonderful explorations done by [Charles] Darwin and [Alfred Russel] Wallace and [Henry Walter] Bates and [Alexander von] Humboldt and all the other great explorers, and how I would love to go to the tropics and be an explorer. And one day Stresemann took me aside and he said, 'Now look here, if you become a medical doctor there's no chance that you will ever see the tropics or be on an expedition. Why don't you, after you've finished your first part of the medical training…' – in Germany the pre-clinical and the clinical are sharply separated – 'So... why don't you when you get your Candidate of Medicine Degree after the... finish the pre-clinical training... Why don't you take some time off and acquire an additional Doctor in Zoology and then I can put you on an expedition?' Well, this was just too much of a temptation and I agreed. I finished my pre-clinical studies and to prove that I didn't abandon medicine because I did badly; I got an 'A' in all six subjects, so people couldn't claim that I had to leave medicine because I didn't make it. And then I started to study under Stresemann in Berlin zoology. And he said, 'Well, if you finish...', this was in February 1925 and he said, 'If you finish by the 1st of July 1926 we can even get a job for you at the museum. They open up about once every five years and there will be an opening on that date'. Well, this meant 16 months' time to do all the work for a doctor in zoology, including writing a thesis, and it meant working 16 or 17 hours every day and no such things as Saturdays or Sundays or vacations or going to the movies or going out with girls. I just... it was a total grind for 16 months. But I made it; I got my Doctor's degree on the 24th of June 1926, a few days before my 22nd birthday. In other words, I got it while I was still 21, after having first gotten a Candidate of Medicine Degree. And I got that job at the Berlin Museum.
The late German-American biologist Ernst Mayr (1904-2005) was a leading light in the field of evolutionary biology, gaining a PhD at the age of 21. He was also a tropical explorer and ornithologist who undertook an expedition to New Guinea and collected several thousand bird skins. In 1931 he accepted a curatorial position at the American Museum of Natural History. During his time at the museum, aged 37, he published his seminal work 'Systematics and Origin of the Species' which integrated the theories of Darwin and Mendel and is considered one of his greatest works.
Title: My effort to complete my doctorate
Listeners: Walter J. Bock
Walter J. Bock is Professor of Evolutionary Biology at Columbia University. He received his B.Sc. from Cornell and his M.A. and Ph.D. from Harvard. His research lies in the areas of organismal and evolutionary biology, with a special emphasis on functional and evolutionary morphology of the skeleto-muscular system, specifically the feeding apparatus of birds.
Tags: University of Greifswald, Berlin, Germany, 02-1925, Berlin Museum, 24-06-1926, Erwin Stresemann, Charles Darwin, Alfred Russel Wallace, Henry Walter Bates, Alexander von Humboldt
Duration: 3 minutes, 47 seconds
Date story recorded: October 1997
Date story went live: 24 January 2008