NEXT STORY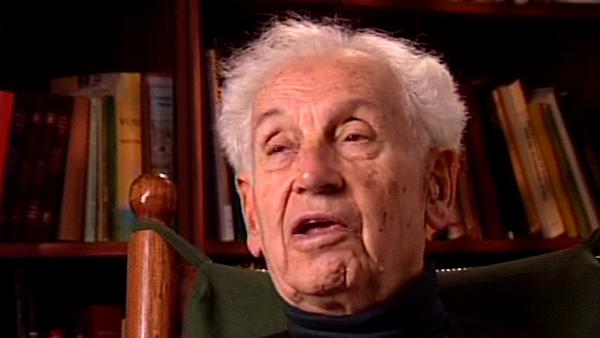 If I had been a doctor
The decision to leave medicine and go to Berlin
1
...
3
4
5
6
7
...
15
The decision, of course, in many ways was not rational at all. It was simply giving in to a youthful dream and of course it was an… to be out on an expedition and all that, even though it was dangerous and there still was a considerable percentage of those people going on expeditions that lost their lives either from tropical diseases or from other accidents or from native attacks, so it was a dangerous thing too. But at the same time, it… I think it… it added, certainly in my case, an immense amount to my education, to the development of my character, to the development of all sorts of insights into both human nature and the workings of our society that I wouldn't have had if… I had not gone on these expeditions. Now the… reaction of my family: my father died when… had died long before, and my mother was a very capable woman. She raised us – I have two brothers – she raised us three boys from teenage through the universities. She lived on a… just on a widow's pension and we worked our way through college and so she… she was a very practical person. And yet when this… my… when I… it was… on the way of making my decision and I talked with her, she simply asked me, she said, 'Is it really something you want?' And I said, 'Yes', and then she said, 'Then go right ahead and go'.
The late German-American biologist Ernst Mayr (1904-2005) was a leading light in the field of evolutionary biology, gaining a PhD at the age of 21. He was also a tropical explorer and ornithologist who undertook an expedition to New Guinea and collected several thousand bird skins. In 1931 he accepted a curatorial position at the American Museum of Natural History. During his time at the museum, aged 37, he published his seminal work 'Systematics and Origin of the Species' which integrated the theories of Darwin and Mendel and is considered one of his greatest works.
Title: The decision to leave medicine and go to Berlin
Listeners: Walter J. Bock
Walter J. Bock is Professor of Evolutionary Biology at Columbia University. He received his B.Sc. from Cornell and his M.A. and Ph.D. from Harvard. His research lies in the areas of organismal and evolutionary biology, with a special emphasis on functional and evolutionary morphology of the skeleto-muscular system, specifically the feeding apparatus of birds.
Tags: expedition, danger, education, death, mother, family, university, children
Duration: 1 minute, 45 seconds
Date story recorded: October 1997
Date story went live: 24 January 2008