NEXT STORY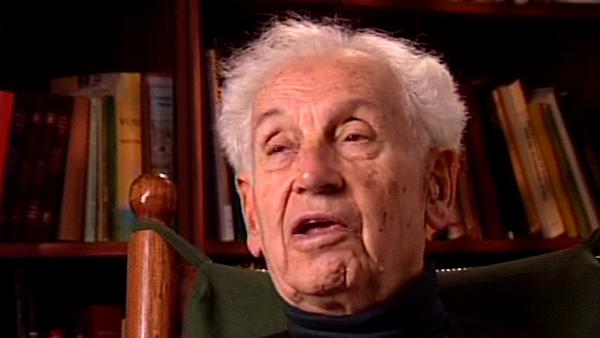 Development of the Sanford Hall of Birds
Other members of staff at the New York museum
1
...
3
4
5
6
7
...
15
[John T] Zimmer, who worked on the Peruvian birds, had originally been in an applied department somewhere in Nebraska having to do with insect control or something like that, and then been sent out on expedition Peru and that way eventually got into Peruvian birds. But he always had, sort of, a very provincial outlook in… in everything he did, and he was very good at the technicalities of describing new subspecies, but he was not a great ornithologist and I don't think I learned very much from him. And then there were… of course, were the younger people. One was Dean Amadon who had come to the museum as a… to take care of the egg collection, but I invited him to join me in working on the Whitney birds and we became very close friends and he did a lot of very nice revisions of various families of… of birds there. And, together with me, prepared a new classification of the songbird families or passerine families which foreshadowed much of the later work, including, as I mentioned earlier, the position of the Australian warblers, flycatchers, shrikes, nuthatches, creepers, etc. And we're still in very good contact. Then there were other young people, there was Tom Gilliard, another young man who was brought into the department by [Frank] Chapman who had never gone to college actually, but was very helpful and very ardent in his expeditions. He went with some American Museum [of Natural History] expeditions to the… these… table mountains and Venezuela and later on he went to New Guinea and explored some mountain ranges in New Guinea that had been previously unexplored. And he picked up some very bad kind of malaria and some other protozoan diseases and was quite ill for several years and finally died of a heart attack which apparently was due to the destruction of his heart by some of these tropical parasites.
Then there was Charles Vaurie who was a dentist who… French dentist who was a friend of Chapin [sic], because Chapin's wife was French, and I guess he was her dentist, and he was interested in birds. But to make a long story short, I took him under my guidance and showed him how to describe birds, and eventually he did a whole series of… of revisions of palaearctic avian genera, and finally wrote a very substantial, very reliable, much used and not yet replaced handbook of the birds of the palaearctic fauna. He later on worked on South American birds and I understand that his work there was not nearly up to what he had done previously.
The late German-American biologist Ernst Mayr (1904-2005) was a leading light in the field of evolutionary biology, gaining a PhD at the age of 21. He was also a tropical explorer and ornithologist who undertook an expedition to New Guinea and collected several thousand bird skins. In 1931 he accepted a curatorial position at the American Museum of Natural History. During his time at the museum, aged 37, he published his seminal work 'Systematics and Origin of the Species' which integrated the theories of Darwin and Mendel and is considered one of his greatest works.
Title: Other members of staff at the New York museum
Listeners: Walter J. Bock
Walter J. Bock is Professor of Evolutionary Biology at Columbia University. He received his B.Sc. from Cornell and his M.A. and Ph.D. from Harvard. His research lies in the areas of organismal and evolutionary biology, with a special emphasis on functional and evolutionary morphology of the skeleto-muscular system, specifically the feeding apparatus of birds.
Tags: Nebraska, Peru, American Museum of Natural History, Venezuela, New Guinea, Whitney South Seas expedition, Dean Amadon, Ernest Thomas Gilliard, Charles Vaurie, John T Zimmer, Frank Chapman
Duration: 3 minutes, 22 seconds
Date story recorded: October 1997
Date story went live: 24 January 2008