NEXT STORY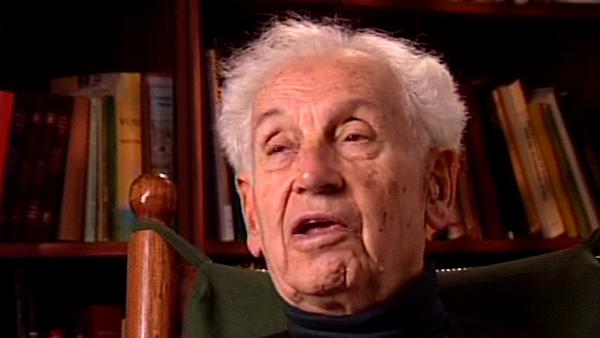 The Bronx County Bird Club
1
...
4
5
6
7
8
...
15
I have always, somehow or other, been a teacher. I love teaching, I loved… gathering people around me and teach. For instance, when I came to New York first, I went to the ornithological society there which has the rather highfaluting name, the Linnaean Society of New York, and I found that all they did was report on early arrivals and rare birds and so there was no real ornithology, it was all a game of birdwatching. And so I… established what I called an ornithological seminar for those who would like to attend, and this was mostly young people, and what I did at these seminars, report on the current… ornithological literature. Whenever there was an interesting paper coming out, particularly in the foreign literature, for instance in German journals, I presented it there in… in an English translation. And I finally got a whole group together who were very keen on doing ornithological research. And one of them started to watch a brood of barn owls; another one made a census, Joe Hickey made a census of a breeding bird population and… and at that time they always made only censuses in the winter of winter birds. And a third one did a study of the display behaviour of the willet, a shore bird – that was William Vogt. Still another one established a colony of tree swallows - that was Richard Cursey - and studied the fate of the broods, the number of eggs in the nest and correlated with the age of the parents and so forth, a very fine population studies, and so it went. Another one made a census of all the peregrine falcon eyries in the… in New York State and particularly in eastern New York State, and this was just one of my teaching efforts. I mean, I didn't get paid for it, I didn't get any… but I was so taken by the enthusiasm of these young fellows that this was enough of a reward for me. But I did similar things in the Museum [of Comparative Zoology]. Whenever a young man came by and wanted to learn something, and so I devoted some time to him. Of course, Dean Amadon was the first case, I mean he was just a… I invited him to join me and then later on when we... I got him more involved in the whole business of systematics, I started a systematics club at the American Museum [of Natural History] and we had meetings I guess once a month and so… discussing particular problems in the field of systematics, or discussing particular papers. And it was always a matter of… of very vigorous and… and exciting… and excited discussions among these people and many of them have been alive right until recent time. One of the most active one, Karl Koopman, died only a… a couple of weeks ago. So in this informal way I had already been teaching a long time before, and after I'd had the… invitation to go to [the University of] Minnesota, even the… even Columbia University invited me to become an adjunct professor, and I gave a course there. The problem there was that they would not permit me to have students, I only had to… I only was permitted to give these courses, and since they weren't my students… I did get in somewhat closer contact with some of them, but not really, it was not… and then when I got the offer from Harvard, I immediately got a telephone call from Columbia University: would I be willing to stay in New York if they gave me the permission to have students and have a graduate program, and I said, 'Sorry, too late'.
The late German-American biologist Ernst Mayr (1904-2005) was a leading light in the field of evolutionary biology, gaining a PhD at the age of 21. He was also a tropical explorer and ornithologist who undertook an expedition to New Guinea and collected several thousand bird skins. In 1931 he accepted a curatorial position at the American Museum of Natural History. During his time at the museum, aged 37, he published his seminal work 'Systematics and Origin of the Species' which integrated the theories of Darwin and Mendel and is considered one of his greatest works.
Title: Teaching ornithology
Listeners: Walter J. Bock
Walter J. Bock is Professor of Evolutionary Biology at Columbia University. He received his B.Sc. from Cornell and his M.A. and Ph.D. from Harvard. His research lies in the areas of organismal and evolutionary biology, with a special emphasis on functional and evolutionary morphology of the skeleto-muscular system, specifically the feeding apparatus of birds.
Tags: New York, Linnaean Society of New York, American Museum of Natural History, Minnesota, Columbia University, Harvard University, William Vogt, Dean Amadon, Karl Koopman
Duration: 4 minutes, 16 seconds
Date story recorded: October 1997
Date story went live: 24 January 2008