NEXT STORY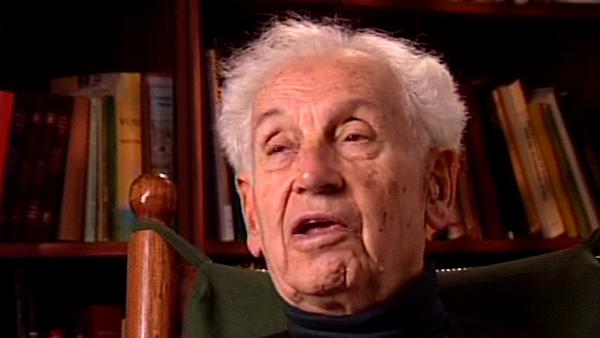 A workshop in taxonomy
The Alexander Agassiz professorship
1
...
7
8
9
10
11
...
15
The Alexander Agassiz professor, any Alexander Agassiz professor, is not tied to any particular department in the Museum of Comparative Zoology and I was definitely not a member of the bird department, even though my office was on the same floor of the Museum. My major occupation, as they expected, was research and writing, but I was also expected to teach, but primarily at the graduate level. I did give, occasionally, undergraduate courses and in particular there was a period of a couple of years where I gave six major lectures in one of the big Harvard courses in anthropology in a course directed by Professor Irvin DeVor. But, otherwise, I gave mostly smaller courses to graduate students. I tried the first year there… oh the… it was in 1954… to give a course in ornithology with the particular emphasis on… on problems and field work, not one of these book courses as they gave in several other places. But for instance, we had four very interesting projects scheduled for April: one was the display of the golden-eyed duck; one was the territory staking out by redwing blackbirds, and I forget what the other two were, but they were all interesting field problems. But we could do this… only this work only on Saturdays and in that particular year, 1954, it snowed every single Saturday in April. And that convinced me that Cambridge was not the ideal place to give a field course, because by… by the time of May the semester was ending. So I never gave another course in ornithology.
The late German-American biologist Ernst Mayr (1904-2005) was a leading light in the field of evolutionary biology, gaining a PhD at the age of 21. He was also a tropical explorer and ornithologist who undertook an expedition to New Guinea and collected several thousand bird skins. In 1931 he accepted a curatorial position at the American Museum of Natural History. During his time at the museum, aged 37, he published his seminal work 'Systematics and Origin of the Species' which integrated the theories of Darwin and Mendel and is considered one of his greatest works.
Title: The Alexander Agassiz professorship
Listeners: Walter J. Bock
Walter J. Bock is Professor of Evolutionary Biology at Columbia University. He received his B.Sc. from Cornell and his M.A. and Ph.D. from Harvard. His research lies in the areas of organismal and evolutionary biology, with a special emphasis on functional and evolutionary morphology of the skeleto-muscular system, specifically the feeding apparatus of birds.
Tags: Museum of Comparative Zoology, Harvard University, 1954, Cambridge University, Irvin DeVor
Duration: 2 minutes, 8 seconds
Date story recorded: October 1997
Date story went live: 24 January 2008