NEXT STORY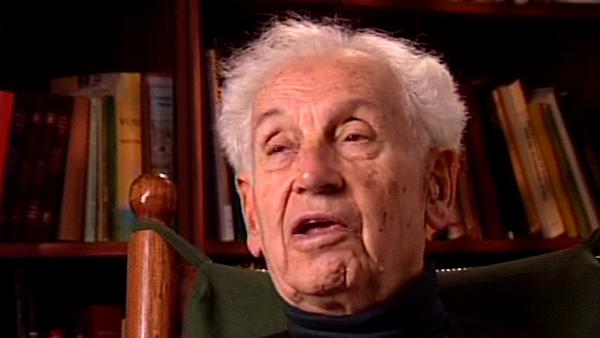 From Dutch New Guinea to the Mandated Territory of New Guinea
Searching for the birds of paradise
1
2
3
4
5
...
15
Now I might add one thing that is quite important as to why [Walter] Rothschild wanted me to go out there and what instructions he had given me. In the years prior to 1924 the most... most flourishing trade of New Guinea was birds-of-paradise skins because the ladies from the 1880s on had always... many of them had bird feathers on their hats, and particularly birds-of-paradise feathers were considered to be the most wonderful hats. And so something like 4000 or 6000 skins of birds-of-paradise arrived in Paris and Rotterdam every year for the – in the so-called plume trade – for the people who made hats. And every once in a while there was some unique specimen among these... these things, some which Lord Rothschild had left orders with these plume dealers that if there was ever such a unique specimen he would pay £100 for it, and then it came to in his hands and then he decided very often that it was a new species and described it as a new species. Now the problem was that since that time any number of expeditions had gone to various parts of New Guinea and had never been able to find the actual home of these rare species of birds-of-paradise. And I was instructed to go to three mountain ranges: the Arfak Mountains, the Wandamen Mountains and the Cyclops Mountains, of which the latter two had never been visited by an ornithologist, and see if I could find there the home of these rare species of birds-of-paradise. Well, in the Arfak Mountains, the first one I went to, I got a fine collection together but not one of the rare species. Then I went to the other two mountain ranges, again got fine collections, several new species of birds, many new subspecies of birds, but still not the home of any of these rare species of birds-of-paradise. This, what you might call, failure of mine resulted in Professor [Erwin] Stresemann saying, 'There must be something funny about these species because otherwise somebody... these... these were about the last places where they could have been, and now that they are eliminated, where... where should they come from?' So he made a very detailed study of these birds and he discovered that all of them were the hybrids between two other different species of birds-of-paradise so that even though I failed to find their home I was instrumental in solving the problem of the rare, unique species of birds-of-paradise.
The late German-American biologist Ernst Mayr (1904-2005) was a leading light in the field of evolutionary biology, gaining a PhD at the age of 21. He was also a tropical explorer and ornithologist who undertook an expedition to New Guinea and collected several thousand bird skins. In 1931 he accepted a curatorial position at the American Museum of Natural History. During his time at the museum, aged 37, he published his seminal work 'Systematics and Origin of the Species' which integrated the theories of Darwin and Mendel and is considered one of his greatest works.
Title: Searching for the birds of paradise
Listeners: Walter J. Bock
Walter J. Bock is Professor of Evolutionary Biology at Columbia University. He received his B.Sc. from Cornell and his M.A. and Ph.D. from Harvard. His research lies in the areas of organismal and evolutionary biology, with a special emphasis on functional and evolutionary morphology of the skeleto-muscular system, specifically the feeding apparatus of birds.
Tags: 1924, New Guinea, 1880s, Paris, Rotterdam, Arfak Mountains, Cyclops Mountains, Wandamen Mountains, Erwin Stresemann, Walter Rothschild
Duration: 3 minutes
Date story recorded: October 1997
Date story went live: 24 January 2008