NEXT STORY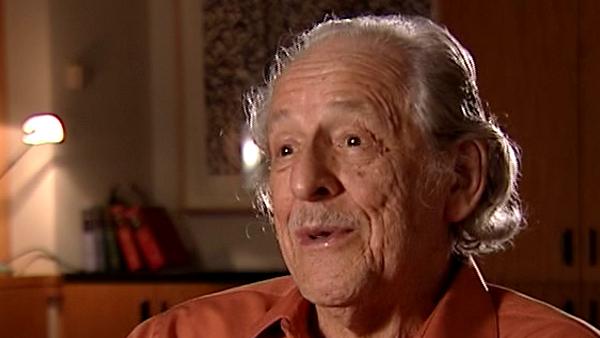 Getting drafted
Learning to type and clerking in the army
Eugene Garfield
Scientist
1
2
3
4
5
...
9
When I was in high school I was not - somewhere after the, after I left Stuyvesant, I was not all that well motivated at school. I wasn't... I mean, I got good grades in things that I could do without doing much work, you know. And, when they... I had to make up... when I went... when... my, my uncle Nat and his wife drove down to Florida for a, a winter vacation. I told you about my... grandfather told what he did in Russia, but he, I... because out of school long enough that I had to make up... I failed some course and I had to make up some history course or something like that, and in order to get more units they told me I could take electives that wouldn't require any homework. So, that's how I studied typing and office practice which means I knew how to use mimeograph machine, you know, the old ways, the old ways of doing business in those days. That typing course was, was a godsend for me, you know, I mean, later on, you think of all the times you use typing in your life, and it was not a routine thing for people to know how to type in those days. There were a lot of things that came from that. And, then... so, later on even when I, even when I was in the army, I, I was telling my, my son the other day, how I was offered the job as company clerk at Camp Blanding because that was... I just visited Jacksonville where Stefan lives, you know, and Camp Blanding is not very far away, that I was offered the company clerk's job that... by my... with the top sergeant in the... because I knew how to type, okay, and also because he liked my mother's shipment of Jewish salamis. This guy was an Irish guy married to a Spanish girl and he just loved halvah and all, and all the delicatessen stuff that my mother would... I was going to starve to death in the army and so we'd, they'd send us these kosher salamis or boxes of halvah, and all sorts of interesting stuff. So, but, no, I, I volunteered for the, for the mountain troops because the reason why wasn't that it was such a... so wildly enthusiastic about being in a skier, it was because my wife was... my... who was my, my girlfriend then, was in, in Colorado that's why I volunteered in the army to go to, to go to the mountain troops [10th Mountain Division].
Eugene Garfield (1925-2017) was an American scientist and publisher. In 1960 Garfield set up the Institute for Scientific Information which produced, among many other things, the Science Citation Index and fulfilled his dream of a multidisciplinary citation index. The impact of this is incalculable: without Garfield's pioneering work, the field of scientometrics would have a very different landscape, and the study of scholarly communication would be considerably poorer.
Title: Learning to type and clerking in the army
Listeners: Henry Small
Henry Small is currently serving part-time as a research scientist at Thomson Reuters. He was formerly the director of research services and chief scientist. He received a joint PhD in chemistry and the history of science from the University of Wisconsin. He began his career as a historian of science at the American Institute of Physics' Center for History and Philosophy of Physics where he served as interim director until joining ISI (now Thomson Reuters) in 1972. He has published over 100 papers and book chapters on topics in citation analysis and the mapping of science. Dr Small is a Fellow of the American Association for the Advancement of Science, an Honorary Fellow of the National Federation of Abstracting and Information Services, and past president of the International Society for Scientometrics and Infometrics. His current research interests include the use of co-citation contexts to understand the nature of inter-disciplinary versus intra-disciplinary science as revealed by science mapping.
Duration: 2 minutes, 58 seconds
Date story recorded: September 2007
Date story went live: 23 June 2009