NEXT STORY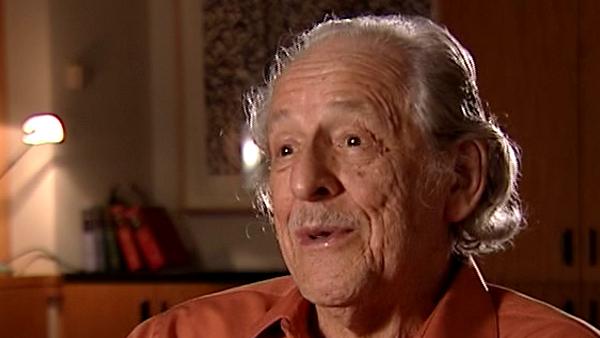 Columbia and Berkeley
Army training and getting an ulcer
Eugene Garfield
Scientist
1
2
3
4
5
...
9
Well, what happened was that after I got to Camp Hale in the army, it was already about, I think, late January or early February, and I was past the training sessions for skis but they made me a snowshoe man, or something that means you, you carry machine guns and stuff like that. And, also, you, you learn how to be a, to pack a mule. The animals were very important in mountaineering, but you weren't allowed to over... put more on a mule. You could put 100lbs on a man but not, not more than 200lbs on a mule. So, but we... at night-time we used to sneak stuff on the mules. And, but, in April apparently the army decided to send... it was my understanding they were going to send these, the guys to fight in Burma, you know, in the mountains, you know, mountains in Burma. And so, they said, you, we need to send you down for some jungle training. So, they took this whole division, at least my regiment, and shipped them off to Texas in the middle of summer, I mean, in June, whatever it was, and they... the weather was incredible, you know. So, I was down in, at Camp Swift which was outside of Austin, Texas, and that's how I had my first encounter with... At that time, Austin was a town, a small town, the capital of Texas, a university town, and having been in Colorado, these guys would go on weekend passes, they would all rush into the town and there'd be 10,000 soldiers marching up and down the streets looking for something to do, and I used to go out to the university to listen to music out in the, in the library. So, what happened was that they, they asked if I wanted to sign up for officers training school when they heard that I had a few months of college, and, so I, I did, and I went to OCS, Fort Benning in Georgia. When I lasted... I think I went through about 13 weeks or something like that, but they, then they had... the Battle of the Bulge occurred and it was some order to send everybody to different places, you know, the poard of embarkation. Eventually I wound up at Camp Mead, Maryland. And, while I was there I started having symptoms. It turned out, they diagnosed that I had a duodenal ulcer so my mother - I'll never forget, my mother - they called my mother, she came down to visit me at the hospital, that poor man, and she, the, the doctor, captain or something, says to her, 'Mrs G, we've got bad news for you, we're going to have to, we're going to have to send your son home, he can't stay in the army'. She started to cry, you know. He thought, he thought that she was unhappy. Oh, that was really funny. And, so that's what happened. I got a medical discharge but, and I was able to go to school on the GI Bill. So that was an interesting period.
Eugene Garfield (1925-2017) was an American scientist and publisher. In 1960 Garfield set up the Institute for Scientific Information which produced, among many other things, the Science Citation Index and fulfilled his dream of a multidisciplinary citation index. The impact of this is incalculable: without Garfield's pioneering work, the field of scientometrics would have a very different landscape, and the study of scholarly communication would be considerably poorer.
Title: Army training and getting an ulcer
Listeners: Henry Small
Henry Small is currently serving part-time as a research scientist at Thomson Reuters. He was formerly the director of research services and chief scientist. He received a joint PhD in chemistry and the history of science from the University of Wisconsin. He began his career as a historian of science at the American Institute of Physics' Center for History and Philosophy of Physics where he served as interim director until joining ISI (now Thomson Reuters) in 1972. He has published over 100 papers and book chapters on topics in citation analysis and the mapping of science. Dr Small is a Fellow of the American Association for the Advancement of Science, an Honorary Fellow of the National Federation of Abstracting and Information Services, and past president of the International Society for Scientometrics and Infometrics. His current research interests include the use of co-citation contexts to understand the nature of inter-disciplinary versus intra-disciplinary science as revealed by science mapping.
Duration: 4 minutes, 9 seconds
Date story recorded: September 2007
Date story went live: 23 June 2009