NEXT STORY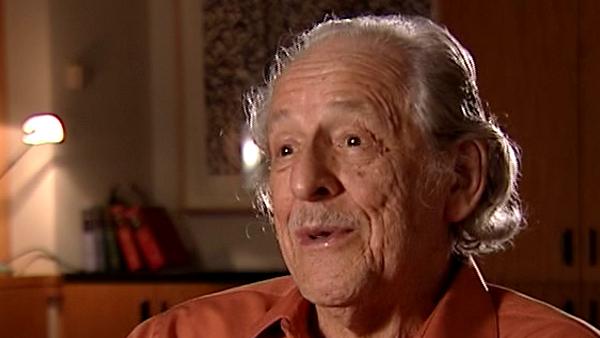 Writing papers and going to Columbia library school
'As a documentalist, you make a great career'
Eugene Garfield
Scientist
1
2
3
4
5
...
9
We had planned to have a public discussion of the project's different sub-projects, okay, subject heading lists, searching by the 101 statistical machine, various other topics. We organised the first symposium of machine methods in scientific documentation held at the Welch Library, okay. It was... and we advertised it, you know, we announced it. 300 people signed up, and for, for about, I think for $5 or $8 you got a, a free lunch with an all-day seminar, discussion, and a tour. We had this wonderful... the, the chef of the Johns Hopkins Hospital prepared us an incredible meal in the main room where they have the picture of the four, the four famous physicians. You know, there's the very famous painting of...
[Q] I haven't seen it.
You've never... have you ever been to the Welch Library?
[Q] Once, but...
That, it's probably on the web. It's a very famous painting of the four physicians. And, Osler was in that, probably and Welch. I forget who the others are. Anyhow, it was a wonderful meal, and one of the funny stories that comes out of that is that Ralph Shaw who was the Director of the National Agricultural Library and, you know, very famous for the work he did on, with Vannevar Bush, the rapid selector, and so forth, he was a very funny man and incredibly articulate. He later became the Dean of the Library School at, at... the first Library School at Rutgers and then he moved, later moved to Hawaii and became Director of the Library School out there and, and the library. But Ralph Shaw came to the symposium and he wrote back and he said, 'Dear Garfield, as a documentalist you make a great caterer'. You see, he'd, he liked the lunch. But, he and I became, you know, pretty good friends, and at one point he was going to hire me as an assistant professor at Rutgers later, and he had to withdraw the offer because somebody else had accepted that he wanted first, Lowell Martin, I think it was. But, Ralph was a guy who, who was an incredibly domineering person... Sam Lazerow and Norma Relcos who worked for him. And, when Ralph Shaw was out in Hawaii, at one point later on, during this Vietnam war, my son, Stefan, had, was in Vietnam and he was wounded and he came... they sent him back to Hawaii to recover. And I can't remember the reason why I could not... for some reason I couldn't go to see him, so I called Ralph Shaw in Hawaii and asked him if he would go see Stefan, and he did, and Stefan will never forget because when Ralph went to the hospital he took over, over the place and started bossing the nurses, telling them what to do, and so he's just that type of guy, you know, very domineering, bossy person. So, anyhow that's, you know, I, I've often said, you know, all these people I met when I... So, when, when Larkey terminated me that was when I found out about the letter he'd got from, from Louis P Hammett because when he was... I went out there... I'd gone out and for some reason I asked somebody to show me my personnel file, you know. That's when I saw the letter from Hammett.
Eugene Garfield (1925-2017) was an American scientist and publisher. In 1960 Garfield set up the Institute for Scientific Information which produced, among many other things, the Science Citation Index and fulfilled his dream of a multidisciplinary citation index. The impact of this is incalculable: without Garfield's pioneering work, the field of scientometrics would have a very different landscape, and the study of scholarly communication would be considerably poorer.
Title: 'As a documentalist, you make a great career'
Listeners: Henry Small
Henry Small is currently serving part-time as a research scientist at Thomson Reuters. He was formerly the director of research services and chief scientist. He received a joint PhD in chemistry and the history of science from the University of Wisconsin. He began his career as a historian of science at the American Institute of Physics' Center for History and Philosophy of Physics where he served as interim director until joining ISI (now Thomson Reuters) in 1972. He has published over 100 papers and book chapters on topics in citation analysis and the mapping of science. Dr Small is a Fellow of the American Association for the Advancement of Science, an Honorary Fellow of the National Federation of Abstracting and Information Services, and past president of the International Society for Scientometrics and Infometrics. His current research interests include the use of co-citation contexts to understand the nature of inter-disciplinary versus intra-disciplinary science as revealed by science mapping.
Duration: 4 minutes, 31 seconds
Date story recorded: September 2007
Date story went live: 23 June 2009