NEXT STORY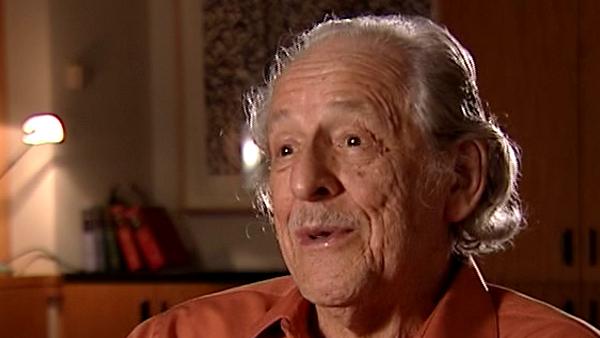 Sharing information and encyclopedists
A job offer and teaching at the University of Pennsylvania
Eugene Garfield
Scientist
1
...
5
6
7
8
9
I think it was the new president of Drexel at the time, was his name Hagerty, they wanted... they asked me if I was interested in becoming dean of the school library information science. I didn't know that one. Yeah. And I said well I might... it turns out he... I said to him, 'Well, that would be a part-time job right?' And he said, 'Oh no, no, basically you'd have to give up your company to do it'. I said, 'When Carl Djerassi was asked to be chairman of the department they didn't ask him to give up his stock in his company, and I don't intend to give up my, my work at ISI in order to do this, but it's a job that I think I could do if you were interested in talking about it as... I wouldn't consider it a full-time job, but certainly I could handle it'. And he never... it never occurred to him that I might not be interested in just leaving the company. It's just another job, I guess, to him. But I guess, you know, the teaching part, they never did... during the times when the other, some of the other more conservative deans never asked me to come over there and teach. It's very strange, I thought. Later on they gave me an honorary degree, but they never thought it was important enough for me to go over there and do any teaching. But there's some kind of a mindset there, I guess, about that. Now, the people at the Moore school, when... they were interested in getting these government contracts in the early days, and they wanted to know what information retrieval was. There was just a good coincidence that Saul Gorn was an old friend of Sam Lazerow that I had met when he was, when I was still in Baltimore and he was working at the Aberdeen proving grounds, I think. He was a brilliant mathematician and basically the father of programming languages, I think is what they considered him, you know; he was a guru of that sort of thing. And he spoke to Morris Rubinoff at the Moore school, and said, 'Oh gee, why don't you come over and give this course at our graduate centre for information retrieval?' and that's how I got to doing the teaching at Penn. I think I mentioned that when I was telling you about the business about the information engineers: it's okay to teach but it was not okay to practice. That always proved to be an interesting experience.
Eugene Garfield (1925-2017) was an American scientist and publisher. In 1960 Garfield set up the Institute for Scientific Information which produced, among many other things, the Science Citation Index and fulfilled his dream of a multidisciplinary citation index. The impact of this is incalculable: without Garfield's pioneering work, the field of scientometrics would have a very different landscape, and the study of scholarly communication would be considerably poorer.
Title: A job offer and teaching at the University of Pennsylvania
Listeners: Henry Small
Henry Small is currently serving part-time as a research scientist at Thomson Reuters. He was formerly the director of research services and chief scientist. He received a joint PhD in chemistry and the history of science from the University of Wisconsin. He began his career as a historian of science at the American Institute of Physics' Center for History and Philosophy of Physics where he served as interim director until joining ISI (now Thomson Reuters) in 1972. He has published over 100 papers and book chapters on topics in citation analysis and the mapping of science. Dr Small is a Fellow of the American Association for the Advancement of Science, an Honorary Fellow of the National Federation of Abstracting and Information Services, and past president of the International Society for Scientometrics and Infometrics. His current research interests include the use of co-citation contexts to understand the nature of inter-disciplinary versus intra-disciplinary science as revealed by science mapping.
Duration: 3 minutes, 6 seconds
Date story recorded: September 2007
Date story went live: 23 June 2009