NEXT STORY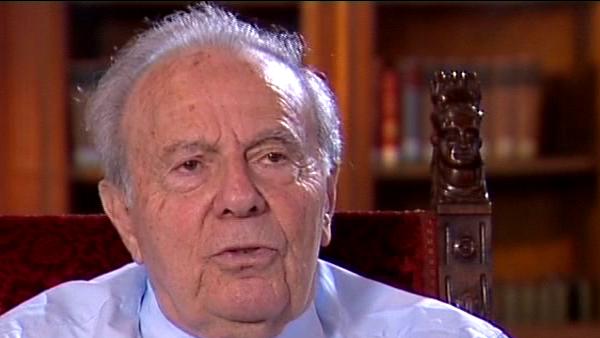 The American links
1
2
3
4
5
6
...
8
Dans le laboratoire Lwoff, il y avait un personnage important qui était Monod. Lwoff travaillait sur les bactéries lysogènes, Monod travaillait sur le système de l'utilisation du lactose par Escherichia Coli. L'ensemble était au début, dans les années 50, installé dans le grenier du vieux bâtiment de l'autre côté. Il y avait un long couloir, avec à un pôle, Lwoff et son groupe, et à l'autre bout, Monod et son groupe. Alors Lwoff travaillait sur la lysogénie, sur les bactéries lysogènes et Monod sur le système d'utilisation du lactose par les bactéries. Bon, alors qu'est-ce-qu'on en dit de ça maintenant?
[Q] Est-ce que c'était un lieu confortable pour travailler ou... C'était un lieu confortable pour discuter.
C'était un lieu qui n'était pas du tout confortable pour travailler. C'est-à-dire c'étaient des vieux labos. On était beaucoup trop nombreux, mais ça c'était très bon parce que tout le monde se retrouvait dans le couloir pour discuter. A peine on avait une idée qu'on se précipitait dans le couloir pour en discuter avec les autres, qui se précipitaient pour vous la démolir. Et c'était extrêmement vivant, actif et particulièrement tonique.
[Q] Il y avait les repas en commun, non? Il y avait l'habitude aussi de continuer à discuter pendant les repas?
Oui, alors les repas étaient en commun. Ils ont été longtemps dans mon labo. Vous n'étiez pas là à cette époque-là vous, vous étiez trop jeune. J'avais un labo à un bout du couloir, avec une très grande table. Et à cause de la grande table, tout le monde venait déjeuner là, ce qui m'exaspérait, parce que j'aimais bien commencer mes expériences très tôt après le déjeuner, et tous les autres restaient là à traîner au café, et c'était très difficile de les vider. Mais enfin, c'était comme ça. Mais on avait les repas en commun et on discutait beaucoup. Le souvenir que j'en ai de cette époque-là et de ce groupe, c'était extrêmement chaleureux, en particulier grâce à Lwoff et probablement grâce à Monod aussi. Et en général, le matin, on discutait le coup. Au mieux on avait une idée qu'on mettait l'après-midi... dont on faisait une expérience l'après-midi, et quand tout marchait bien, on avait le résultat le lendemain matin, et on recommençait.
[Q] Ça c'étaient les avantages de la génétique aussi.
Ça c'était l'avantage des bactéries surtout, qui vont très vite et la génétique en particulier. Mais le système allait très vite. C'est-à-dire qu'on avait vraiment... On discutait le matin des résultats qu'il y avait eu la veille, on préparait l'expérience qui se faisait à deux heures, le lendemain, à neuf heures, il y avait les résultats. A 10 heures, on rediscutait, on mettait en place l'expérience suivante. Et c'était une course absolument incroyable.
[Q] Et André Lwoff, il était ouvert à la discussion?
Il était très ouvert à la discussion. Il ne discutait pas beaucoup lui-même, mais il était très ouvert à la discussion, oui.
[Q] Vous pouviez aller le voir comme ça pour lui poser un problème?
Oui. Il était très généreux. il était très gentil et très généreux. En fait, c'était un type, il avait ses têtes, et il avait ses têtes pour et ses têtes contre. Si on était bien avec lui, il faisait tout pour vous. Si on était mal avec lui, on était sûr de se faire démolir et d'avoir les pires ennuis. Mais il était très... C'était un passionné, il était très chaleureux.
[Q] Il n'était même pas ironique si jamais on arrivait avec une mauvaise idée?
Non, non. Enfin il l'était un peu comme tout le monde, mais pas plus. Monod l'était beaucoup plus. Monod était beaucoup plus virulent.
[Q] Et après, cette tradition de discussion commune a quand même continué même quand Monod...
Quand Monod est descendu, oui. Quand Monod est descendu... Tout ça se passait jusque-là dans le grenier du vieux bâtiment. Quand Monod a été nommé chef du service de biochimie, il a eu le grand service qui est en bas, au rez-de-chaussée. Et là, le déjeuner alors a changé, il était au rez-de-chaussée. Mais le système a plus ou moins continué. Les deux groupes se voyaient beaucoup. Moi, je travaillais dans l'ascenseur pratiquement. Parce que je faisais l'expérience avec Monod, mais j'avais mon labo en haut au 2ème étage, donc je passais mon temps à monter et à descendre. Mais enfin c'était...
[Q] Et les joutes continuaient au repas de midi?
Oui, ça discutait énormément.
[Q] Et de tout? De science, de politique?
Absolument de tout. De science, de politique. En général, les gens étaient assez d'accord. Ils étaient un peu à gauche, pas trop, nettement à gauche même et il n'y avait pas de bataille politique. Il y avait des discussions comme il y a des discussions entre gens de bonne compagnie, mais sans bagarre. Mais ça discutait ferme quand même. On discutait aussi beaucoup des personnages du paysage scientifique. Et là, on avait la dent dure.
In Lwoff's laboratory, there was an important person, and that was Monod. Lwoff was working on lysogenic bacteria, and Monod was working on the system of the use of lactose by Escherichia Coli. At the beginning, in the fifties, everything was set up on the other side in the attic of the old building. There was a long corridor, with at one end Lwoff and his group and at the other end Monod and his group. Lwoff worked on lysogeny, on lysogenic bacteria and Monod on the system of use of lactose by bacteria. So, what do we say about that now?
[Q] Was it a comfortable place to work or...
It was a comfortable place to talk. But it really wasn't a comfortable place to work. Meaning that they were old labs. There were too many of us, but that was really good because everyone would meet in the corridor to talk. As soon as we had an idea we would rush to the corridor to talk with the others, who would quickly try to destroy it. It was extremely lively, active and particularly stimulating.
[Q] Meals were eaten together, weren't they? There was also the habit of talking during meals?
Meals were eaten together. For a long time they were in my lab. You weren't there then, you were too young. I had a lab at the end of the corridor with a very large table. And because of that table, everyone had their lunch there which infuriated me, because I liked to start my experiments very early after lunch, and the others hung around over coffee, and it was very difficult to get them out. But that's just the way it was. But we all ate together and talked a lot. I have a very pleasant recollection of that time and of that group, in particular because of Lwoff and probably also because of Monod. In general, we talked things over in the morning. At best, we had an idea that we would... of which we would carry out an experiment in the afternoon, and when all went well, we had the result the next morning, and we would start all over again.
[Q] Those were also the advantages of genetics.
It was above all the advantages of bacteria which go very quickly and of genetics in particular. But the system went very quickly. Meaning that we really had... in the morning we would discuss the results we had obtained the day before, we prepared the experiment which was carried out at two o'clock, at 9 o'clock the next day the results were in. At 10, we would discuss it again and put the next experiment together. It was an absolutely unbelievable race.
[Q] And was André Lwoff open to discussion?
He was very open to discussion. He, himself, didn't speak much, but yes he was very open to discussion.
[Q] Could you go ask for his assistance when you were faced with a problem?
Yes. He was very generous. He was very nice and very generous. In fact, he was a guy who... he had his... he had his friends and he had his enemies he had people he supported and people he was against. If you got on with him he would do anything for you. If you didn't get on with him, you were sure to get torn to pieces and to have the worst problems. But he was very... he was an enthusiast, he was very pleasant.
[Q] He wasn't even ironic if you ever came up with a bad idea?
No, no. He was a little like everybody else, but no more so. Monod was much more ironic. Monod was harsher. And after that, did the tradition of common discussions continue even when Monod... When Monod went downstairs, yes. When Monod went downstairs... until then everything happened in the attic of the old building. When Monod was appointed chief of the biochemistry department, he got the large department downstairs, on the ground floor. And then, the lunch hour changed and moved to the ground floor. But the system more or less continued. The two groups saw a lot of each other. I practically worked in the lift. Because I was doing the experiment with Monod, but my lab was on the second floor, so I spent my time going up and down. But it was...
[Q] And the debates continued at lunchtime?
Yes, people talked a lot.
[Q] And about everything? Science, politics?
Absolutely everything. About science, politics. On the whole, people more or less agreed. They were slightly left-wing, not too much, definitely left-wing even and there were no political battles. There were discussions like there are discussions between people of pleasant company, but without fights. But they were still firm discussions. We also talked a lot about the personalities of the scientific world. And there, we were harsh.
François Jacob (1920-2013) was a French biochemist whose work has led to advances in the understanding of the ways in which genes are controlled. In 1965 he was awarded the Nobel Prize in Physiology or Medicine, together with Jacque Monod and André Lwoff, for his contribution to the field of biochemistry. His later work included studies on gene control and on embryogenesis. Besides the Nobel Prize, he also received the Lewis Thomas Prize for Writing about Science for 1996 and was elected a member of the French Academy in 1996.
Title: Lwoff's Attic
Listeners: Michel Morange
Michel Morange is a professor of Biology and Director of the Centre Cavaillès of History and Philosophy of Science at the Ecole Normale Supérieure. After having obtained a Bachelor in biochemistry and two PhDs, one in Biochemistry, the other in History and Philosophy of Science, he went on to join the research unit of Molecular Genetics headed by François Jacob, in the Department of Molecular Biology at the Pasteur Institute, Paris. Together with Olivier Bensaude, he discovered that Heat Shock Proteins are specifically expressed on the onset of the mouse zygotic genome activation. Since then he has been working on the properties of Heat Shock Proteins, their role in aggregation and on the regulation of expression of these proteins during mouse embryogenesis. He is the author of 'A History of Molecular Biology' and 'The Misunderstood Gene'.
Michel Morange est généticien et professeur à L'Université Paris VI ainsi qu'à l'Ecole Normale Supérieure où il dirige le Centre Cavaillès d'Histoire et de Philosophie des Sciences. Après l'obtention d'une license en Biochimie ainsi que de deux Doctorats, l'un en Biochimie, l'autre en Histoire et Philosophie des Sciences, il rejoint le laboratoire de Génétique Moléculaire dirigé par le Professeur François Jacob à l'Institut Pasteur. Ses principaux travaux de recherche se sont portés sur l'Histoire de la Biologie au XXème siècle, la naissance et le développement de la Biologie Moléculaire, ses transformations récentes et ses interactions avec les autres disciplines biologiques. Auteur de "La Part des Gènes" ainsi que de "Histoire de la Biologie Moléculaire", il est spécialiste de la structure, de la fonction et de l'ingénerie des protéines.
Tags: André Lwoff, Quand Monod
Duration: 5 minutes, 31 seconds
Date story recorded: October 2004
Date story went live: 24 January 2008