NEXT STORY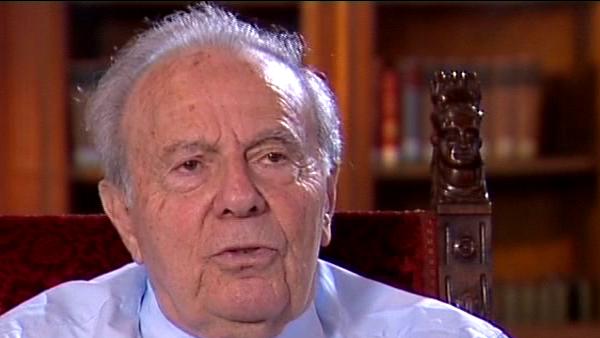 Messenger RNA
1
2
3
4
5
6
...
8
On avait prévu deux types de mutation, ou plus exactement, on avait deux types de mutation qui affectaient les trois gènes. Il y avait les mutations zéro et les mutations constitutives. Et on a cru que les mutations zéro étaient aussi dans l'opérateur. Ce qui n'était pas très vrai. Finalement, c'était un peu plus compliqué que ça parce qu'il y avait un effet de... Comment ça s'appelle... Un effet de...
[Q] De polarité?
Exactement, et que les mutations, au début du gène, du côté N-terminal, pouvaient dans certains cas entraîner un arrêt de synthèse de tout le système. Ce qu'on avait pris pour des I zéro, des inducteurs zéro, n'en étaient pas. C'étaient des mutants de polarité. Mais il y avait les I... et les IS. Les IS ont été extraordinairement... Les IS c'étaient les super-réprimés. Et les IS ont été extraordinairement utiles parce que c'était un gène... C'était un mutant dominant. Et les mutants dominants, ce n'est pas commode à expliquer, sauf si vous avez des polymères et que vous faites un MES de la structure finale. Et ça, ça a été très intéressant, le coup des IS.
[Q] En particulier pour montrer que c'était une protéine à plusieurs sous-unités, le répresseur, et une protéine allosterique.
Ça ne pouvait s'expliquer que comme ça. Et en fait ça c'est retrouvé une fois de plus exactement la même chose dans le phage. Parce qu'il y a des phages non inductibles qui sont exactement la même chose. C'est-à-dire le phage inductible, c'est un phage où le répresseur est carambouillé par l'induction, par des trucs plus ou moins compliqués. Et il y avait des mutants non inductibles qui faisaient un répresseur, mais le répresseur n'était pas affecté par l'inducteur. Là aussi, c'était une structure polymérique qui ne fonctionnait plus normalement.
We had planned two types of mutations, or more precisely, we had two types of mutations that affected the three genes. There were zero-mutations and also constitutive mutations. And we believed that the zero-mutations were also in the operator. Which wasn't really true. In the end, it was a little more complicated than that because there was a... what is it called? An effect...
[Q] Of polarity?
Exactly, and that the mutations, at the beginning of the gene, on the N-terminal side, could in certain cases lead to a standstill of the synthesis in the entire system. What we had thought were I zero/0, inducers zero/0, actually weren't. They were polarity mutants. There was the I... and the IS. The IS were extraordinarily... The IS were the super-repressed. And the IS have been extraordinarily useful because it was a gene... it was a dominant mutant. And it isn't easy to explain what dominant mutants are, unless you have polymers and you make a MES of the final structure. And everything with the IS was very interesting.
[Q] Specifically to show that it was a protein with many sub-units, the repressor and an allosteric protein.
It was the only way to explain it. And in fact, it happened to be once again exactly the same thing in phage. Because there are non inducible phages which are the exact same thing. Meaning that the inducible phage, is a phage whereas the repressor is crushed by induction, by more or less complicated things. And there were non inducible mutants who made a repressor, but the repressor wasn't affected by the inducer. It was a polymeric structure that no longer functioned normally.
François Jacob (1920-2013) was a French biochemist whose work has led to advances in the understanding of the ways in which genes are controlled. In 1965 he was awarded the Nobel Prize in Physiology or Medicine, together with Jacque Monod and André Lwoff, for his contribution to the field of biochemistry. His later work included studies on gene control and on embryogenesis. Besides the Nobel Prize, he also received the Lewis Thomas Prize for Writing about Science for 1996 and was elected a member of the French Academy in 1996.
Title: Mutations
Listeners: Michel Morange
Michel Morange is a professor of Biology and Director of the Centre Cavaillès of History and Philosophy of Science at the Ecole Normale Supérieure. After having obtained a Bachelor in biochemistry and two PhDs, one in Biochemistry, the other in History and Philosophy of Science, he went on to join the research unit of Molecular Genetics headed by François Jacob, in the Department of Molecular Biology at the Pasteur Institute, Paris. Together with Olivier Bensaude, he discovered that Heat Shock Proteins are specifically expressed on the onset of the mouse zygotic genome activation. Since then he has been working on the properties of Heat Shock Proteins, their role in aggregation and on the regulation of expression of these proteins during mouse embryogenesis. He is the author of 'A History of Molecular Biology' and 'The Misunderstood Gene'.
Michel Morange est généticien et professeur à L'Université Paris VI ainsi qu'à l'Ecole Normale Supérieure où il dirige le Centre Cavaillès d'Histoire et de Philosophie des Sciences. Après l'obtention d'une license en Biochimie ainsi que de deux Doctorats, l'un en Biochimie, l'autre en Histoire et Philosophie des Sciences, il rejoint le laboratoire de Génétique Moléculaire dirigé par le Professeur François Jacob à l'Institut Pasteur. Ses principaux travaux de recherche se sont portés sur l'Histoire de la Biologie au XXème siècle, la naissance et le développement de la Biologie Moléculaire, ses transformations récentes et ses interactions avec les autres disciplines biologiques. Auteur de "La Part des Gènes" ainsi que de "Histoire de la Biologie Moléculaire", il est spécialiste de la structure, de la fonction et de l'ingénerie des protéines.
Tags: mutations, genes, polarity, repressor, phage
Duration: 1 minute, 57 seconds
Date story recorded: October 2004
Date story went live: 24 January 2008