NEXT STORY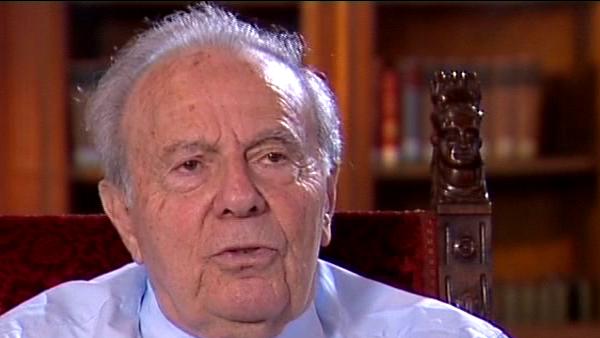 Leaving for England
The German threat and French morale
1
2
3
4
5
...
8
I think that most people could see it, but didn't want to. Because it was hard not to see it. Everything gave prominence to it. Every German move, everything showed what they were about to do. It was more or less obvious. But people didn't accept it. There was a very defeatist atmosphere, people didn't care about anything, they especially didn't want to fight and really weren't interested in any of it.
[Q] A pacifism that you sort of point at because it was often a left-wing pacifism, a pacifism of good intentions: war is a bad thing, therefore we shouldn't be going to war.
Well, the two added up. The pacifism on the one side... Left-wing pacifism and the right-wing non-war. It all added up to give... there was an awful atmosphere during that first year of war.
[Q] And also an atmosphere of latent violence between... in society, of confrontations in a way... precisely between communists and right-wingers close to fascism? Could we already get a feeling for what the atmosphere was to become?
A little. But people were mostly... They weren't really interested in all that. They were concerned with themselves and not really with matters of the State and General matters. The atmosphere was very bad during that year of war.
Moi je pense que pas mal de gens la voyaient, mais ne voulaient pas la voir. Parce que c'était très difficile de ne pas la voir. Tout mettait ça en évidence. Tous les gestes des Allemands, tout montrait qu'ils allaient faire ça. C'était à peu près évident. Mais les gens ne l'admettaient pas. Il y avait un climat très défaitiste, les gens se foutaient de tout, ne voulaient surtout pas se battre et ne s'intéressaient pas du tout à ça.
[Q] Un pacifisme que vous pointez un peu du doigt parce que c'était souvent un pacifisme de gauche aussi, un pacifisme de bonnes intentions, la guerre est une mauvaise chose, donc il ne faut pas faire la guerre.
C'est-à-dire les deux s'ajoutaient. Le pacifisme d'une part... le pacifisme de gauche et la non-guerre de droite. L'ensemble s'ajoutait pour donner... Il y avait vraiment un climat terrible pendant cette première année de guerre.
[Q] Et aussi un climat de violence latente entre... Dans la société, d'affrontement un peu... Entre justement communistes et gens de droite proches du fascisme? On sentait déjà ce qui allait être l'ambiance d'après?
Un peu. Mais les gens étaient surtout... Ils ne s'intéressaient pas tellement à tout ça. Ils s'intéressaient à eux et pas tellement aux affaires de l'Etat et aux affaires générales. L'ambiance était très très mauvaise pendant cette année de guerre.
François Jacob (1920-2013) was a French biochemist whose work has led to advances in the understanding of the ways in which genes are controlled. In 1965 he was awarded the Nobel Prize in Physiology or Medicine, together with Jacque Monod and André Lwoff, for his contribution to the field of biochemistry. His later work included studies on gene control and on embryogenesis. Besides the Nobel Prize, he also received the Lewis Thomas Prize for Writing about Science for 1996 and was elected a member of the French Academy in 1996.
Title: The German threat and French morale
Listeners: Michel Morange
Michel Morange is a professor of Biology and Director of the Centre Cavaillès of History and Philosophy of Science at the Ecole Normale Supérieure. After having obtained a Bachelor in biochemistry and two PhDs, one in Biochemistry, the other in History and Philosophy of Science, he went on to join the research unit of Molecular Genetics headed by François Jacob, in the Department of Molecular Biology at the Pasteur Institute, Paris. Together with Olivier Bensaude, he discovered that Heat Shock Proteins are specifically expressed on the onset of the mouse zygotic genome activation. Since then he has been working on the properties of Heat Shock Proteins, their role in aggregation and on the regulation of expression of these proteins during mouse embryogenesis. He is the author of 'A History of Molecular Biology' and 'The Misunderstood Gene'.
Michel Morange est généticien et professeur à L'Université Paris VI ainsi qu'à l'Ecole Normale Supérieure où il dirige le Centre Cavaillès d'Histoire et de Philosophie des Sciences. Après l'obtention d'une license en Biochimie ainsi que de deux Doctorats, l'un en Biochimie, l'autre en Histoire et Philosophie des Sciences, il rejoint le laboratoire de Génétique Moléculaire dirigé par le Professeur François Jacob à l'Institut Pasteur. Ses principaux travaux de recherche se sont portés sur l'Histoire de la Biologie au XXème siècle, la naissance et le développement de la Biologie Moléculaire, ses transformations récentes et ses interactions avec les autres disciplines biologiques. Auteur de "La Part des Gènes" ainsi que de "Histoire de la Biologie Moléculaire", il est spécialiste de la structure, de la fonction et de l'ingénerie des protéines.
Tags: pacifism, war, fascism
Duration: 1 minute, 32 seconds
Date story recorded: October 2004
Date story went live: 24 January 2008