NEXT STORY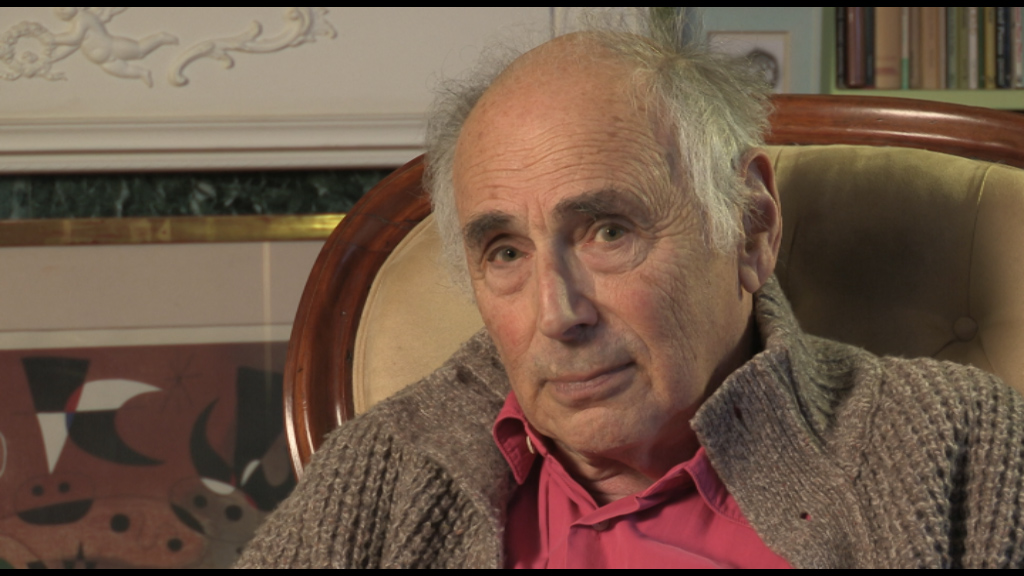 A few thoughts on the Holocaust
Meaningful standards do exist!
1
...
11
12
13
14
15
I do my best work here in France and I've done some pretty good work in Greece as well and I love it there, not least because Greece in particular, the little house we have on an island in Greece, which we've had for over 50 years, it's kind of, they can't take that away from me. I mean, of course they can a) by death and b) by legislation. But in principal, a small cottage on a Greek island with a minimum of comforts, though with some – that'll do me if it has to. And I think it's quite important, even if you do quite well in life – and I'm not going to say I haven't done quite well by vulgar standards – somehow you should always be able to think, 'I don't mind. Take it away. Just leave me my pencil.'
I said to Stanley Kubrick – one of the things I didn't tell you in this particular tape... one time I was talking to him and... I don't know what about – this or that or the other. I was... the fact that I wanted to go back and write the novel or whatever it was. I had a novel coming out. And he said, 'You don't really think I'm an artist, do you?' So I said, I don't know Stanley. I mean, I think you're a very extraordinary movie director but, I said, the thing about being a movie director is that you need to have the cameramen, the stars, the locations, the designer, the musicians, the da-da-da-da-da-da-da-da-da. And all I need to do what I do is a pencil and a piece of paper. And he said, 'You sure know how to hurt a guy, don't you?' And I said, yes, I do. And, God help me, I do. And some people need to be a bit hurt, not in order to hurt them but in order that the public should not get an undue idea of how right or important they are. That's why I mentioned the thing about John Carey, an Oxford professor already, who thinks that Ida is a god and it's not a mountain. Now, why mention it? The answer is, because he is unduly conceited. And when balloons get too big, they have to be popped. And I'm not ashamed to do that. And I'm not afraid to do it. And most people are. It isn't a great achievement, by the way, to have a little bit of moral courage. In fact, I don't think there is such a thing as moral courage which deserves any great medals. The only things that deserve medals, in my view, are physical courage... is physical courage. I admire the guy who is any kind of a moral coward, and I've known one or two, but if they have the DSO and the DSC, you throw the first stone – I think I won't. Those of us who've been lucky to be on the stepping stones through the... most of the 20th century without actually putting our foot in the cockatrice's den or other unsavoury places, let alone being dragged into things we won't even talk about, should be careful about not thinking much of people who have had... who've saved our bacon, if that's not an inelegant phrase, and who have saved the sum of things – whether for money or anything else. So good fortune should make one modest about one's conceits, but I do notice that I actually have the nerve to say, for instance – and I say it now not from any vindictive reason – for instance, that the novel by Ian McEwan called On Chesil Beach, which received all kinds of plaudits and stuff from various people of the greatest metropolitan significance, is a piece of shit. How can you tell? I sniff.
Now, Carey doesn't think that there's an objective standard which can tell you whether one book is good... better than another. This is another instance of pseudo-intellectualism. What he actually is saying is there is no absolute standard by which you can measure one book against another. First of all, why would you? But to say that there is no way of knowing whether one book is better than another, is pure populist humbug. What he's actually saying is, I may be an Oxford professor but, you know what? I'm just like one of you. I like going through the turnstiles and standing on the terraces, even if people don't stand on terraces anymore. And I like to wave the old rattle and cheer my team on, just like you. I'm not a toff. I went to a really crappy school. I'm not a toff. I am a professor at Oxford and I think perhaps you should pay attention to that. But not all the time. Now the truth of the matter is it's, of course, true to say there's no absolute standard in the arts. But are you telling me that in... you really can't tell whether a book is any good, even if it contains clichés, inelegancies, falsenesses? Of course you can. Are you telling me that only in books is there no distinction between one and another, whereas between one musician and another there are perfectly objective standards? One fiddler fiddles better. Casals plays the cello better than you do. You think you can't tell the difference. Oh, I think I'll manage it. So what about the soufflé? Even one soufflé is manifestly better than another, whether it is an absolutely perfect soufflé don't matter a shit. But that it's better, yes. Only in books which happen to be Professor Carey's speciality, apparently, is it impossible to tell whether one is better than another. Bollocks.
Born in America in 1931, Frederic Raphael is a writer who moved to England as a boy. He was educated at Charterhouse School and was a Major Scholar in Classics at St John's College, Cambridge. His articles and book reviews appear in a number of newspapers and magazines, including the Los Angeles Times and The Sunday Times. He has published more than twenty novels, the best-known being the semi-autobiographical The Glittering Prizes (1976). In 1965 Raphael won an Oscar for the screenplay for the movie Darling, and two years later received an Oscar nomination for his screenplay for Two for the Road. In 1999, he published Eyes Wide Open, a memoir of his collaboration with the director Stanley Kubrick on the screenplay of Eyes Wide Shut, Kubrick's final movie. Raphael lives in France and England and became a Fellow of the Royal Society of Literature in 1964.
Title: Meaningful standards do exist!
Listeners: Christopher Sykes
Christopher Sykes is an independent documentary producer who has made a number of films about science and scientists for BBC TV, Channel Four, and PBS.
Tags: Stanley Kubrick, John Carey
Duration: 5 minutes, 36 seconds
Date story recorded: March 2014
Date story went live: 10 September 2014