NEXT STORY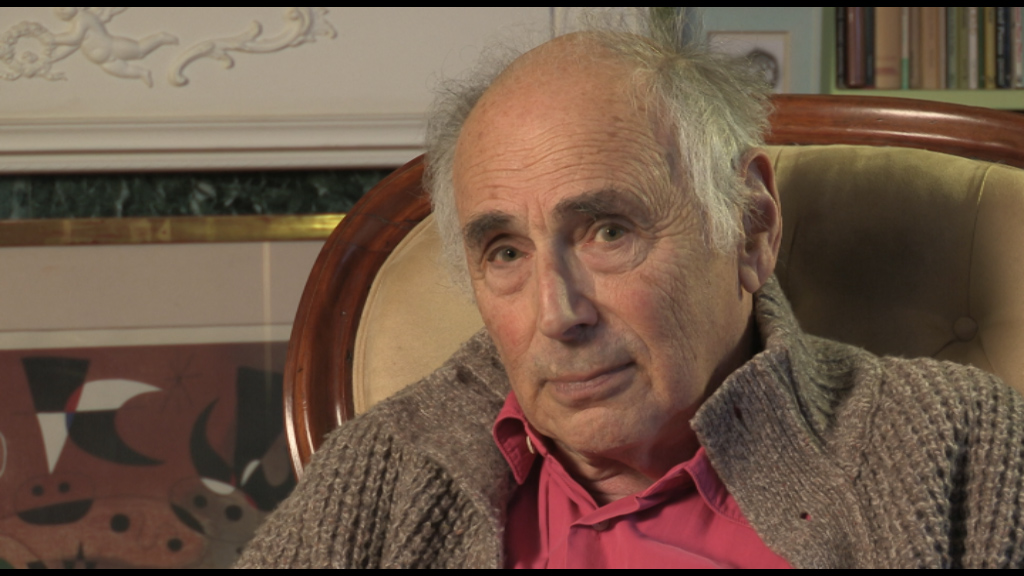 My unJewish Jewish family
Everyone has a story to tell
1
2
3
4
5
...
15
It's a funny thing about telling stories, and that's after all what one does in one way or another or what I've done, virtually all my life, through telling stories including, of course, telling lies, so to speak, but not necessarily in that way. I'm reminded now of that thing that Jean-Luc Godard said about stories having to have a beginning, a middle and an end, but not necessarily in that order. And it makes me think also of a book that I once ghosted when I was... when we were poor, and I was asked to edit a book by a secret agent. I'm talking about 1954 or 1955... '55, I suppose. His name was Jacques Doneux and at that time I was a member of the Oxford and Cambridge Club in Pall Mall, and I arranged to meet him there. And I went into the hallway where we were supposed to meet and I sat down and after a little while I began to look at my watch and I began to think that he wasn't going to come. And then I looked up and there was a... small bespectacled man sitting... sort of diagonally away from me in one corner, and I went up to him and said, are you by any chance Jacques Doneux. And he said, yes. And I said, oh, did you just get here? And he said, no I saw you come in. He had that curious quality of being entirely undistinguished and, in a sense, indistinguishable. And when I read his manuscript, which of course was the usual kind of tissue of courageous clichés, I came across at one point a passage where he had escaped from Brussels and he arrived in Paris in the cold winter of 1943, and he went to what was supposed to be a safe house, and he took off all his clothes, which he had been in for several days during his journey from Brussels, and got into a bath, leaving his clothes to dry because it had been raining. And the phone rang and a voice said, 'Il faut y sortir vite!' - get out of there, fast! So he had to put on the underclothes, which he had washed, while they were still wet and put his still damp clothes on and leave at once for the... I think, the Gare d'Austerlitz. And he went to the station and he said in the manuscript, I couldn't walk onto the platform because, of course, it was patrolled by the Germans and I didn't have the right papers but, he said, I managed to get onto the platform quietly, and when no one was looking I slipped under the train and hung myself face downwards from the lattice of the springs or whatever they were under the train... and waited. In due time, the train pulled out of the station. The next chapter began: when I got off the train at Lyon... And when I read this and I said to Jacques Doneux, you've sort of missed something rather interesting out, haven't you? I mean you... how long did you actually hang with your face down over the rails on the way to Lyon? He said, oh, about five hours. So I said, well perhaps it's worth mentioning that. And he said, oh, you think that's interesting? And I said, well yes, I think it's quite interesting; what went through your mind? To which he replied – if I remember correctly – nothing. Which of course is more than credible.
But it did point out, this story, that most of us, and that includes me of course, have a very poor appreciation of what interests other people in one's story and what doesn't, and one of the things of being of a certain age, and God knows I know what it is, is that one is told a good many stories about oneself and around oneself often enough to begin to find them somewhat used up, whereas other people who haven't heard them before sometimes have the grace to be interested. So I'm wary of assuming that because I've said something before, it ain't worth saying. On the other hand I'm naturally apprehensive of being too smooth in my delivery of old stories. You may remember that people say that you don't only reach your dotage, you reach your anecdotage and God knows writers do that.
Born in America in 1931, Frederic Raphael is a writer who moved to England as a boy. He was educated at Charterhouse School and was a Major Scholar in Classics at St John's College, Cambridge. His articles and book reviews appear in a number of newspapers and magazines, including the Los Angeles Times and The Sunday Times. He has published more than twenty novels, the best-known being the semi-autobiographical The Glittering Prizes (1976). In 1965 Raphael won an Oscar for the screenplay for the movie Darling, and two years later received an Oscar nomination for his screenplay for Two for the Road. In 1999, he published Eyes Wide Open, a memoir of his collaboration with the director Stanley Kubrick on the screenplay of Eyes Wide Shut, Kubrick's final movie. Raphael lives in France and England and became a Fellow of the Royal Society of Literature in 1964.
Title: Everyone has a story to tell
Listeners: Christopher Sykes
Christopher Sykes is an independent documentary producer who has made a number of films about science and scientists for BBC TV, Channel Four, and PBS.
Tags: Jean-Luc Godard, Jacques Donneux
Duration: 4 minutes, 52 seconds
Date story recorded: March 2014
Date story went live: 13 August 2014