NEXT STORY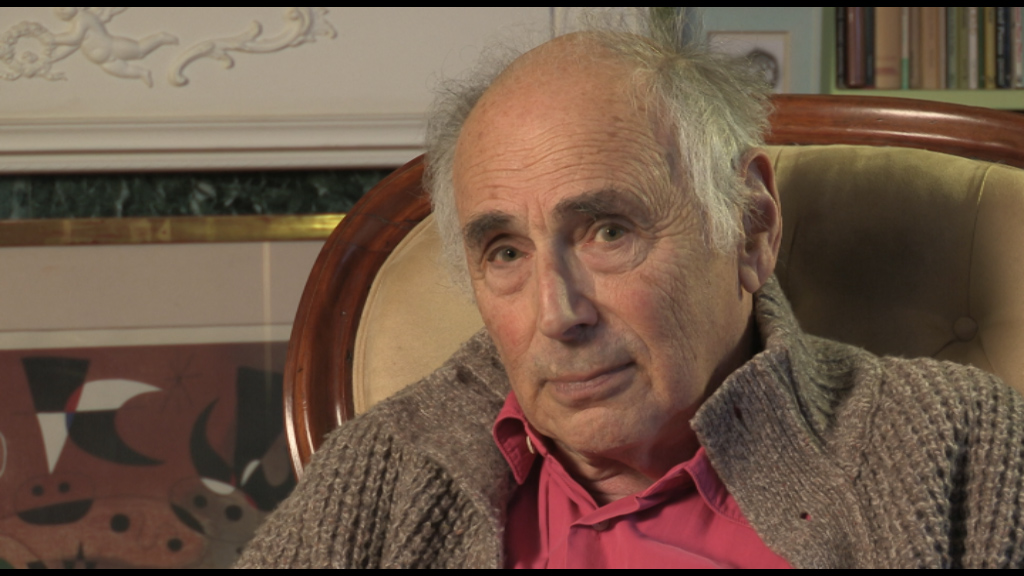 Getting to know Beetle
Finding a female of my own
1
2
3
4
5
6
...
15
Meanwhile, as they say, I decided that I would... I still hadn't found a female and Hilary Phillips was lost to me, because once she knew that I was going to be gone for three years, as I thought it was, to Cambridge, you know, she just couldn't wait. Because she was going to be old. I think she actually was very fond of me. But... So I abandoned thoughts of Hilary and I then decided that in order to find a female, I couldn't do that very easily because I didn't know any in Putney, I went to the drama club at the Liberal Jewish Synagogue, the same place where I had, God help me, been what was called confirmed. I can't remember anything about it much, but there it was. And there were a lot of people there and they were very nice. And I... I'd always been quite good at... at amateur dramatics, dramatising, and they... I remember they had a pair of steps, they were rehearsing something or other, and I climbed the steps and the script said, 'and he falls down the stairs'. So I fell down the stairs, upon which they all gathered round because they thought I'd hurt myself, which I actually by chance had not. Anyway, I... I can't remember what the plan was, if they were doing whatever they were doing, probably reading... reading a play or something, and about the second or third time that I went with no great enthusiasm for the females, though one or two of them were quite pretty and willing to come out, a particular tall, dark and beautiful girl walked in wearing a green mackintosh and flat shoes, and she had a very nice smile.
And – I don't know about love, I don't know about anything much in that department in terms of naming it, but at first sight she was a very good first sight. And after a while she and I began to talk and I discovered that she had never been to the synagogue before. Her parents actually were fairly Orthodox, at least her father was. I don't know why she came or how she came. Anyway, she'd come presumably because she had actually graduated from London University where she'd been a history scholar. So, I managed to weave into the dialogue that I had got a Major scholarship at Cambridge, upon which her interest was... accelerated. And we got on very well. And her name was Betty Glatt. And in due time she and I became friends. And in not all that much longer time we became lovers. Because she said she loved me and I loved her, which was a very un-modern way of becoming lovers, but that's what we did. She ran very quickly. She liked playing cricket. We went to watch Middlesex together. We didn't become lovers incredibly quickly, but during the course of that summer we did. And I was happy. And I had never been happy in England from the day I landed in 1938, so it was quite an extraordinary experience. I didn't entirely forget Hilary Phillips, nor was I entirely immune to looking at other girls, but there we were. Now Betty Glatt's real name was Sylvia Betty Glatt – for some reason her parents called her Betty, presumably because Betty was quite a common name in those days of movie stars. I think her father was very keen on Betty Grable. So was Wittgenstein, so there we are.
Born in America in 1931, Frederic Raphael is a writer who moved to England as a boy. He was educated at Charterhouse School and was a Major Scholar in Classics at St John's College, Cambridge. His articles and book reviews appear in a number of newspapers and magazines, including the Los Angeles Times and The Sunday Times. He has published more than twenty novels, the best-known being the semi-autobiographical The Glittering Prizes (1976). In 1965 Raphael won an Oscar for the screenplay for the movie Darling, and two years later received an Oscar nomination for his screenplay for Two for the Road. In 1999, he published Eyes Wide Open, a memoir of his collaboration with the director Stanley Kubrick on the screenplay of Eyes Wide Shut, Kubrick's final movie. Raphael lives in France and England and became a Fellow of the Royal Society of Literature in 1964.
Title: Finding a female of my own
Listeners: Christopher Sykes
Christopher Sykes is an independent documentary producer who has made a number of films about science and scientists for BBC TV, Channel Four, and PBS.
Tags: Sylvia Betty Glatt
Duration: 3 minutes, 54 seconds
Date story recorded: March 2014
Date story went live: 13 August 2014