NEXT STORY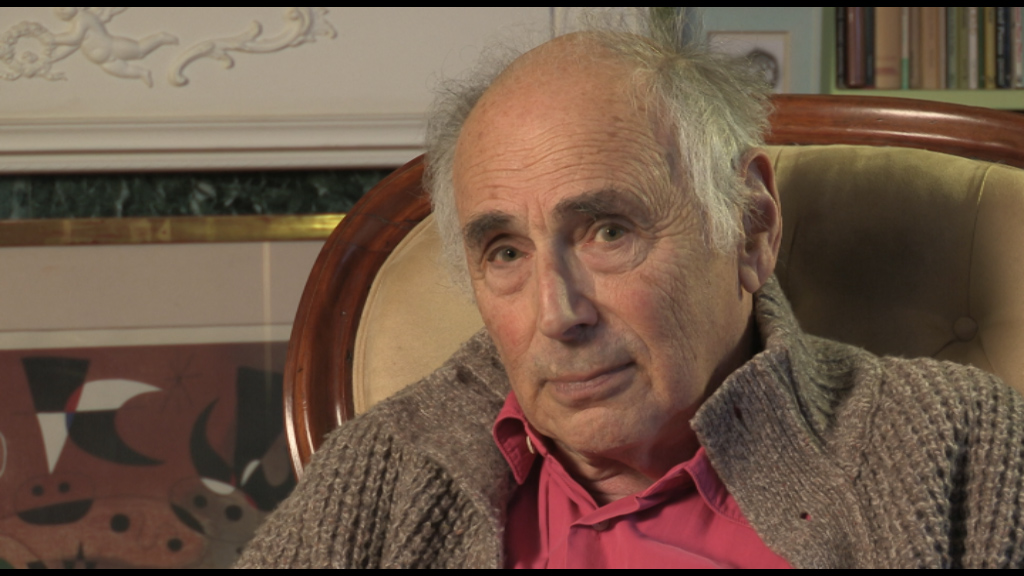 Making my theatrical debut
1
2
3
4
5
6
...
15
Beetle and I, she just got some money from working in London, she left her job and in June of 1950 we set off for France. I had not been to France since 1938 when I went with my parents to Knokke-le-Zoute for a week holiday. So it was all incredibly new and exciting. I read books about France of course.
And we went first to Paris, and then we went down to the south in a bus, a Phocien car, which took two days to go by Lyon to Nice. And it was wonderful. And then we took the bus along to St Tropez which was in those days was just a small fishing village. I mean, it was quite smart because I think even then Brigitte Bardot and people had gone there but she wasn't there at all. It was quite a smart Saint-Germain-des-Prés kind of place to go, and we put up in a little pension called Au Bout du Monde. And we lay on the beach and got sunburnt, because we both thought we didn't get sunburnt because we had dark complexions because we'd never been anywhere near a sun as hot as the one in the south of France in June. And we still made love, in a very burnt condition, and then we set out to walk from St Tropez to a place called Ramatuelle, a little hill village about 11 kilometres out of St Tropez.
And it was a very long walk with our luggage and we had those non-pliant antique sandals which rubbed in every possible place that they could; even when they didn't touch you they seemed to be creating blisters. And we walked along and walked along, and eventually a French army lorry came along with two guys in it. And they stopped, and they said – it was all like an American musical – where are you going? And we said, Ramatuelle. Allez. And off we went. And we found a little room, the woman called Madame Isnard. I think it was £3 or so a week... 5000 francs I think it was, francs were about 1200 to the pound. And it had a room and a bed, a big bed on... in the attic, and a kitchen. Of course, it didn't have any running water – you had to go to the fountain in the village. And we were there for six weeks. And every morning I sat with my portable typewriter and start... and worked on a novel. I worked and I worked and I worked, and it was all about a little boy going to Charterhouse, or an equivalent Charterhouse, and all the terrible things that happened to him. But it was written in a style which I had learnt from Somerset Maugham. What I'd learnt from Somerset Maugham, particularly from Of Human Bondage, which I'd read when I was 15, was that there was a way, so to speak, of representing your own pitiful experience – Maugham had stammered and had a miserable time at school, and he had created a hero who was lame, which stood for the stammer, called Philip Carey – and what I noticed in Maugham which gave me the incentive to become a novelist was that you can process experience in a cold, clear way so that it eliminates – you hope – self-pity, but enables you, nevertheless, to use your own personal experience. So I set about doing that. And Beetle read the pages, and she seemed to think they were okay, and in the afternoons we made love and then we walked to the beach, either to that beach, l'Escalet or to that beach which was called Pampelonne. Pampelonne was where the American forces had landing in 19... August of 1944. It was completely deserted, vineyards in front of it, now, of course, it's huge high-rises and all the rest of it.
And we used to walk down there, or to l'Escalet. One time at l'Escalet, there was a Swede and he was standing above us. We didn't take our clothes off at l'Escalet because there were too many people, but he stood up there and this voice came across the beach, 'Adam and Eve!' which was a strange moment. Anyway we took it to be some kind of a... blessing. It's easy when you're happy.
Anyway we went to l'Escalet where we were... where we could take our clothes off and swim naked on the beach, and I remember a French couple came and sat miles away from us. We'd... I hurriedly put my clothes back on again and... 'Bougez pas, nous sommes aussi des naturistes!' Anyway it was all fine. We had a good time. And then it all got a bit sad because we were going to have to leave. Our happiness was very fragile. Beetle was unhappy because she was happy and I was unhappy because she was unhappy, which is not an unknown thing to happen to both of us all through our lives. And I went back to Cambridge.
Born in America in 1931, Frederic Raphael is a writer who moved to England as a boy. He was educated at Charterhouse School and was a Major Scholar in Classics at St John's College, Cambridge. His articles and book reviews appear in a number of newspapers and magazines, including the Los Angeles Times and The Sunday Times. He has published more than twenty novels, the best-known being the semi-autobiographical The Glittering Prizes (1976). In 1965 Raphael won an Oscar for the screenplay for the movie Darling, and two years later received an Oscar nomination for his screenplay for Two for the Road. In 1999, he published Eyes Wide Open, a memoir of his collaboration with the director Stanley Kubrick on the screenplay of Eyes Wide Shut, Kubrick's final movie. Raphael lives in France and England and became a Fellow of the Royal Society of Literature in 1964.
Title: Summer idyll in France
Listeners: Christopher Sykes
Christopher Sykes is an independent documentary producer who has made a number of films about science and scientists for BBC TV, Channel Four, and PBS.
Tags: France, St Tropez, Ramatuelle, Of Human Bondage, Pampelonne, William Somerset Maugham
Duration: 5 minutes, 4 seconds
Date story recorded: March 2014
Date story went live: 13 August 2014