NEXT STORY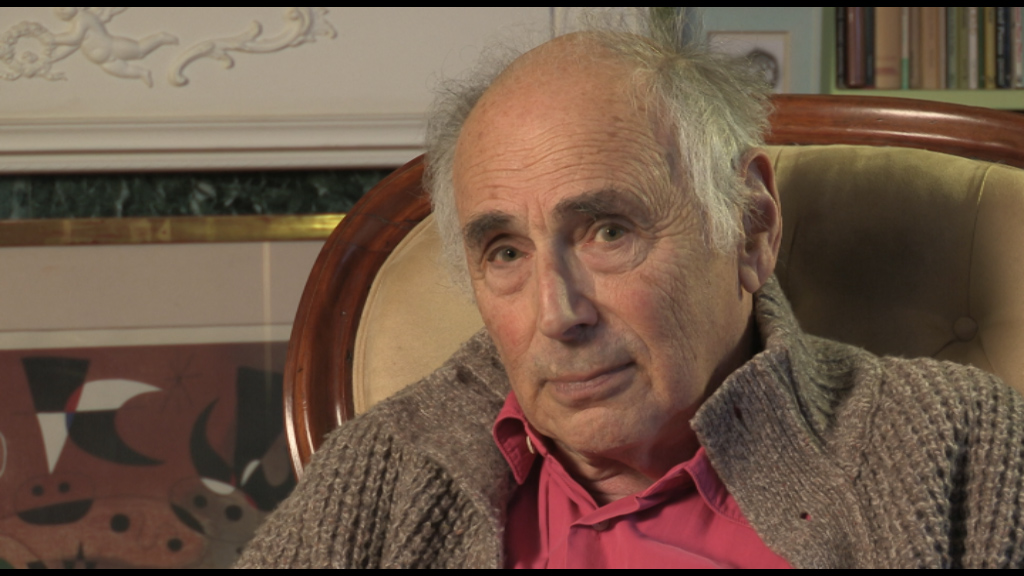 Inspiring admiration among my peers
Making my theatrical debut
1
2
3
4
5
6
...
15
But before I went back to Cambridge, about a week before we were due to leave Ramatuelle, I realised that I was never going to finish this novel, because I'd only got to a very early stage of my leading character's – Paul, I think his name was – misfortunes. So I said to myself... I said to Beetle, actually, because we'd been in a play together called Hay Fever, Noel Coward's Hay Fever, which we'd done for this Jewish dramatic society. She'd been, played... she played my sister Sorel and I played Simon. She called me Simon in those days. Anyway, I said to Beetle, you know, Noel Coward wrote Hay Fever in three days, or at least he said he did. So listen, I'm going to stop writing this novel, because we've only got five days before we have to leave. I think I'll write a play.
So I did. And I wrote a play in I think three or four days. It was called With This Ring. A suburban love story, it was quite a good little play, quite funny, and it did have some good lines in it. I only remember one or two. One of them was, 'she chased him... no, he chased her all through the Olympic Games and she fell at the last hurdle'. Which I thought was quite funny. And the other one was, about some divorce which had taken place, 'she said, yes, she said, it was a terrible divorce, the judge said he'd never been so shocked'. Which judges said a lot in those days by the way. So anyway it was quite a good little play. We went back to London and we got back there in mid-August I think it was, no it must have been earlier than that actually, towards the end of July. There was still time for my Jewish friends at The Alumni to put my play on, if they would, and they would. So we... I rehearsed it, I directed it, because among Jews, you know, I'm quite confident. So I played the leading part and I directed it and Beetle played a female lead and all the rest of it. And we did it and it went very well. We played at a little theatre called the Westbourne Grove Theatre, which still exists, they've refurbished the building. And people came and it was really nice. I painted the pictures, I did everything. Except what I didn't do. Anyway we got a lot of laughs, it was fine.
And here's the kicker. Not that I knew it, The Stage, you know, the theatre newspaper, sent a critic there, so after the show, completely without my knowledge there was a review in The Stage. It was quite a long review, I mean about half a column, and it was on the whole very, very enthusiastic about the play. Not that enthusiastic about my performance, because it said, 'the director even walked backwards on the stage'. I didn't know there was anything particularly wrong about clearing in order to let people through. But apparently in the theatre you don't walk backwards. Anyway, there it was and that was really nice. And I went back to Cambridge.
Born in America in 1931, Frederic Raphael is a writer who moved to England as a boy. He was educated at Charterhouse School and was a Major Scholar in Classics at St John's College, Cambridge. His articles and book reviews appear in a number of newspapers and magazines, including the Los Angeles Times and The Sunday Times. He has published more than twenty novels, the best-known being the semi-autobiographical The Glittering Prizes (1976). In 1965 Raphael won an Oscar for the screenplay for the movie Darling, and two years later received an Oscar nomination for his screenplay for Two for the Road. In 1999, he published Eyes Wide Open, a memoir of his collaboration with the director Stanley Kubrick on the screenplay of Eyes Wide Shut, Kubrick's final movie. Raphael lives in France and England and became a Fellow of the Royal Society of Literature in 1964.
Title: Making my theatrical debut
Listeners: Christopher Sykes
Christopher Sykes is an independent documentary producer who has made a number of films about science and scientists for BBC TV, Channel Four, and PBS.
Tags: Hay Fever, With This Ring, The Stage, Westbourne Grove Theatre, Noel Coward
Duration: 3 minutes, 6 seconds
Date story recorded: March 2014
Date story went live: 13 August 2014