NEXT STORY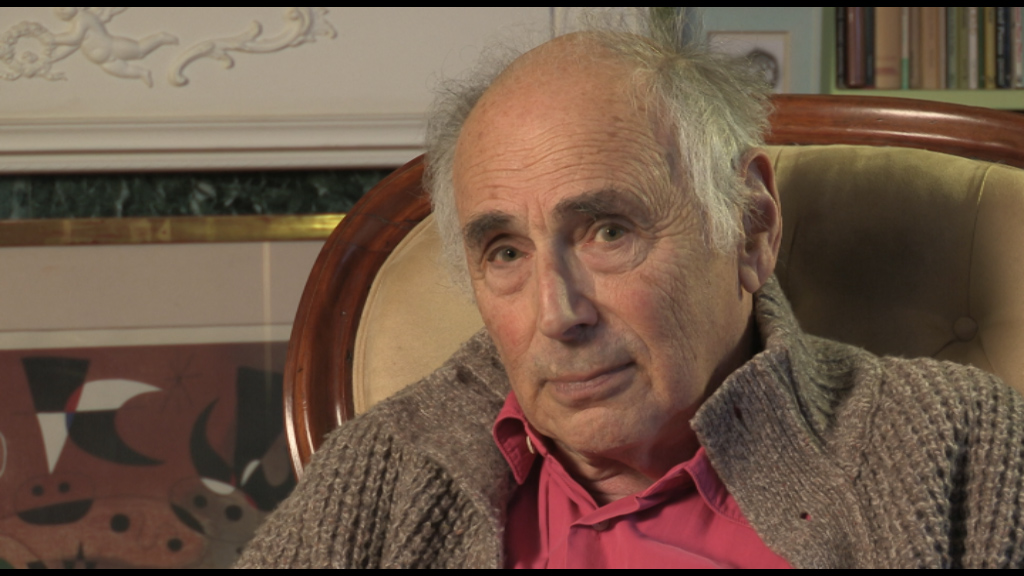 Winning the Harper-Wood studentship
Getting immersed in 'the biz'
1
...
3
4
5
6
7
...
15
So we went to London and we opened at the Phoenix Theatre, and we were a complete smash. Now, we were a complete smash in particular, though not only, on the account of Jonathan Miller, who in those days was a sort of red-haired person, very clowny, he used to do his one solo act. He didn't like working with other people, he did a little thing with me, but not much. He did his number with pretending to be Bertrand Russell and various other things, and he was very funny and very good and he was the talk of the town, and he got lots of notices. And we got asked to lots of parties and Ken Tyler asked us to parties and that was about as good as it could get in those days. And we went... Beetle and I went to one of Ken's parties, or a party of Ken's, and he took me over to Frankie Howerd who was already quite a successful radio actor. And he said to Frankie Howerd, 'Oh, I want you to meet... Freddie Raphael, he's a very brilliant young member of the Footlights'. And Frankie Howerd looked at me and he said, 'I hate talent'.
Not everybody did. We got on very well with the London smartery and we were asked to do things on the radio, we were on television; 1954 it was quite a big deal. We even devised a special radio programme which Leslie and I wrote and all of that. So I was suddenly immersed in the biz. And it was a kicker, as they say, because one night I walked into Leslie's... was asked to come to Leslie's dressing room and there was a guy there with a hat on, sitting in the armchair, a hat and a coat. And his name was Jock Jacobson. What else? And he was... came from MCA, the Music Corporation of America which was the biggest agency in the world in those days, and also owned Universal Studios. That was later broken up, but that's how it was.
So he was... he'd been a bandsman. He'd been Joe in Joe and the Boys, or at least he'd been one of the boys. And his interest, he said, he said, 'They all said it was Jonathan Miller', he said, 'but it wasn't, it was Leslie Bricusse. So I want you to be my client'. And Leslie said, 'This is Freddy Raphael, I don't want to be a comedian', which he was very good at by the way, in a sort of Bob Hopeish way, 'I want to write musicals and Freddy's going to write them with me'. And Jock said, 'Oh, yeah...' And he never remembered my name. We were his clients for quite a long time and he always used to say, 'Hello there, Leslie and... aahhh', because he couldn't remember my name.
Anyway, he wanted to sign us up for MCA. And Leslie was quite keen to do that. And I thought, I don't think anything about it. And there was a bit of chat and Jock said, 'You know we got a literary department? You want to write books, we got a literary department. Elaine Greene – you know who Elaine Greene is?' I said, 'I know who Elaine Greene is'. 'Yeah, well she's the sister, you know, of that bloke that you did the... what's his name?' 'What, Graham Greene?' 'Yes. It's the sister'. 'Oh, really that sounds interesting. Good'.
Born in America in 1931, Frederic Raphael is a writer who moved to England as a boy. He was educated at Charterhouse School and was a Major Scholar in Classics at St John's College, Cambridge. His articles and book reviews appear in a number of newspapers and magazines, including the Los Angeles Times and The Sunday Times. He has published more than twenty novels, the best-known being the semi-autobiographical The Glittering Prizes (1976). In 1965 Raphael won an Oscar for the screenplay for the movie Darling, and two years later received an Oscar nomination for his screenplay for Two for the Road. In 1999, he published Eyes Wide Open, a memoir of his collaboration with the director Stanley Kubrick on the screenplay of Eyes Wide Shut, Kubrick's final movie. Raphael lives in France and England and became a Fellow of the Royal Society of Literature in 1964.
Title: Getting immersed in 'the biz'
Listeners: Christopher Sykes
Christopher Sykes is an independent documentary producer who has made a number of films about science and scientists for BBC TV, Channel Four, and PBS.
Tags: Cambridge Footlights, Jonathan Miller, Frankie Howerd, Ken Tyler, Jock Jacobson, Leslie Bricusse
Duration: 3 minutes, 20 seconds
Date story recorded: March 2014
Date story went live: 13 August 2014