NEXT STORY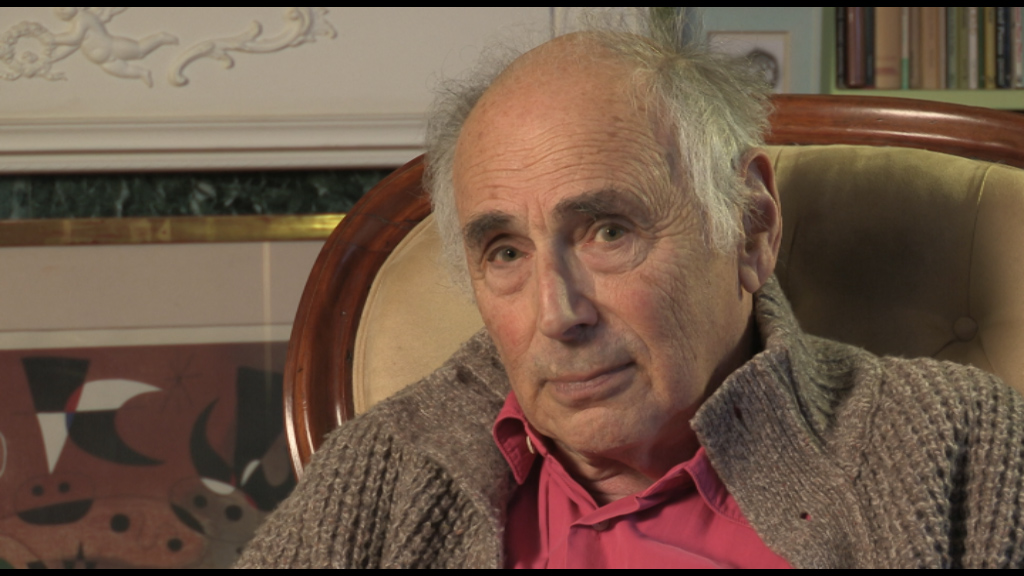 In the limelight over the Six-Day War
Leaving the world of showbiz
1
...
7
8
9
10
11
...
15
So, all the way from 1965 until 1969 I was writing screenplays in our little house in Chelsea in Seymour Walk. The children went to Bedales, which may or may not have been a good idea, and the greatest grace of all was that Stephen, after a seven year gap, after the birth of Sarah, sort of crowned our marriage and I was old enough to... to think that we were very lucky to have this other child and so did Beetle, and he has actually been a sort of second only child with us, but he's immensely sociable and doesn't have any of my chips on his now very broad shoulders, because he takes a lot of exercise.
So it all went very well, but during the late 60s some friends of ours we'd known in Fuengirola and in New York on a visit came to London, the photographer Lee Friedlander and his wife, who's since become a very famous photographer, and a man called Harry Gordon and his wife whom we had known in Fuengirola. We went out to dinner with him and Jimmy Dine, who's a very famous painter, and his wife Nancy. We went to a Trattoria or whatever it was over on Fulham Road, and I don't know why, but I suddenly thought: I actually don't want to live this life at all. I don't want to be in showbiz. Lee is a photographer who goes off on his own and does his stuff, develops his own work and whether he sells it or not he doesn't give a shit. He does sell it, that's why he doesn't give a shit, and the same might apply to writing screenplays by the way.
You know, you write a good book and they don't publish it: fuck them. You write a screenplay and they don't make it: it's a waste of time, except for the money. That's not a good arrangement. It's not the worst of all arrangements, but it's not a good one.
I did quite a lot of reviewing by the way when I was in London, and one of the people who gave me a job – a plumb job actually – was a guy called Jack Lambert on the Sunday Times, and he was the literary editor. This was back in '62. I thought I would like to review books for no very good reason actually, except that at Cambridge we thought that people who wrote criticism were very important figures. Of course reviewing isn't criticism in their sense, but who's counting as they say.
So I went to see Karl Miller, whom I'd known at Cambridge, who is a very, very grand First in English, dour Scotsman who manages brevity without wit, and he was the editor of the... literary editor of the... of the New Statesman. I wrote later that he came a very long way down the mountain to avoid seeming condescending, and I'd written several books and they had been quite well reviewed, not least by Peter Forster, but also by a number of other people, because of course I hadn't yet publicly transversed, if it's a Rubicon – I don't know whether it is or not – the boundary which led to showbiz. So Karl said, 'Well, what makes you think that you can review novels?' So I said, 'What has to? I mean, I've written four or five. You know, I thought it would be fun to review novels'. And he said, 'I'm not sure that you've got the qualifications'. So I said, 'Oh great, goodbye', and about 10 minutes later I was phoned up by the Sunday Times, a friend of my father's actually who was a managing editor, who was an anti-Semite by the way. He thought that the Jews had killed Christ and that everything that happened to them was because of that. The three people in London that he admired most were Brian Glanville, Peter Schaffer and me. Anti-Semites often actually don't know what a Jew is. They think they don't like Jews, but actually it turns out they haven't got that much problem with them individually, and even the great Mr Eliot, of course, was renowned for never being impolite to Jews, which shows what a cowardly little shit he was, but we mustn't say so, because, of course, Christopher Ricks admires him.
Anyway, so I went to work at the Sunday Times and reviewed lots of books, and then when I began to do all these movies I said to Jack, could I not do fiction, could I not do the odd book for you? And he said, 'Yes, of course... two people that I've ever had on this paper that I want to have again, so I'll give you books, Freddie, and you do it when you can and how you can' and all the rest of it.
Born in America in 1931, Frederic Raphael is a writer who moved to England as a boy. He was educated at Charterhouse School and was a Major Scholar in Classics at St John's College, Cambridge. His articles and book reviews appear in a number of newspapers and magazines, including the Los Angeles Times and The Sunday Times. He has published more than twenty novels, the best-known being the semi-autobiographical The Glittering Prizes (1976). In 1965 Raphael won an Oscar for the screenplay for the movie Darling, and two years later received an Oscar nomination for his screenplay for Two for the Road. In 1999, he published Eyes Wide Open, a memoir of his collaboration with the director Stanley Kubrick on the screenplay of Eyes Wide Shut, Kubrick's final movie. Raphael lives in France and England and became a Fellow of the Royal Society of Literature in 1964.
Title: Leaving the world of showbiz
Listeners: Christopher Sykes
Christopher Sykes is an independent documentary producer who has made a number of films about science and scientists for BBC TV, Channel Four, and PBS.
Tags: Sunday Times, New Statesman
Duration: 4 minutes, 43 seconds
Date story recorded: March 2014
Date story went live: 10 September 2014