NEXT STORY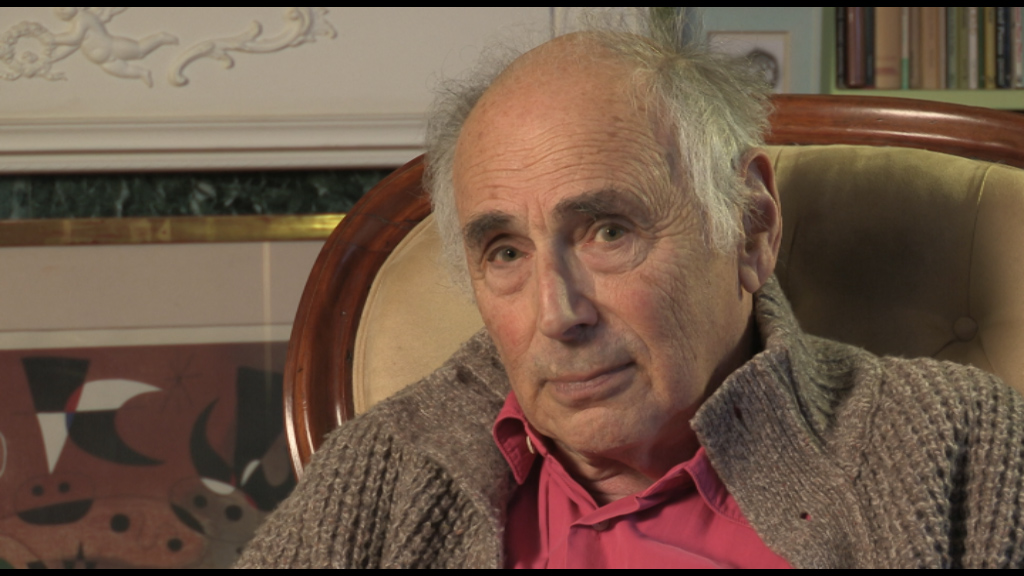 In England, you can grow up to be an English gentleman
1
2
3
4
5
...
15
We came to England a couple of times. I loved being on the ship because, in those days, being on ships was such fun. You played ping-pong and you did all kinds of things, or watched people play ping-pong, and they raced horses on the deck; that's to say, they moved... the purser moved horses along and people bet on them. It was all terrific fun. And you ate enormously as long as you weren't seasick. My father was; my mother never was so I used to eat with her, while my father bravely walked around the deck.
England was a place of heavy Victorian furniture and heavy Victorian people, maids with caps and aprons, red buses with staircases up the back in the open, taxis where the lids folded down, busbies and... nannies and nurses and all that kind of thing. It was very sort of Kensington life that I was conscious of. I didn't know anything about poor people. I'd seen them driving through Ohio during the Depression; then we saw lines of people. And my father's security in his job was, to say the least, not nothing, even though his salary was not very great. Clearly it was fine.
Anyway, 1938 my father was told that they would like him to come back to London to Head Office of Shell in order to take a course in whatever it was that it was going to be in – management, I suppose, of some kind – before returning to New York a year later to take up a more senior position. He wasn't at all reluctant to do that because although I wasn't conscious of anti-Semitism in America, except in a very overheard kind of way – there was, for instance, a man called Father Coghlan who used to have a radio show in which he abused the Jews, and there was Henry Ford who not only made motor cars but also regarded the Jews as the source of all evil and had a newspaper which proclaimed this. Anti-Semitism was entirely in order in America, and that is to say Jews were not allowed to live in certain parts of New York than those restricted areas, and... they didn't mind that much because there were plenty of Jews and they didn't actually mind that they didn't mix very much with gentiles. Not that they objected, but they didn't do. So most of my parents' friends were Jews. Anyway, my father had more trouble with anti-Semitism, strangely enough in Shell because his boss, a man called Kittinger – with two Ts, not Mr Kissinger – was a member of the German-American Bund which was an overtly Nazi organization, quite powerful, that used to have quite long marches and things.
So my father suffered alone. He was given to that and he was very stoic. His mouth was rather thin by the time I was conscious of it, and I think it was partly because he... he held in a lot of pain. He'd had the worst luck in the world... in one sense. When he was in his 20s he had a kidney stone and he had a friend called Teddy Schlesinger who was a young surgeon, and Teddy Schlesinger said to his friend, Cedric, 'I can take care of that kidney stone for you'. It was a banal operation, but Teddy Schlesinger was in those days not the distinguished surgeon he later became, and while operating on his friend he severed my father's urethra which had nothing to do with the kidneys, whatever. And as a result, when it healed, it healed with scar tissue which inhibited the passage of urine, and it got worse as my father's life went on. So actually, my father's life was in a sense ruined by too great a trust in a friend. Anyway, Teddy Schlesinger had a son called John Schlesinger, but it wasn't that John Schlesinger as we will come to if we live so long.
Born in America in 1931, Frederic Raphael is a writer who moved to England as a boy. He was educated at Charterhouse School and was a Major Scholar in Classics at St John's College, Cambridge. His articles and book reviews appear in a number of newspapers and magazines, including the Los Angeles Times and The Sunday Times. He has published more than twenty novels, the best-known being the semi-autobiographical The Glittering Prizes (1976). In 1965 Raphael won an Oscar for the screenplay for the movie Darling, and two years later received an Oscar nomination for his screenplay for Two for the Road. In 1999, he published Eyes Wide Open, a memoir of his collaboration with the director Stanley Kubrick on the screenplay of Eyes Wide Shut, Kubrick's final movie. Raphael lives in France and England and became a Fellow of the Royal Society of Literature in 1964.
Title: Sailing to England
Listeners: Christopher Sykes
Christopher Sykes is an independent documentary producer who has made a number of films about science and scientists for BBC TV, Channel Four, and PBS.
Tags: German-American Bund, Father Coughlin, Henry Ford
Duration: 4 minutes, 7 seconds
Date story recorded: March 2014
Date story went live: 13 August 2014