NEXT STORY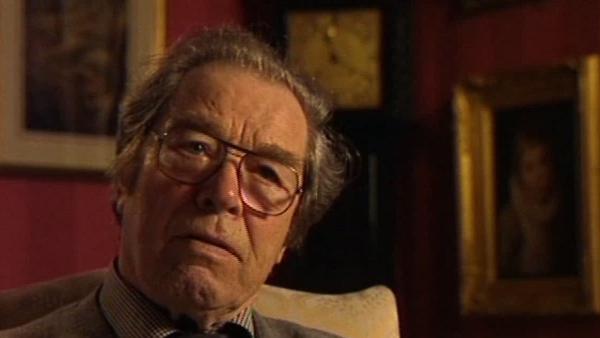 Sam Clutton introduced me to the upper echelons of horology
My Bentley exuded quality
George Daniels
Master watchmaker
1
2
3
4
5
...
9
I'd been working as a watch repairer for 10 years and I suddenly realised one day that I hadn't got any social contacts in horology. There was no one I wanted to see or talk to about it. It seemed to be full of the dumbest sort of people who's only interest was administration and profit and so it was then I bought my first Bentley, and you know, within a year I had a hundred friends with that Bentley. And so it was a tremendous social asset to me, and life really took off once I'd got that Bentley and I travelled everywhere in the car. I mean it's extraordinary to think that one could just use a 1924 car as if it were everyday transport, but it was very reliable and I wasn't in the least doubt about my ability to repair it. Whatever went wrong it didn't worry me, I could just go and fix it. And so that started me on my motoring career.
I mentioned to you earlier about meeting Clutton and so forth, and that took me through into the upper echelons of horology, but in the meantime, I had now become obsessed with my Bentley and I wasn't so interested in horology - at that moment. The Bentleys were more fun. I paid £100 for my first Bentley. I didn't actually want it but a local car dealer had been trying to sell me a car. He sold Audis, all those years ago, and he tried to sell me one and I wasn't interested in such a car and I kept... and I hadn't got a car at all at that time. I got fed up and I got back to bicycling and I had a special bike built, a hand-built racing bike, and I rode that. Then this man collared me again in the high street and he goes through his rigmarole about buying this car and I said no I didn't... and in order to put him off I said if I buy a car, I'm going to buy a vintage Bentley, knowing that that was the last car he was ever likely to have in an Audi shop. 'Come with me'' he said. We went into the shop and there was a vintage Bentley and it was the biggest vintage Bentley I'd ever seen. I mean it had eight windows in it to start with. We labelled it 'the greenhouse'... and it was a three litre, long chassis, weighed two tons and the bonnet had flown off at some time and been run over by a following car and that was crumpled up. And I thought I've got get out with it somehow, and he said to me, 'It's £200'. 'Oh,' I said with some relief, 'what a pity, I've only got £100, I can't afford it'. 'It's yours', he said.
So there I got it and I was very intrigued by this car because it exuded quality. Everything about it was high grade, all the door cabins had beautiful polished wood, the handles were all ivory inlaid, silver flower vase on the dashboard at the front, and the back opened as a landaulet so that you could put your crowned heads of Europe in the back floating along the promenade, which is what it was designed for. And so I ran it for a couple of years. Went everywhere in it. My budgerigar, who was my sole companion at the time, hung from the roof inside of the car, and he loved it and he learnt to make noises like tappets rattling and spanners falling on the ground. He was quite a talented bird and a great companion to me. He went everywhere in the car of course. We would go down to Glyndebourne, to the opera, with our buckets of ice in the back and our picnic and Henry hanging from the roof and we were very keen on the opera at the time. All my friends were keen on the opera. We would sing opera in the car, all the way down to Glyndebourne at the tops of our voices. We were once stopped by a police car for causing a nuisance.
And eventually I rebuilt that car and it was wonderful when it was rebuilt. It was so beautiful. And I sold it. I had to sell it because it could only deteriorate from there and I was using it a lot and so I sold it. And I sold it to Jack Bond, very famous vintage car dealer. And to my astonishment, he paid me £800 for it. I've never got over that figure of £800 because the best sort of Bentley in those days was only fetching for 400 or 500 and yet I got 800 for this, which was a wonderful step up for me because I could immediately go and buy another car, which I did. More of a sporting car, and that's when I took up racing.
George Daniels, CBE, DSc, FBHI, FSA (19 August 1926 - 21 October 2011) was an English watchmaker most famous for creating the co-axial escapement. Daniels was one of the few modern watchmakers who could create a complete watch by hand, including the case and dial. He was a former Master of the Clockmakers' Company of London and had been awarded their Gold Medal, a rare honour, as well as the Gold Medal of the British Horological Institute, the Gold Medal of the City of London and the Kullberg Medal of the Stockholm Watchmakers' Guild.
Title: My Bentley exuded quality
Listeners: Roger Smith
Roger Smith was born in 1970 in Bolton, Lancashire. He began training as a watchmaker at the age of 16 at the Manchester School of Horology and in 1989 won the British Horological Institute Bronze Medal. His first hand made watch, made between 1991 and 1998, was inspired by George Daniels' book "Watchmaking" and was created while Smith was working as a self-employed watch repairer and maker. His second was made after he had shown Dr Daniels the first, and in 1998 Daniels invited him to work with him on the creation of the 'Millennium Watches', a series of hand made wrist watches using the Daniels co-axial escapement produced by Omega. Roger Smith now lives and works on the Isle of Man, and is considered the finest watchmaker of his generation.
Tags: Glyndebourne, Bentley, landaulette, Cecil Clutton, Cecil (Sam) Clutton, Jack Bond
Duration: 5 minutes, 28 seconds
Date story recorded: May 2003
Date story went live: 24 January 2008