NEXT STORY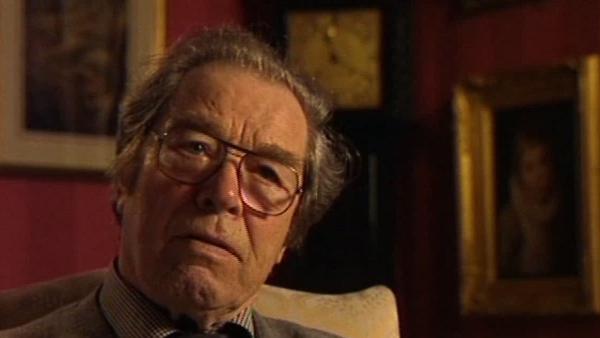 Making all the components for a Daniels watch
My aim was to produce an original watch
George Daniels
Master watchmaker
1
2
3
4
5
6
...
9
As regards the construction of the first watch and the subsequent watches, the object, of course, was to produce an original watch, it mustn't look like anybody else's watch, it's got to be quite individual. And then, of course, it couldn't contain any components that any other watch had been manufactured contained, because being different it would have to be different and nothing was interchangeable. It had to be a better timekeeper, that was very important, otherwise if it didn't keep better time than any previous watches then there wouldn't be any point in making it because the object of making the watches at all was to make an improvement to the watch. Simplicity was important because I don't like to see a multiplicity of screws and levers and springs scattered all over the watch. It lacks the simple elegance I prefer to see and so most of the mechanism would need to go under the dial and one would simply see on the back plate the mainspring barrels and the tourbillon. It was essential that the watch was a tourbillon because a tourbillon, which is a rotating carriage in the watch which carries the escapement so that it can average out all its errors of position each time the tourbillon rotates... these tourbillons were very, very fashionable, impossible to obtain unless you bought an old watch. Absolutely no one had made a tourbillon watch since before the war when Albert Pellaton was the great exponent and he died during the war and that was the end of tourbillon watches, which were considered to be impossible to make. So it had to be a tourbillon and then, of course, someone would be desperately keen to get hold of it. The dial had to look different to any other watch. Difference was absolutely important. I didn't want to be seen to be copying other people's work. So a very, very simple form of dial was contrived, which had a retrograde hour hand, which travelled over a scale of about 45 degrees and when it reached 1 o'clock, flew back again to 1 o'clock at the beginning and a near concentric minute hand and an offset seconds hand. The hour numerals were deliberately suppressed on the dial in form because the idea was that with a high-grade precision watch you didn't need to know what the hours were, you only needed the minutes and the seconds; you can get the hour any time you like.
So that was more or less the plan I worked on, and I didn't want it keyless wound, I wanted it wound by a key because then I felt that the key and the watch would be an ensemble in themselves and I designed a special chain with... producing links to attach the key to the watch and the watch had a special pendant which is very simple and could be folded back when the watch was laid down so that it didn't rock, because a rocking watch will destroy its own timekeeping. The case was to be part gold... gold middle and pendant bow, and silver back and front bezels and silver back.
George Daniels, CBE, DSc, FBHI, FSA (19 August 1926 - 21 October 2011) was an English watchmaker most famous for creating the co-axial escapement. Daniels was one of the few modern watchmakers who could create a complete watch by hand, including the case and dial. He was a former Master of the Clockmakers' Company of London and had been awarded their Gold Medal, a rare honour, as well as the Gold Medal of the British Horological Institute, the Gold Medal of the City of London and the Kullberg Medal of the Stockholm Watchmakers' Guild.
Title: My aim was to produce an original watch
Listeners: Roger Smith
Roger Smith was born in 1970 in Bolton, Lancashire. He began training as a watchmaker at the age of 16 at the Manchester School of Horology and in 1989 won the British Horological Institute Bronze Medal. His first hand made watch, made between 1991 and 1998, was inspired by George Daniels' book "Watchmaking" and was created while Smith was working as a self-employed watch repairer and maker. His second was made after he had shown Dr Daniels the first, and in 1998 Daniels invited him to work with him on the creation of the 'Millennium Watches', a series of hand made wrist watches using the Daniels co-axial escapement produced by Omega. Roger Smith now lives and works on the Isle of Man, and is considered the finest watchmaker of his generation.
Tags: tourbillion, mainspring barrels, pendant bow, bezel, retrograde hour hand, Albert Pellaton
Duration: 4 minutes, 9 seconds
Date story recorded: May 2003
Date story went live: 24 January 2008