NEXT STORY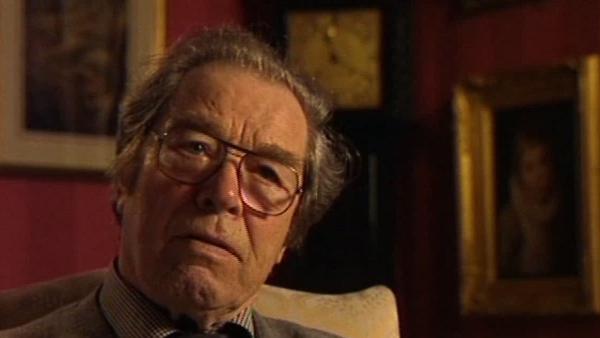 Putting on a show at the Baselworld Fair
Persuading Omega to take an interest in the co-axial escapement
George Daniels
Master watchmaker
1
...
3
4
5
6
7
...
9
It was with great optimism I started to go round to Swiss factories and became more and more despondent with each visit when I realised that not only would they not look at it, but they wouldn't have understood it if they had looked at it. And those who were showing any interest in it at all were only concerned for me to place with them an order for several million escapements so that it would keep their factory going and I would be left with all these escapements and no watches. So, that was no good. And I just kept up this bombardment of the industry for nearly 20 years and I tried every trick I knew to get them interested and even to look at it, even to try and understand it. But they seemed very satisfied with their own methods and weren't going to be bothered to interrupt their production for my ideas.
And then one day I met a young man at the La Chaux-de-Fonds Museum who was quite bright and very interested in the escapement and he engaged me in conversation about it. So I was much encouraged by that and he liked the idea and thought it was very progressive. Of course, he had no power to do anything, he was simply an apprentice. But eventually he went to the Omega company and while he was there he managed to persuade them to take an interest in the escapement, which I took along and showed them and at last I was beginning to find a company that was willing to consider them and study it to discover its merits. Prior to that I'd gone to one or two companies and they wouldn't... although they took a passing interest in it, they wouldn't manufacture it, and I did in fact spend some two or three years, four years I think, with Patek Philippe producing escapements, but their workmen didn't seem to be very interested in it. They couldn't believe that there was anyone who could make something that would be better than anything they made and it was pretty plain to me that, you know, I wasn't Swiss and therefore the old saying of not invented here was being pretty heavily applied to me and they weren't going to take an interest in it. Indeed, my impression was they were going to some trouble to make it impossible for it to work, and so I got tired of them and left. And then I met the young man from Omega and took it up with the Omega Company, and they've been at it now for about seven years, so called developing the escapement. There was nothing to develop, it was fully developed when I gave it to them and indeed their designs for the escapement now are still identical to mine. So they've developed nothing, excepting the methods of mass production, which were very, very difficult and one must give them every credit for cracking all the problems and producing these very, very accurate components, working to tolerances of a thousandth of a millimetre. Now that's a very small dimension, but they worked to those dimensions on this escapement.
And it was launched two or three years ago and a lot of noise was made about it. We went all around the world to almost every country showing it and explaining it, and everyone was very enthusiastic about it. The curious thing is that once Omega had taken it up then everyone was very pleased to agree that it was worthwhile, but somebody important had to take it up before they would agree that it was of any practical use. And at the present moment it's in production with Omega who've sold many thousands of examples. Exactly what the performance of these watches has been over the past few years I don't really know. I only know the performance of my own watches, which are made in the Isle of Man with my then assistant, Roger - what's your name?
[Q] Smith.
Smith, Roger Smith. And we made them with my assistant, Roger Smith, and we agree they keep cracking time and we had no occasion for not being absolutely honest about it. They're good watches and go very well and far exceed the performance of any lever escapement. So as far as he and I are concerned, and it's my problem rather than his, I'm very happy that this is the escapement for the watch... the mechanical watch of the future.
George Daniels, CBE, DSc, FBHI, FSA (19 August 1926 - 21 October 2011) was an English watchmaker most famous for creating the co-axial escapement. Daniels was one of the few modern watchmakers who could create a complete watch by hand, including the case and dial. He was a former Master of the Clockmakers' Company of London and had been awarded their Gold Medal, a rare honour, as well as the Gold Medal of the British Horological Institute, the Gold Medal of the City of London and the Kullberg Medal of the Stockholm Watchmakers' Guild.
Title: Persuading Omega to take an interest in the co-axial escapement
Listeners: Roger Smith
Roger Smith was born in 1970 in Bolton, Lancashire. He began training as a watchmaker at the age of 16 at the Manchester School of Horology and in 1989 won the British Horological Institute Bronze Medal. His first hand made watch, made between 1991 and 1998, was inspired by George Daniels' book "Watchmaking" and was created while Smith was working as a self-employed watch repairer and maker. His second was made after he had shown Dr Daniels the first, and in 1998 Daniels invited him to work with him on the creation of the 'Millennium Watches', a series of hand made wrist watches using the Daniels co-axial escapement produced by Omega. Roger Smith now lives and works on the Isle of Man, and is considered the finest watchmaker of his generation.
Tags: Switzerland, Isle of Man, Co-axial escapement, La Chaux-de-Fonds Museum, Patek Philippe, Omega SA, Roger W Smith
Duration: 5 minutes, 24 seconds
Date story recorded: May 2003
Date story went live: 24 January 2008