NEXT STORY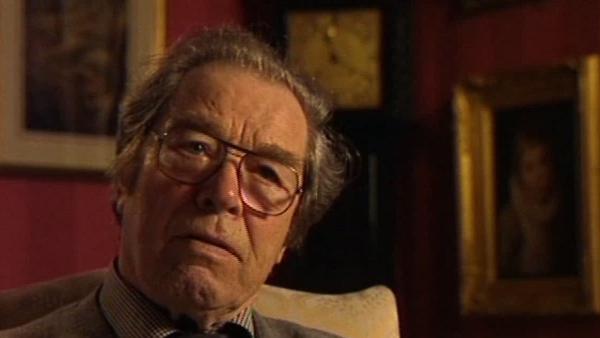 My second book: English & American Watches
Watches written with Sam Clutton
George Daniels
Master watchmaker
1
...
4
5
6
7
8
9
Sam Clutton was a very erudite chap on many subjects and he was a great expert on watches, antiquarian watches and clocks, and we got to know each other pretty well. And to my astonishment one day, he said, 'I think it's time we had a new book on watches and we shall write it'. Well I was astonished, because I'd only ever written birthday cards up to that point, and I was very flattered. And I had photographed all the watches that had been through my hands, had been photographed, and drawings made of the various mechanisms, and in particular, escapements, which were always uppermost in my mind and also in Sam's. We both liked escapements. And so I photographed something like 60 escapements, different types, put them all in the book made a special device into which you could clip the components of the escapement and then move them into position if they were working. So it added a dynamic dimension to it.
And so the book was published in 1965 and I was a very proud part author and it was signed Clutton and Daniels... as Sam said C comes before D, so it was Clutton and Daniels, which suited me very well. I was very honoured to be on the same cover as Sam, and the book sold very well. And some of the work done to it was only... only succeeded by determination, like for example the jacket, which was all coloured illustrations and we collected together the watches. I think there were 20 watches to go on the cover, some on the front jacket, some on the back jacket. And we took them to a man whom I knew to be a very good photographer, although I had had no experience of his methods. And he was an elderly chap and had very old equipment, including this very old exposure meter, which consisted of three wood flaps which he would laboriously open up and face towards the camera and get the correct readings for it and then do a calculation on a bit of paper to get the exposure right. To my astonishment, he laid a piece of blue paper on the floor and proceeded to put the watches on the blue paper in the pattern we wanted, and he made the two or three exposures, in what seemed to me the most amateur way. He had a flash lamp and he just went round and did four flashes on four sides of the watch. And then he says, 'Well, I'm going to take these pictures into the developers and we'll go and have lunch. They'll be ready when we come back'. Well, what's going to happen to the watches? There was thousands of pounds worth of them lying on the floor and we had a debate about it and he said, 'Well, no one has ever broken in here before'. All right, so we went to lunch, which we had a very anxious lunch, I can tell you. And when we got back, we picked up the pictures. We got in, the watches were still there on the floor ready to be photographed again if the transparencies weren't good, but the transparencies were quite, quite perfect. These amateur methods got beautiful results.
So the book was published and went through two or three editions and it was put into German and is now sold out I think and I don't think it's ever going to be reissued because the plates were all put in a warehouse and the damp got to them and ruined them all. But I do believe now you can use photographic methods that will photograph books made on the silkscreen process, which the old pictures were. So, it is now in demand and it may be that it will come out again.
George Daniels, CBE, DSc, FBHI, FSA (19 August 1926 - 21 October 2011) was an English watchmaker most famous for creating the co-axial escapement. Daniels was one of the few modern watchmakers who could create a complete watch by hand, including the case and dial. He was a former Master of the Clockmakers' Company of London and had been awarded their Gold Medal, a rare honour, as well as the Gold Medal of the British Horological Institute, the Gold Medal of the City of London and the Kullberg Medal of the Stockholm Watchmakers' Guild.
Title: "Watches" written with Sam Clutton
Listeners: Roger Smith
Roger Smith was born in 1970 in Bolton, Lancashire. He began training as a watchmaker at the age of 16 at the Manchester School of Horology and in 1989 won the British Horological Institute Bronze Medal. His first hand made watch, made between 1991 and 1998, was inspired by George Daniels' book "Watchmaking" and was created while Smith was working as a self-employed watch repairer and maker. His second was made after he had shown Dr Daniels the first, and in 1998 Daniels invited him to work with him on the creation of the 'Millennium Watches', a series of hand made wrist watches using the Daniels co-axial escapement produced by Omega. Roger Smith now lives and works on the Isle of Man, and is considered the finest watchmaker of his generation.
Tags: Watches, escapements, Cecil (Sam) Clutton
Duration: 4 minutes, 3 seconds
Date story recorded: May 2003
Date story went live: 24 January 2008