NEXT STORY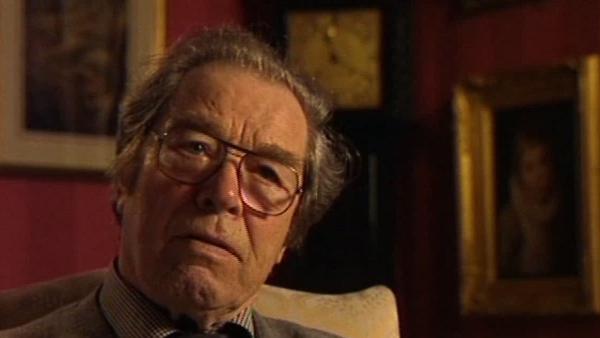 The hassles of travelling
My enjoyable lunch with the Queen
George Daniels
Master watchmaker
1
...
5
6
7
8
9
The Queen, yes. Well, that was very enjoyable. I don't know what prompted her to invite me to lunch. I had hoped that she wanted to buy a watch but the subject wasn't mentioned. It's a very interesting experience. I turned up on my motorbike, of course, I felt that was appropriate, and I allowed the police to park it for me and I went into the palace by the appropriate door and to my astonishment everything was red and white and I wondered who I was going to meet at this lunch. And it turned out that I knew some of them and they'd invited John Egan, the chairman of Jaguar was there, Maggie Smith, the actress, Bernard Williams the philosopher was there. I thought he might not remember his lunch with any great pleasure because during the course of lunch the registrar of the London Bridge Hospital, he was also a guest, asked if he could see a Daniels watch and I was very pleased to show him one. Bernard Williams took it and said, 'Oh, I wouldn't find it very easy to wear a watch like this'. And I was absolutely livid that he should make such a remark. I suppose he meant that it was too big for him. However, I noticed that he wasn't wearing a waistcoat and I said to him in a very loud voice, 'If you were a gentleman, you'd be wearing a waistcoat and you wouldn't have any trouble'. And the Queen thought that was very amusing and she took a glass of wine. I suppose she didn't like to show any enjoyment under the circumstances. But to my surprise, I met Bernard Williams again... he's from Cambridge... and I met him in the common room there and he was very affable and smiling and so he obviously he hadn't taken offence at my remarks. But I felt he had to be knocked down a bit on that occasion and, as I say, he took it well enough in the end.
After lunch, one is taken into the drawing room and the Queen proceeds and stands in one corner, the Duke stands in an opposite corner and you are led out one at a time and dumped in front of them, and it was a very unusual experience for me. Some of the others may have had the experience before, I don't know, but I had always believed that one always allowed royalty to speak first. So I'm dumped in front of the Queen and I said nothing, waited for her to say something and she didn't say anything. And so on a sudden impulse, I dropped to my knee and I ran my finger down the back of her Corgi dog... she loves Corgis... and then stood up and said, 'I promised my daughter I would do that', so then we could talk, you see. Luckily for me the Corgi didn't bite commoners, wasn't it, I mean it could have been very embarrassing but we got away with it, and then the Queen was very affable, charming. And after that I was presented to the Duke and we discussed some of the palace clocks and that sort of thing, nothing very much and then it was all over. It was a somewhat anxious occasion at the beginning and very relaxed at the end, so it was quite enjoyable.
George Daniels, CBE, DSc, FBHI, FSA (19 August 1926 - 21 October 2011) was an English watchmaker most famous for creating the co-axial escapement. Daniels was one of the few modern watchmakers who could create a complete watch by hand, including the case and dial. He was a former Master of the Clockmakers' Company of London and had been awarded their Gold Medal, a rare honour, as well as the Gold Medal of the British Horological Institute, the Gold Medal of the City of London and the Kullberg Medal of the Stockholm Watchmakers' Guild.
Title: My enjoyable lunch with the Queen
Listeners: Roger Smith
Roger Smith was born in 1970 in Bolton, Lancashire. He began training as a watchmaker at the age of 16 at the Manchester School of Horology and in 1989 won the British Horological Institute Bronze Medal. His first hand made watch, made between 1991 and 1998, was inspired by George Daniels' book "Watchmaking" and was created while Smith was working as a self-employed watch repairer and maker. His second was made after he had shown Dr Daniels the first, and in 1998 Daniels invited him to work with him on the creation of the 'Millennium Watches', a series of hand made wrist watches using the Daniels co-axial escapement produced by Omega. Roger Smith now lives and works on the Isle of Man, and is considered the finest watchmaker of his generation.
Tags: Jaguar Cars, Corgi, Daniels watch, John Leopold Egan, Maggie Smith, Margaret Natalie Smith, Bernard Arthur Owen Williams, Prince Philip, Duke of Edinburgh, Her Majesty The Queen
Duration: 4 minutes, 21 seconds
Date story recorded: May 2003
Date story went live: 24 January 2008