NEXT STORY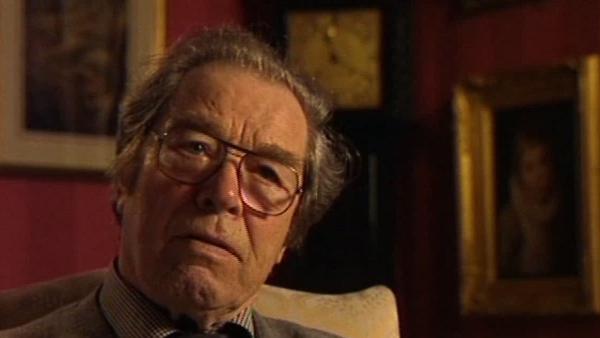 Birkin's Alfa Romeo
I very much like the early primitive cars
George Daniels
Master watchmaker
1
...
5
6
7
8
9
And I very much like the early cars. The earlier they are, provided they're big enough, provided they're fast enough, the earlier the better and nothing can exceed the qualities of a really early primitive big car. And one day I was advised by the owner of a Daimler, belonged to the Craven family... that the car had to be moved because the stables were being knocked down, and would I like to buy the car. 'Well', I said, 'I can't afford it', and I couldn't at the time, I was busy with my watches, and Rupert Craven said, 'Okay, I'll tell you what we'll do, you have the car for £1 a year rent and if you can afford to buy it some time, so be it'. Well I kept it for a few years and eventually I decided I could buy it and got it from Rupert, and so it was my first big primitive car. I mean when I say big it was a 10½ litre engine. It was quite a big engine, you know, for a chain driven car. You are sitting way up in the air with narrow wheels, you know, and very high geared steering, almost no brakes, you know. They have all their own characteristics these old cars, but I like those characteristics and I enjoyed the car tremendously. I've still got it, still use it.
And then to my astonishment I had the opportunity of buying the Itala. The Itala was a very, very famous car that was built specially for the Dieppe Grand Prix in France in 1908 and it finished the race and there were three Itala's. Only one finished, the other two crashed. And it was sent to England and a body was put on it by Vincent's of Reading. The Grand Prix body was taken off, it was very primitive, and this body put on and the Itala falls into this big primitive category. It's 12 litres, even bigger than the Daimler, and it's very primitive, but still these primitive cars are very easy to drive. You know if we don't rush it, if we go about it at the right speed, they're very cooperative and wonderful sensation to lope along at 80 miles an hour at 1100 rpm. I mean imagine that, the engine is just going like this and the car is doing 80 miles an hour. It's a wonderful experience; it's the best experience in motoring. Well I had always admired that car and never coveted it because I knew it was never ever going to be for sale. And then one day I was at Prescott racing my Alfa Romeo and the owner of the Itala said, 'You know I may have to raise some money soon and it might mean selling the Itala'. 'Well', I said, 'if you're going to sell the car I want to buy it. You just tell me how much it is and I'll have it'. 'Well', he said, 'we're looking for offers'. Well, I didn't want to offer so I let a little bit of time go by, a week or so go by, and then suddenly he phoned me and said I don't think I'm going to have to sell the Itala now because I've managed to find a way of solving my problems, and I thought hell, I'm going to lose this car now, you know. And it's the one opportunity of a lifetime to get it. And so I wrote him a letter and said that I'd understood from various people that his car was worth between X and Y pounds and I enclosed my cheque to the latter amount, which was a hell of a sum of money, and would that complete the transaction? Of course he phoned back immediately, 'Yes, it's yours', and I got it you see, and now I'm using it for the same things that I used the Daimler for: continent, Nürburgring, driving, racing, hill climbing. I've just been out hill climbing it lately, and it's the most wonderful acquisition, you know. You have to experience a car like this, there's no way you can describe to anyone what it's like to drive a car like that. You've got to do it and you either love it or you hate it, and I love them, they're so primitive. The tranquillity of these primitive cars is extraordinary. It's difficult to describe. Everything is rotating so slowly and the car's really whistling through the atmosphere like that.
George Daniels, CBE, DSc, FBHI, FSA (19 August 1926 - 21 October 2011) was an English watchmaker most famous for creating the co-axial escapement. Daniels was one of the few modern watchmakers who could create a complete watch by hand, including the case and dial. He was a former Master of the Clockmakers' Company of London and had been awarded their Gold Medal, a rare honour, as well as the Gold Medal of the British Horological Institute, the Gold Medal of the City of London and the Kullberg Medal of the Stockholm Watchmakers' Guild.
Title: I very much like the early primitive cars
Listeners: Roger Smith
Roger Smith was born in 1970 in Bolton, Lancashire. He began training as a watchmaker at the age of 16 at the Manchester School of Horology and in 1989 won the British Horological Institute Bronze Medal. His first hand made watch, made between 1991 and 1998, was inspired by George Daniels' book "Watchmaking" and was created while Smith was working as a self-employed watch repairer and maker. His second was made after he had shown Dr Daniels the first, and in 1998 Daniels invited him to work with him on the creation of the 'Millennium Watches', a series of hand made wrist watches using the Daniels co-axial escapement produced by Omega. Roger Smith now lives and works on the Isle of Man, and is considered the finest watchmaker of his generation.
Tags: Dieppe Grand Prix, Nürburgring, Daimler, Itala, Alfa Romeo, French Grand Prix, William Vincent Ltd, Vincent of Reading, Prescott Speed Hill Climb, Rupert José Evelyn Craven
Duration: 4 minutes, 52 seconds
Date story recorded: May 2003
Date story went live: 24 January 2008