NEXT STORY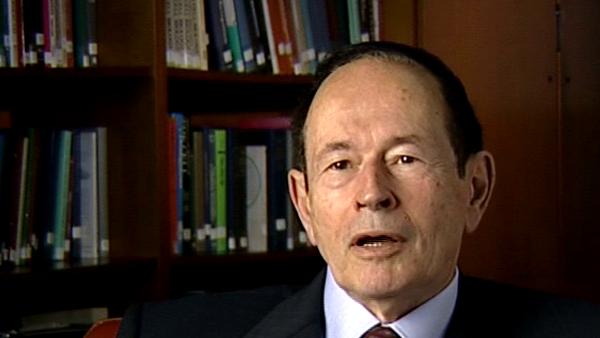 A theory of consciousness: Language
A theory of consciousness: The thalamus
1
...
3
4
5
6
7
...
9
In 1978 or so, when I published this book The Mindful Brain with Vernon Mountcastle, I did discuss the issue of consciousness briefly. But it was only in 1987 and on, and particularly 1989, in a book called The Remembered Present, that I gave forth a theory of consciousness that was based on circuitry, dynamics, biology and, above all, evolution. And let me sort of outline that and then come back to this business of how a conscious artifact might relate to BBDs – brain based devices. The idea was something as follows: that yes, we could argue for ever about whether a table is conscious or a lizard is conscious or even a dog is conscious, but we sort of accept the idea that we are conscious, and we do that because we have a homology in our nervous systems and we also have a language for report and we can exchange back and forth and notice there are similarities in what philosophers call qualia – namely the experience of green, the experience of warmth, or the experience of a much broader experience.
And so, starting there, the idea that I developed was as follows: that some time in evolution this process of re-entry became commanding. That at a time when reptiles were precursors to birds on one hand and mammals on the other, there was a huge expansion of particular circuits of the brain related to a structure called the thalamus and the thalamocortical circuits. So I have to tell you about that. The thalamus is something not much bigger than a circuit of your brain – not much bigger than the end of your thumb, which relays everything but smell to the cortex in a vast set of connections back and forth re-enterably. So there are corticothalamic and thalamocortical connections. And there are... there are also cortical... cortical connections which connect the cortices to each other that I mentioned before. And the idea here is that the so-called specific nuclei of the thalamus – the ones that handle smell and... excuse me, not smell... the ones that handle vision, hearing, touch, etc. – that these specific nuclei speak to the cortex but not to each other. But they're enveloped by another nucleus called the reticular nucleus which inhibits them and makes sort of dashboard changes, can pick which ones are more active than others. That particular set of circuits and specific nuclei expanded in both numbers and types at a certain point in evolution; I would figure about 250 million years ago... maybe 225 million years ago, I can't be exact with these numbers. And at that point it was possible to have a re-entrant connection between the more posterior parts of your brain that mediated the sensory elements like vision – I'll give you the example in a minute – to more forward parts of the brain that have to do with memory, that have to do with memory conditioned by the matter of values that I mentioned before. So value, category, memory and perceptual categorization were related by re-entry. That was the idea. What was the value of that idea? Well, it was that when you have a system like that, compared to an animal who doesn't, you have the capacity to make an enormous number of discriminations.
US biologist Gerald Edelman (1929-2014) successfully constructed a precise model of an antibody, a protein used by the body to neutralise harmful bacteria or viruses and it was this work that won him the Nobel Prize in Physiology or Medicine in 1972 jointly with Rodney R Porter. He then turned his attention to neuroscience, focusing on neural Darwinism, an influential theory of brain function.
Title: A theory of consciousness: The thalamus
Listeners: Ralph J. Greenspan
Dr. Greenspan has worked on the genetic and neurobiological basis of behavior in fruit flies (Drosophila melanogaster) almost since the inception of the field, studying with one of its founders, Jeffery Hall, at Brandeis University in Massachusetts, where he received his Ph.D. in biology in 1979. He subsequently taught and conducted research at Princeton University and New York University where he ran the W.M. Keck Laboratory of Molecular Neurobiology, relocating to San Diego in 1997 to become a Senior Fellow in Experimental Neurobiology at The Neurosciences Institute. Dr. Greenspan's research accomplishments include studies of physiological and behavioral consequences of mutations in a neurotransmitter system affecting one of the brain's principal chemical signals, studies making highly localized genetic alterations in the nervous system to alter behavior, molecular identification of genes causing naturally occurring variation in behavior, and the demonstration that the fly has sleep-like and attention-like behavior similar to that of mammals. Dr. Greenspan has been awarded fellowships from the Helen Hay Whitney Foundation, the Searle Scholars Program, the McKnight Foundation, the Sloan Foundation and the Klingenstein Foundation. In addition to authoring research papers in journals such as "Science", "Nature", "Cell", "Neuron", and "Current Biology", he is also author of an article on the subject of genes and behavior for "Scientific American" and several books, including "Genetic Neurobiology" with Jeffrey Hall and William Harris, "Flexibility and Constraint in Behavioral Systems" with C.P. Kyriacou, and "Fly Pushing: The Theory and Practice of Drosophila Genetics", which has become a standard work in all fruit fly laboratories.
Tags: 1978, The Mindful Brain, The Remembered Present, 1987, 1989, Vernon Mountcastle
Duration: 3 minutes, 31 seconds
Date story recorded: July 2005
Date story went live: 24 January 2008