NEXT STORY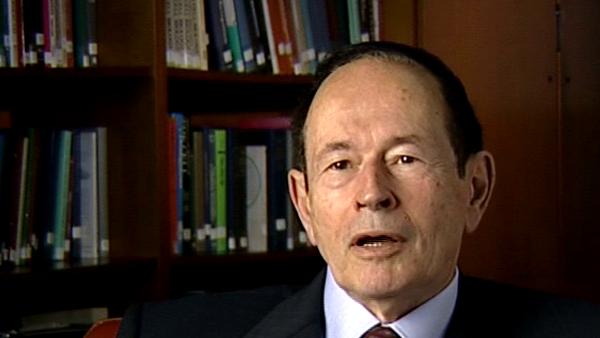 Consciousness: A process not a thing
An experiment to test re-entry
1
...
4
5
6
7
8
9
I believe fruit flies can't be conscious – discussably conscious in the way that we're conscious – because they lack the anatomy. It's a little bit like Jonathan Miller who discussed as a cockney in his wonderful Beyond the Fringe where he said, 'I thought to be a judge but I didn't have the Latin.' Well, fruit flies don't have re-entry in my opinion. And if you don't have re-entry you can't have consciousness of the kind that we have – primary and secondary, higher order. So what is it that's going on here? Well, we actually did an experiment in which we tested this and asked the question: when you become conscious of an object, do you have re-entry? What we did is we used a modern invention called the magnetoencephalography unit, a magnetometer, which can measure with, thanks to the modern physics, with exquisite sensitivity, the magnetic fields created by the electrical activity of groups of neurons, as few as 10,000 of them. And it doesn't locate things all that well – maybe within a centimeter and a half – but temporally it's very, very good. It connects up things in microseconds. So we have a machine which has 148 electrodes and here's what we do. We present a vertical red bar in a grating, and a horizontal blue bar in another grating, overlapping each other. Now, your eye and brain cannot make those fuse, they're too much at right angles with each other, so what happens is you suppress one while you see the other.
[Q] When you're wearing glasses.
When you're wearing glasses which are in one case red for the right eye say, and left blue. Now that means your brain is receiving those inputs from both the red and the blue bars but you can only perceive red bars followed by blue bars followed by red bars, so we stick you in a room, we put the magnetometer on you and we have you record in a switch when you see or are conscious of red or when you're conscious of blue. As distinguished that's between the unconscious state so when you're conscious of one you're not conscious of the other. And we apply some magical mathematics Fourier analysis to look at the intensity of the responses of all the parts of your brain and we also look at something much more to the point – we look at the so-called coherence, which means the simultaneity, the synchronization of distant parts of your brain with each other when you become conscious. Well, the findings are easily stated. In the first case, when you become conscious of, say, the blue bar or the red bar – it doesn't matter which – there's a very sharp increase in your brain response in very local areas. No two individuals have the same combination of local areas; you have a kind of brain fingerprint. But the second one is the truly exciting one: when you use the mathematics to look at the coherence of the synchronization, you find that when you become conscious there's a big burst of re-entry forward and back and sideways, showing a huge distribution in that moment of when you're conscious of that particular object. So we have at least the beginnings of some hint of how this whole thing may work, but of course it's very, very early in the game. And I hope you notice... whoever is listening and who bothers to listen... I hope you notice the tentativeness that's entered into my conversation because we of course are tentative. We don't have the whole answer. But we think we have a beginning to deal with Descartes' foundationalism.
US biologist Gerald Edelman (1929-2014) successfully constructed a precise model of an antibody, a protein used by the body to neutralise harmful bacteria or viruses and it was this work that won him the Nobel Prize in Physiology or Medicine in 1972 jointly with Rodney R Porter. He then turned his attention to neuroscience, focusing on neural Darwinism, an influential theory of brain function.
Title: An experiment to test re-entry
Listeners: Ralph J. Greenspan
Dr. Greenspan has worked on the genetic and neurobiological basis of behavior in fruit flies (Drosophila melanogaster) almost since the inception of the field, studying with one of its founders, Jeffery Hall, at Brandeis University in Massachusetts, where he received his Ph.D. in biology in 1979. He subsequently taught and conducted research at Princeton University and New York University where he ran the W.M. Keck Laboratory of Molecular Neurobiology, relocating to San Diego in 1997 to become a Senior Fellow in Experimental Neurobiology at The Neurosciences Institute. Dr. Greenspan's research accomplishments include studies of physiological and behavioral consequences of mutations in a neurotransmitter system affecting one of the brain's principal chemical signals, studies making highly localized genetic alterations in the nervous system to alter behavior, molecular identification of genes causing naturally occurring variation in behavior, and the demonstration that the fly has sleep-like and attention-like behavior similar to that of mammals. Dr. Greenspan has been awarded fellowships from the Helen Hay Whitney Foundation, the Searle Scholars Program, the McKnight Foundation, the Sloan Foundation and the Klingenstein Foundation. In addition to authoring research papers in journals such as "Science", "Nature", "Cell", "Neuron", and "Current Biology", he is also author of an article on the subject of genes and behavior for "Scientific American" and several books, including "Genetic Neurobiology" with Jeffrey Hall and William Harris, "Flexibility and Constraint in Behavioral Systems" with C.P. Kyriacou, and "Fly Pushing: The Theory and Practice of Drosophila Genetics", which has become a standard work in all fruit fly laboratories.
Tags: Beyond the Fringe, Jonathan Miller, Decartes
Duration: 1 minute, 43 seconds
Date story recorded: July 2005
Date story went live: 24 January 2008