NEXT STORY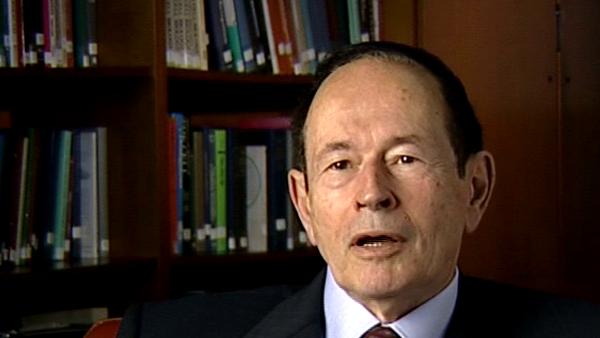 Charles Darwin and Alfred Wallace
Homunculus and the origin of language
1
...
4
5
6
7
8
9
This has to do with the very famous problem in neurobiology, which is the problem of the homunculus. And in psychology as well. And also the grandmother neuron, as it's called. The homunculus is the following: that if I think that there's the self in the way of an actual personage or whatever you want to call it – spirit – then of course inside that spirit has got to be another system which recognizes what the spirit is reflecting ad infinitum and so you get an endless regress; you get an infinite regress, and that's not possible. But you notice that in a selectional system you don't need to do that, because there's nobody instructing anybody. What you have in a selectional system is no design – that was Darwin's big thing; the argument from design... by the way, we're plagued by it, aren't we, today, intelligent design? People somehow find it demeaning that we might have happened as a result of mutation and selection. Well, the evidence is pretty strong, isn't it? So you don't need a designer in a system of that kind because already you have the repertoire as against some uncertain future, and whatever matches is what's amplified; so of course the size of the repertoire matters. But the repertoire in the brain makes the immune repertoire look silly; I mean, it's just huge numbers of possible states. So, yes, in another way, and I would say the huge number of states is very consistent with the idea of a selectional theory.
[Q] It's also one of the most... isn't it also one of the most obvious ways that you can get the enormous sophistication that we have as humans, in comparison to what animals, nonetheless even intelligent animals, can do? In other words, a dog or a cat, with a fair degree of... of complexity, the repertoire just in terms of anatomy.
Yes, there is an evidence and that's been known prior to any theory of... of consciousness or what have you. It's been known by the anthropologists and by neuro-anatomists that what we have, in the way of the huge advance, is in the prefrontal cortex. We have an enormous expansion during evolution of the size of our brain and particularly of the frontal and prefrontal cortex; where... in fact it's known by the way in patients that go into vegetative states and coma... beyond coma, that the frontal and the parietal areas are the ones that drop out, and so it's pretty clear that consciousness not only depends on them but, in the sense of higher order consciousness and the invention of language, that this is very curious combination of an event that depends on how you feel about language, which is a dark subject. But I happen to believe that you do not have a language acquisition device – that language did not evolve as such – but that the devices that enable you to have language evolved, and that you invented it. By the way, Joe Gally who argues this point with me – I think possibly with you – argues that those hominids or hominines that had language were sufficient to have it happen once because they killed all the other guys without the language.
[Q] Well... and they could... once invented it could have had enormous selective advantage.
Sure.
US biologist Gerald Edelman (1929-2014) successfully constructed a precise model of an antibody, a protein used by the body to neutralise harmful bacteria or viruses and it was this work that won him the Nobel Prize in Physiology or Medicine in 1972 jointly with Rodney R Porter. He then turned his attention to neuroscience, focusing on neural Darwinism, an influential theory of brain function.
Title: Homunculus and the origin of language
Listeners: Ralph J. Greenspan
Dr. Greenspan has worked on the genetic and neurobiological basis of behavior in fruit flies (Drosophila melanogaster) almost since the inception of the field, studying with one of its founders, Jeffery Hall, at Brandeis University in Massachusetts, where he received his Ph.D. in biology in 1979. He subsequently taught and conducted research at Princeton University and New York University where he ran the W.M. Keck Laboratory of Molecular Neurobiology, relocating to San Diego in 1997 to become a Senior Fellow in Experimental Neurobiology at The Neurosciences Institute. Dr. Greenspan's research accomplishments include studies of physiological and behavioral consequences of mutations in a neurotransmitter system affecting one of the brain's principal chemical signals, studies making highly localized genetic alterations in the nervous system to alter behavior, molecular identification of genes causing naturally occurring variation in behavior, and the demonstration that the fly has sleep-like and attention-like behavior similar to that of mammals. Dr. Greenspan has been awarded fellowships from the Helen Hay Whitney Foundation, the Searle Scholars Program, the McKnight Foundation, the Sloan Foundation and the Klingenstein Foundation. In addition to authoring research papers in journals such as "Science", "Nature", "Cell", "Neuron", and "Current Biology", he is also author of an article on the subject of genes and behavior for "Scientific American" and several books, including "Genetic Neurobiology" with Jeffrey Hall and William Harris, "Flexibility and Constraint in Behavioral Systems" with C.P. Kyriacou, and "Fly Pushing: The Theory and Practice of Drosophila Genetics", which has become a standard work in all fruit fly laboratories.
Tags: Joe Gally
Duration: 3 minutes, 21 seconds
Date story recorded: July 2005
Date story went live: 24 January 2008