NEXT STORY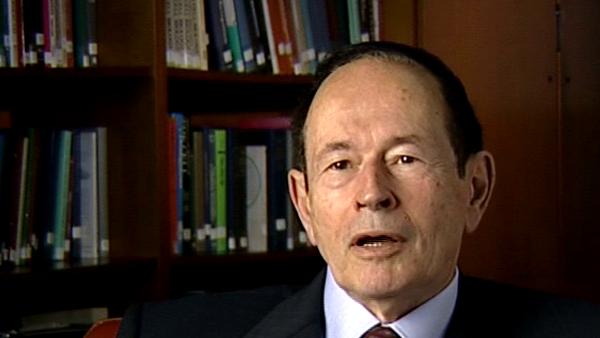 Diagnosis: Then and now
Working long hours at Massachusetts General Hospital
1
2
3
4
5
...
9
I was hardly ever, in fact, home. We lived on Beacon Hill which was right across from the Mass General Hospital, which was just an amazing place. It had this sense of history; I remember they had this lecture room called the Ether Dome, where ether was first administered successfully, and it conveyed great humanity with history with an incredible expertise at medicine. I remember one episode, though, which sticks in my mind, and that is this business of staying up all the time and praying that you could get to bed; and I remember that I was loaned out by the medicine department of pediatrics and there was a rather sick kid who had a diarrhea that was causing imbalance of the electrolytes and the kid could actually have died. In those days we didn't have computers – we used slide rules – and I figured out what was called in those days Gamble's formula, stuck the intravenous in and the kid seemed to be improving after two hours of watching, and then I remembered that I had to give Grand Rounds to the Massachusetts General Hospital within four hours. That means putting on a clean white uniform and being prepared to be published in the New England Journal of Medicine. So I had a sort of discrepant... well, contradictory choice: should I sleep in a four foot bed next to this very sick kid or should I go back to the residents' quarters after training the nurse? So I trained the nurse, went through it twice, and said, 'If the temperature does this do that; if this happens do this. Now repeat.' And she repeated it all, and I staggered back to the residents' quarters, walked up four flights of stairs, hit the place that takes you to the roof, realized that that means I go down one, went down one and flopped into bed. The rest of it I don't remember. It was recalled to me, however, by the nursing supervisor who called me up and said, 'What the hell are you doing with my girls?' And I said, 'What?' She said... I said, 'What are you talking about?' It turned out that the girl called me and she said, the nurse, 'The temperature's 102.6', and I said, out of my coma, 'Put the kid in a brown paper bag and send it to the laboratory.' I went to my Professor Bauer and said, 'You know, this can't go on.' He said, 'Yes it can; get back to work.' Well, these days they don't do that. They've relaxed the other way. And it is an interesting thing that in those days it was considered to be essential... an essential part of the job to really be on it all the time. I guess the worst with the neurosurgeons. And I guess the worst outcome of that was a lot of divorces. But whatever it was, it was an interesting and memorable experience to be in that great institution.
US biologist Gerald Edelman (1929-2014) successfully constructed a precise model of an antibody, a protein used by the body to neutralise harmful bacteria or viruses and it was this work that won him the Nobel Prize in Physiology or Medicine in 1972 jointly with Rodney R Porter. He then turned his attention to neuroscience, focusing on neural Darwinism, an influential theory of brain function.
Title: Working long hours at Massachusetts General Hospital
Listeners: Ralph J. Greenspan
Dr. Greenspan has worked on the genetic and neurobiological basis of behavior in fruit flies (Drosophila melanogaster) almost since the inception of the field, studying with one of its founders, Jeffery Hall, at Brandeis University in Massachusetts, where he received his Ph.D. in biology in 1979. He subsequently taught and conducted research at Princeton University and New York University where he ran the W.M. Keck Laboratory of Molecular Neurobiology, relocating to San Diego in 1997 to become a Senior Fellow in Experimental Neurobiology at The Neurosciences Institute. Dr. Greenspan's research accomplishments include studies of physiological and behavioral consequences of mutations in a neurotransmitter system affecting one of the brain's principal chemical signals, studies making highly localized genetic alterations in the nervous system to alter behavior, molecular identification of genes causing naturally occurring variation in behavior, and the demonstration that the fly has sleep-like and attention-like behavior similar to that of mammals. Dr. Greenspan has been awarded fellowships from the Helen Hay Whitney Foundation, the Searle Scholars Program, the McKnight Foundation, the Sloan Foundation and the Klingenstein Foundation. In addition to authoring research papers in journals such as "Science", "Nature", "Cell", "Neuron", and "Current Biology", he is also author of an article on the subject of genes and behavior for "Scientific American" and several books, including "Genetic Neurobiology" with Jeffrey Hall and William Harris, "Flexibility and Constraint in Behavioral Systems" with C.P. Kyriacou, and "Fly Pushing: The Theory and Practice of Drosophila Genetics", which has become a standard work in all fruit fly laboratories.
Tags: Beacon Hill, Massachusetts General Hospital, New England Journal of Medicine
Duration: 2 minutes, 46 seconds
Date story recorded: July 2005
Date story went live: 24 January 2008