NEXT STORY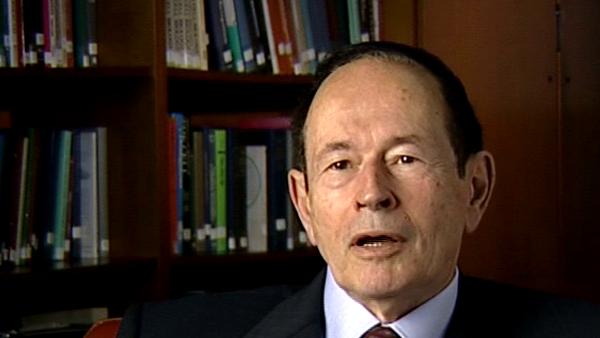 The issues of writing scientific books
The ideal conditions to practice science
1
...
5
6
7
8
9
I served on the advisory boards of scientific institutions – I think largely out of curiosity of how these organizations and clotting... clot... clots of people worked in a particular domain. Part of it is historical but part of it is sensible and logical and came out of the thoughts of leading scientists. So the question is... Rogers Hollingsworth's comment as a visitor here, that we sort of instantiated the Neurosciences Institute, what he's found in his sociological studies. I should say Hollingsworth is a Professor of History and Sociology at the University of Wisconsin... in Madison. And he has studied the sources of the greatest biomedical breakthroughs of the last century in a very serious set of studies, and he comes up with the notion that there were really three organizations that met the... the test. The first was the Rockefeller, the early Rockefeller University, which had more of these...
[Q] Rockefeller Institute.
Before that, excuse me, you see what happens when you're conditioned by your own experience. Yes, it was of course the early Rockefeller Institute, the University didn't start till 1959 or something like that. The early Rockefeller Institute, the early Caltech, and Cambridge University in England in a few colleges; and he found that the thing they had in common... the things they had in common were: one, they were relatively small, so there was communication distance that was not too large; they were freely funded, whether from government or private sources, but free in the sense that there wasn't any lawyering going on and manipulation and PR and all that; and third of all, they were diverse but not too diverse, so you could cross fields... which is, by the way, a subject we haven't mentioned... the crossing of fields is damned important. So, in effect, it turned out that through Hollingsworth I realized that I'd been speaking prose all my life, because it never occurred to me, and I had no knowledge of his work, when we founded the Institute, that they... that founding embodied all this kind of stuff. And really what influenced me, I suppose, was sort of unconscious issues from my own experience. For example, it was my experience at the Rockefeller that conditioned many of the things we instantiated here. We didn't make it all up. And in fact you might say it this way: we happened to be unique without being original.
And there's an interesting process there. How come these places and that style of organization disappeared? What happened in the process of science? And... and one answer is: oh, it was because science became successful. In a certain way – you might say ironically – that certain times success is failure, because the minute you get successful you stop hunting and thinking about what there might be in the way of other modes. And in effect I think what happened – although I'm no expert at this – is that the huge increase in the number of scientists in the technology of doing biological science particularly overwhelmed these small centers, and their new generations were not tempted to be rewarded in the same fashion. That may be a superficial analysis because, in part, some of these places rested on a certain paternalism that would not be popular here today. There was a sort of paternal or father-son... forgive me, it wasn't maternal – the only woman at the Rockefeller at the time I was there of major significance, according to them, was Rebecca Lancefield, in... who typed all the streptococci and was a great scientist. So these components drift and it is an interesting thing to think about: whether the social structures and organizations, in the way Hollingsworth would put it of science, guarantees greater or lesser degrees of success.
US biologist Gerald Edelman (1929-2014) successfully constructed a precise model of an antibody, a protein used by the body to neutralise harmful bacteria or viruses and it was this work that won him the Nobel Prize in Physiology or Medicine in 1972 jointly with Rodney R Porter. He then turned his attention to neuroscience, focusing on neural Darwinism, an influential theory of brain function.
Title: The ideal conditions to practice science
Listeners: Ralph J. Greenspan
Dr. Greenspan has worked on the genetic and neurobiological basis of behavior in fruit flies (Drosophila melanogaster) almost since the inception of the field, studying with one of its founders, Jeffery Hall, at Brandeis University in Massachusetts, where he received his Ph.D. in biology in 1979. He subsequently taught and conducted research at Princeton University and New York University where he ran the W.M. Keck Laboratory of Molecular Neurobiology, relocating to San Diego in 1997 to become a Senior Fellow in Experimental Neurobiology at The Neurosciences Institute. Dr. Greenspan's research accomplishments include studies of physiological and behavioral consequences of mutations in a neurotransmitter system affecting one of the brain's principal chemical signals, studies making highly localized genetic alterations in the nervous system to alter behavior, molecular identification of genes causing naturally occurring variation in behavior, and the demonstration that the fly has sleep-like and attention-like behavior similar to that of mammals. Dr. Greenspan has been awarded fellowships from the Helen Hay Whitney Foundation, the Searle Scholars Program, the McKnight Foundation, the Sloan Foundation and the Klingenstein Foundation. In addition to authoring research papers in journals such as "Science", "Nature", "Cell", "Neuron", and "Current Biology", he is also author of an article on the subject of genes and behavior for "Scientific American" and several books, including "Genetic Neurobiology" with Jeffrey Hall and William Harris, "Flexibility and Constraint in Behavioral Systems" with C.P. Kyriacou, and "Fly Pushing: The Theory and Practice of Drosophila Genetics", which has become a standard work in all fruit fly laboratories.
Tags: Rockefeller Institute, Rockefeller University, Caltech, Cambridge University, England, Rogers Hollingsworth, Rebecca Lancefield
Duration: 4 minutes, 9 seconds
Date story recorded: July 2005
Date story went live: 24 January 2008