NEXT STORY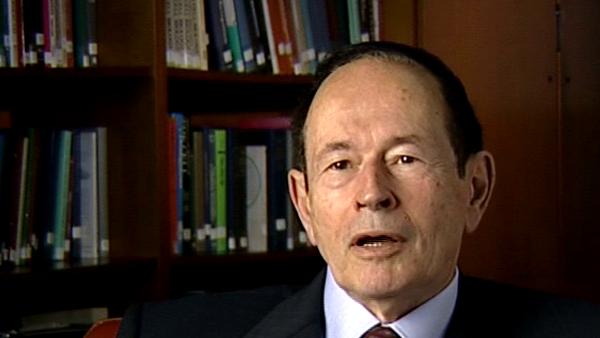 Sleep
1
...
5
6
7
8
9
I think of the crossing of fields is interesting in a variety of ways: one of them is that sometimes... and I think there are historical examples of this... sometimes a guy has to come as an outsider in a field. He has to look at the problem with his eyes peeled, whereas the guys who are in it have their noses so close that they don't quite see its relationships. And I think that doesn't happen all that often but it does happen and I guess there are many cases: in chemistry the law of combining proportions, or something like that. In my own case which... and it's an invidious comparison, but in my own case I told you what it comes from: it comes from the fact that I... I tend to be romantic and look for the dark corners. I believe that curiosity in science is like looking under the skirts of nature, and so if you see what you see, well, okay, fine, go on and make more and more description – I want to get to a place which is dark. But I... I think there's a good example, isn't there, Ralph, about molecular biology?
Salvador Luria and Max Delbrück are two examples. They were trained as physicists and they came over to look at the stages when molecular biology was just beginning. In fact some people would say they began it; I'm not sure that's true. But whatever is the case they came over and then used certain of their ways of looking, but they were patient enough to find out what the deal was from the biology side. I knew... I knew Sal Luria as a friend – much more closely than I knew Max although I knew him – and both their personal style, which was quite unique in each case, and this business of coming over from another field, certainly gave a boost. And certainly, speaking about books, did a little book by Schrödinger called What is Life? And Matter and Mind was another one that he wrote. Schrödinger was an interesting case because in fact what he wrote about was very important. What he said was obviously off the beam because there weren't the facts. I mean DNA is an aperiodic crystal. But then he mentioned Max Delbrück, remember that. And then in some way that little book influenced people without being really direct or a real hint as to what to do. It just sort of said, 'Hey, wake up.' So sometimes crossing of fields involves a wake-up call, and I certainly don't want to say that in my case that's the motivation but I think it's an attractive notion and it comes back to this idea of Hollingsworth about organization – diverse but not too diverse. You come to a university, a multiversity today, and it has so many damned departments and so many damned specialists, nobody speaks to anybody. It's just amazing how compartmentalized the whole thing's become. On the other hand, if you have about the right size and a bunch of people with different backgrounds and it's part of a family interaction, some exciting things can happen.
US biologist Gerald Edelman (1929-2014) successfully constructed a precise model of an antibody, a protein used by the body to neutralise harmful bacteria or viruses and it was this work that won him the Nobel Prize in Physiology or Medicine in 1972 jointly with Rodney R Porter. He then turned his attention to neuroscience, focusing on neural Darwinism, an influential theory of brain function.
Title: The crossing of fields
Listeners: Ralph J. Greenspan
Dr. Greenspan has worked on the genetic and neurobiological basis of behavior in fruit flies (Drosophila melanogaster) almost since the inception of the field, studying with one of its founders, Jeffery Hall, at Brandeis University in Massachusetts, where he received his Ph.D. in biology in 1979. He subsequently taught and conducted research at Princeton University and New York University where he ran the W.M. Keck Laboratory of Molecular Neurobiology, relocating to San Diego in 1997 to become a Senior Fellow in Experimental Neurobiology at The Neurosciences Institute. Dr. Greenspan's research accomplishments include studies of physiological and behavioral consequences of mutations in a neurotransmitter system affecting one of the brain's principal chemical signals, studies making highly localized genetic alterations in the nervous system to alter behavior, molecular identification of genes causing naturally occurring variation in behavior, and the demonstration that the fly has sleep-like and attention-like behavior similar to that of mammals. Dr. Greenspan has been awarded fellowships from the Helen Hay Whitney Foundation, the Searle Scholars Program, the McKnight Foundation, the Sloan Foundation and the Klingenstein Foundation. In addition to authoring research papers in journals such as "Science", "Nature", "Cell", "Neuron", and "Current Biology", he is also author of an article on the subject of genes and behavior for "Scientific American" and several books, including "Genetic Neurobiology" with Jeffrey Hall and William Harris, "Flexibility and Constraint in Behavioral Systems" with C.P. Kyriacou, and "Fly Pushing: The Theory and Practice of Drosophila Genetics", which has become a standard work in all fruit fly laboratories.
Tags: What is Life?, Matter and Mind, Salvador Luria, Max Delbrück, Erwin Schrödinger, Roger Hollingsworth
Duration: 3 minutes, 14 seconds
Date story recorded: July 2005
Date story went live: 24 January 2008