NEXT STORY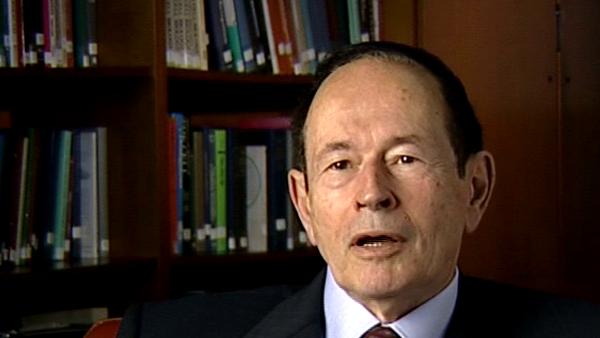 Attention attracted by the Neurosciences Institute buildings
Creating a scientific monastery: The Neurosciences Institute buildings
1
...
5
6
7
8
9
[Q] So many people have commented on the unusual nature of this building.
Right.
[Q] Could you say something about how it got to be the way it is and what the effect of that is on what goes on?
Yes. Well, thank you. I welcome that opportunity because my previous experience was, if anything, based on a welling of ignorance. I didn't know much about architecture, but I did know that I wanted to have the Neurosciences Institute have a... an experimental arm. And, as a result of a series of fortunate events having to do with fundraising and some agreements we made with the Scripps Research Institute for long-term leasing, it was possible to put together and embody this idea that I mentioned before about the Neurosciences Institute organized this way. So we had an architecture committee composed of people – and this was very fortunate – who'd had a lot of experience at this. Their advice was: do not pick a very famous architect because the project is so small that they would assign somebody, and it's not likely that somebody would have the requisite degree of passion. That what we should do is pick young architects who are sort of approaching the heights of the thrust in their field and, as a result of a couple of recommendations, we came upon the names of Tod Williams and Billie Tsien – a married couple, Williams and Tsien out of New York City – who still worked the old fashioned way, they didn't use cad-cam programs, they actually had people drawing and doing that kind of thing, and whose work did have an extraordinary aesthetic quality to it, a kind of refinement.
And so I was finally put in touch with them and I told them what I wanted, after they asked me. They said, 'Well, what do you want?' And I said, 'I want a scientific monastery.' And they looked at me and said, 'Well, that's not quite enough, I see; what else do you want?' And I said, 'Well, I want every view to be either beautiful or geometrically interesting.' They said, 'That's more like it.' And we had a little colloquy back and forth and in about a... little less than a month, they came up with this idea of three buildings, not one. And I was absolutely shocked. I said, 'Wait a minute; I mean, there's only 40 people plus support staff.' They said, 'Yeah, but what you've got here is a remarkable opportunity for an architect.' I said, 'What is that?' They said, 'Multiplicity of functions. You have a concert hall that you're proposing and a meeting place for scientific meetings; you have a place for doing scientific research; you have a place for computing; you have a place for doing neural modeling, and for these brain-based devices; all of this is just wonderful because our problem is: how do we put all of that together and still retain the notion of this scientific monastery?' And you notice that what we did is put it in this place as a sort of perfect cloister in this little hill, in this declivity here. And so... and so it went. They tell me I was a good client. I think most of the time was because I shut up, and had I spoken more as I'm doing now they might have changed their mind.
US biologist Gerald Edelman (1929-2014) successfully constructed a precise model of an antibody, a protein used by the body to neutralise harmful bacteria or viruses and it was this work that won him the Nobel Prize in Physiology or Medicine in 1972 jointly with Rodney R Porter. He then turned his attention to neuroscience, focusing on neural Darwinism, an influential theory of brain function.
Title: Creating a scientific monastery: The Neurosciences Institute buildings
Listeners: Ralph J. Greenspan
Dr. Greenspan has worked on the genetic and neurobiological basis of behavior in fruit flies (Drosophila melanogaster) almost since the inception of the field, studying with one of its founders, Jeffery Hall, at Brandeis University in Massachusetts, where he received his Ph.D. in biology in 1979. He subsequently taught and conducted research at Princeton University and New York University where he ran the W.M. Keck Laboratory of Molecular Neurobiology, relocating to San Diego in 1997 to become a Senior Fellow in Experimental Neurobiology at The Neurosciences Institute. Dr. Greenspan's research accomplishments include studies of physiological and behavioral consequences of mutations in a neurotransmitter system affecting one of the brain's principal chemical signals, studies making highly localized genetic alterations in the nervous system to alter behavior, molecular identification of genes causing naturally occurring variation in behavior, and the demonstration that the fly has sleep-like and attention-like behavior similar to that of mammals. Dr. Greenspan has been awarded fellowships from the Helen Hay Whitney Foundation, the Searle Scholars Program, the McKnight Foundation, the Sloan Foundation and the Klingenstein Foundation. In addition to authoring research papers in journals such as "Science", "Nature", "Cell", "Neuron", and "Current Biology", he is also author of an article on the subject of genes and behavior for "Scientific American" and several books, including "Genetic Neurobiology" with Jeffrey Hall and William Harris, "Flexibility and Constraint in Behavioral Systems" with C.P. Kyriacou, and "Fly Pushing: The Theory and Practice of Drosophila Genetics", which has become a standard work in all fruit fly laboratories.
Tags: The Neurosciences Institute, Tod Williams, Billie Tsien
Duration: 3 minutes, 24 seconds
Date story recorded: July 2005
Date story went live: 24 January 2008