NEXT STORY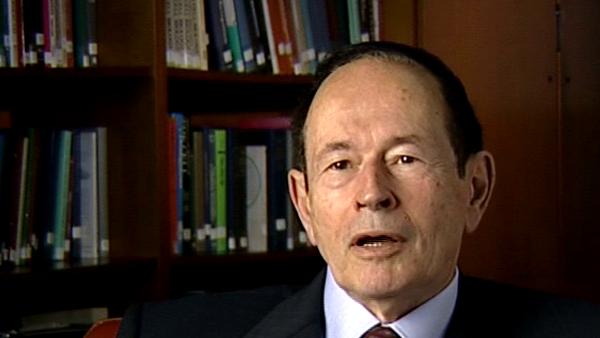 Neuro architecture
Attention attracted by the Neurosciences Institute buildings
1
...
5
6
7
8
9
I really only had two statements during the whole process, one of which is to complain about the cost of the diving board outside this window which points to the mountains. It was a piece of rock from... very polished, from Italy and it really was quite expensive. And they said they absolutely felt very strongly about this – that if we had this sense of thrust that was going to be very important. And then it came to the water feature outside, and I realized that the bane of interaction in architectural discussions is water features. They're very beautiful but they're very costly and hard to maintain. We finally came to peace on that one and I came to admire what they did immensely because they were a beautiful case of what you sometimes see in science – namely, a perfect creative marriage. And I don't mean their real marriage – I mean their actual marriage as partners because in their... in the architecture, because he was very romantic, and tended to swell out in his views, whereas she was extraordinarily meticulous and had a great sense of texture, and so the polish of this place came as a result of the tension between those two modes and I think, as you go through this place, you will agree, that it's almost like a Bach fugue: wherever you walk you'll see verticals or horizontals in different kind of combinations endless. No matter how much you move around, there's always a new vista... and they did make either beautiful or very interesting things geometrically speaking. So here's a little anecdote about what happened after the event.
Oh and, by the way, after the event it's become one of the more famous buildings in America. Architecture students visit here, oh sometimes as much as twice a week, from all over the country, and I'm a bit dismayed because I'd like that much attention from scientists, but be that as it may. I was invited by Washington University in Saint Louis to give a lecture on this subject and I turned them down. I said, 'You know that's ridiculous; I don't know anything about architecture.' And they said, 'No, no, you really must come; we... we...' And I said, 'Well, I'll tell you what, I'll... I'll make a deal with you; I'll give a lecture and show some pictures, but you can't count on any depth here, if you will invite Tod and Billie to come, and stick to the agreement that they will be the only ones who answer the questions, not me.' And they agreed.
And this was based on a very famous story having to do with a rabbi in St Petersburg in the 19th Century who'd go around from Jewish family to Jewish family, giving advice about their tortured life, and divorces, and things of that kind. And at a certain point in the snowstorm the driver turns to the rabbi and says, in the sled, he says, 'It's not fair, rabbi'. He said, 'What do you mean, it's not fair?' He said, 'You go in there, you listen to all this stuff, you tell them a bunch of stuff, it doesn't matter what it is; they give you wine, they give you money, they give you kisses, and I'm sitting out here shivering.' So the rabbi said, 'What shall we do?' And he said, 'The next one we change clothes and let me go in.' So he agrees. So the driver goes in, he gets into a family, which is unbelievable. Divorce isn't the case, infidelity, embezzlement, all kinds of horror, children who are behaving criminally, and he looks up and he says, 'Ha, that's so simple even my driver can answer it – call him!' So this is exactly what I did with Tod and Billie. And it was an exciting adventure because I'm used to talking in science about concrete data and here was an aesthetic issue.
So it has worked out very well indeed and the buildings have fulfilled their use, although... although, you know, there are some things you could say. The fact that the lab building is strung out perhaps reduces collision frequency, but we find ways of making that up, and it's certainly worth the inspiration people have, and I have to go back to my friend Detlev Bronk, who did the same for the Rockefeller, and he would, in his genius and his irascible nature, walk down the... walk with me and complain about a certain faculty member, and said, 'Each pine tree that he plants was the cost of one ultracentrifuge.' And he said, 'Who is that fool?' And he really did create a sense of pride in the environment, and I think there's some of that here.
US biologist Gerald Edelman (1929-2014) successfully constructed a precise model of an antibody, a protein used by the body to neutralise harmful bacteria or viruses and it was this work that won him the Nobel Prize in Physiology or Medicine in 1972 jointly with Rodney R Porter. He then turned his attention to neuroscience, focusing on neural Darwinism, an influential theory of brain function.
Title: Attention attracted by the Neurosciences Institute buildings
Listeners: Ralph J. Greenspan
Dr. Greenspan has worked on the genetic and neurobiological basis of behavior in fruit flies (Drosophila melanogaster) almost since the inception of the field, studying with one of its founders, Jeffery Hall, at Brandeis University in Massachusetts, where he received his Ph.D. in biology in 1979. He subsequently taught and conducted research at Princeton University and New York University where he ran the W.M. Keck Laboratory of Molecular Neurobiology, relocating to San Diego in 1997 to become a Senior Fellow in Experimental Neurobiology at The Neurosciences Institute. Dr. Greenspan's research accomplishments include studies of physiological and behavioral consequences of mutations in a neurotransmitter system affecting one of the brain's principal chemical signals, studies making highly localized genetic alterations in the nervous system to alter behavior, molecular identification of genes causing naturally occurring variation in behavior, and the demonstration that the fly has sleep-like and attention-like behavior similar to that of mammals. Dr. Greenspan has been awarded fellowships from the Helen Hay Whitney Foundation, the Searle Scholars Program, the McKnight Foundation, the Sloan Foundation and the Klingenstein Foundation. In addition to authoring research papers in journals such as "Science", "Nature", "Cell", "Neuron", and "Current Biology", he is also author of an article on the subject of genes and behavior for "Scientific American" and several books, including "Genetic Neurobiology" with Jeffrey Hall and William Harris, "Flexibility and Constraint in Behavioral Systems" with C.P. Kyriacou, and "Fly Pushing: The Theory and Practice of Drosophila Genetics", which has become a standard work in all fruit fly laboratories.
Tags: Neurosciences Institute, Rockefeller Institute, Tod Williams, Billie Tsien, Detlev Bronk
Duration: 4 minutes, 26 seconds
Date story recorded: July 2005
Date story went live: 24 January 2008