NEXT STORY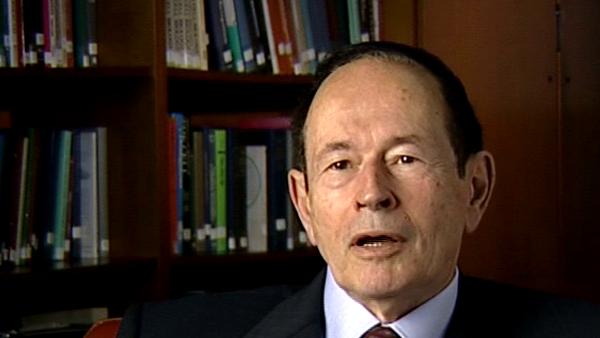 The American Library in Paris and going to the Rockefeller Institute
Getting drafted and ending up in Paris
1
2
3
4
5
...
9
I got a call from the United States Army. Most of my colleagues, when they saw that potential of threat it was just after the Korean War, elected to go to the National Institutes of Health. I had another idea: that I would go to work with Joe Smadel at Walter Reed Hospital on rickettsia viruses. And so I allowed myself to be inducted; I went to Fort Sam, Houston, Texas, training under machine guns, because in those days a lot of MDs in the service didn't know which end of a rifle was up, and a lot of them were slain. And, in the middle of all of this, I expected my orders to take me to Walter Reed. Instead, guess what, they took me to Paris. I was very despondent. My wife was thrilled. And, indeed, we went to Paris, and my wife calls it the F Scott Fitz-Edelman period.
I... I had a remarkable post there. I was physician surgeon to the headquarters of the European Command. In those days EUCOM, as it was called – European Command – was a kind of nerve centre for the entire military effort in America. In Germany and in France and what have you. And they were quite liberal; they took over whole families, cars, collie dogs, whatever. For instance, in the place I was at, which was called Camp des Loges where, if I remember correctly, there were about... oh, maybe seven generals and maybe a fewer number of admirals, I don't remember the exact number, but they were all very high figures and I had them as patients. And I worked out there somewhere between SHAPE and Versailles, and every fourth day or so I would go to the American Hospital in Paris, the so-called 196 Station Hospital, where I would deliver babies and be officer of the day. And so I saw a lot of patients – actually, I would say thousands upon thousands of patients over those times, in a clinic and then, of course, delivering babies... I delivered a fair number of those. So that was an extraordinary experience because I had an opportunity to mix with other young people – for example, British doctors, who hadn't gotten a locum tenens in England, and who just sort of said, 'Paris is a nice place to go', so they had the British Hospital and the American Hospital to serve his residence in. So we had a jolly time, and it was an interesting time.
It was very lucky for me that I had, when I went to high school, a fellowship with another scientist we both know, Dick Lewontin, at the École Libre des Hautes Etudes which was a French school, at the New School of Social Research, a French school established because very famous and accomplished film people – René Clair for example, people like that, were émigrés to America because of the war and the Nazis; and so we actually were trained by people like that. Eve Danielle, René Clair, occasionally Charles Boyer, and I must say I had no talent whatsoever. Richard was some kind of small genius. He, he actually caused such admiration they tried to persuade him to go into drama. He used to do a single skit called Théodore cherche les allumette – Theodore Looks for the Matches – about a kid who got drunk in Montmartre and is trying to climb up the stairs and it was remarkable. And some people say he still has that remarkable dramatic talent. He is an interesting and most competent figure in evolutionary studies. So here was this period of interaction with all of these people in Paris, and I did not lose sight of science but, indeed, from an intellectual point of view I was rather bored.
US biologist Gerald Edelman (1929-2014) successfully constructed a precise model of an antibody, a protein used by the body to neutralise harmful bacteria or viruses and it was this work that won him the Nobel Prize in Physiology or Medicine in 1972 jointly with Rodney R Porter. He then turned his attention to neuroscience, focusing on neural Darwinism, an influential theory of brain function.
Title: Getting drafted and ending up in Paris
Listeners: Ralph J. Greenspan
Dr. Greenspan has worked on the genetic and neurobiological basis of behavior in fruit flies (Drosophila melanogaster) almost since the inception of the field, studying with one of its founders, Jeffery Hall, at Brandeis University in Massachusetts, where he received his Ph.D. in biology in 1979. He subsequently taught and conducted research at Princeton University and New York University where he ran the W.M. Keck Laboratory of Molecular Neurobiology, relocating to San Diego in 1997 to become a Senior Fellow in Experimental Neurobiology at The Neurosciences Institute. Dr. Greenspan's research accomplishments include studies of physiological and behavioral consequences of mutations in a neurotransmitter system affecting one of the brain's principal chemical signals, studies making highly localized genetic alterations in the nervous system to alter behavior, molecular identification of genes causing naturally occurring variation in behavior, and the demonstration that the fly has sleep-like and attention-like behavior similar to that of mammals. Dr. Greenspan has been awarded fellowships from the Helen Hay Whitney Foundation, the Searle Scholars Program, the McKnight Foundation, the Sloan Foundation and the Klingenstein Foundation. In addition to authoring research papers in journals such as "Science", "Nature", "Cell", "Neuron", and "Current Biology", he is also author of an article on the subject of genes and behavior for "Scientific American" and several books, including "Genetic Neurobiology" with Jeffrey Hall and William Harris, "Flexibility and Constraint in Behavioral Systems" with C.P. Kyriacou, and "Fly Pushing: The Theory and Practice of Drosophila Genetics", which has become a standard work in all fruit fly laboratories.
Tags: United States Army, Walter Reed Hospital, Fort Sam, Houston, Texas, European Command, EUCOM, Paris, Camp des Loges, American Hospital, École Libre des Hautes Etudes, Théodore cherche les allumette, Theodore Looks for the Matches, Joe Smadel, Richard Lewontin, René Clair, Eve Danielle, Charles Boyer
Duration: 4 minutes, 2 seconds
Date story recorded: July 2005
Date story went live: 24 January 2008