NEXT STORY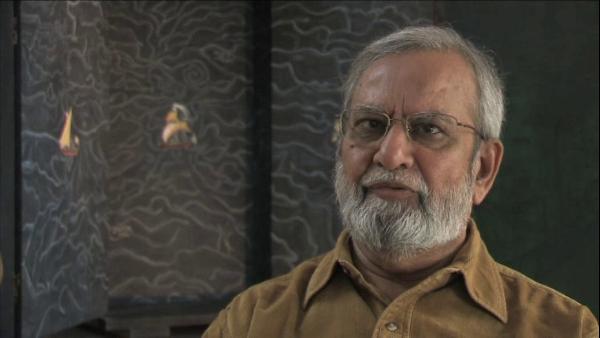 Mohandas Gandhi and writing
More about my childhood and my mother
Gulammohammed Sheikh
Artist
1
2
3
4
5
...
7
No, it was not a bleak childhood if that is the impression, that what I spoke about my family seems to emerge. There were many, many happy moments and instances. Living in a small family, living together, sharing sort of literally, you know, food every day from the same plate, then in my case, knowing my brother, the one who was older and growing up, you know, with them, also the various festivities, including weddings, going to villages to know the kith and kin there, even travelling in bullock carts and also going to the fairs and festivals, you know, with brothers or without, and also the community gatherings of various kinds. I loved the whole village from where my grandfather came, called Kankavati. It perhaps was a medieval town which still has number of monuments, ruins and a step well, an intact step well. Very beautiful. And the riverside of that village. So, there are very, very beautiful and very cherishable memories that I have, and this was all in the company of family, in... within the family. And there, I think, role of mother must have been central and mother always around. But I don't have very clear memory of how, you know, our relationship developed or grew. But in a strange sort of way I know that she suffered from sort of certain kind of body aches. She had some kind of arthritis and I would walk on her body. That was a way of relieving the pain.
But the best time that I remember is the time of food, usually evening meal, that she would serve us, you know, when we would sit around her. And she was not literate. She never got into even habit of praying because she could not learn it properly. Well, the father wanted her to. And she always remembered her past, you know, where she came from, from a village. She was married before she married my father and I think my father also had another marriage before. And my mother had a daughter, whose daughter is still alive, and I occasionally see her when I go to Kathiawad So, in a way it is story of families living in Kathiawad, Kathiawad or Saurashtra, as it is called, which had numerous princely states and many of them were very forward-looking and were sort of progressive, Surendranagar being one, and also there was this kind of a philanthropy and sort of establishing hospitals and schools. I think many communities, especially Jains and some of the other Bhadyar communities, had established schools and we co-ed schools. And these schools, like the one that I went to, was very liberal and very open. As I said, that we had teachers, you know, somebody who was an Anglo-Indian, and they all sort of, you know, I would say that the quality of education was pretty good and they did support liberal arts or liberal, let's say, humanities, you know, which has become a bit of a casualty in our time, you know, because the schools nowadays are more or less sort of looking towards science and commerce, and now it is IT. And history or, you know, literature or such areas are more or less neglected whereas in those days I remember that opting for, you know, these disciplines was not frowned upon, although people knew that you would not make your money in that. Or painting, for that matter, had no money at all. So, you had to fend for yourself. So, Kathiawad in that sense had these pockets, you know, and each of these states, for instance, even a small state like Gondal was a very progressive state. And there were special schools, you know, like schools for princes in Rajkot. Then there is Porbandar and, of course, we know about Gandhiji.
Gulammohammed Sheikh is an Indian painter, writer and art critic who has been a major figure in the Indian art world for half a century. His artistic career is closely associated with the renowned MS University of Baroda in Gujarat where after gaining his Master's degree, Sheikh went on to teach in the Faculty of Fine Arts, and where he was appointed Professor of Painting in 1982.
Title: More about my childhood and my mother
Listeners: Timothy Hyman
Timothy Hyman is a graduate of Slade School of Fine Art, London, in which he has also taught. In 1980 and 1982, he was Visiting Professor in Baroda, India. Timothy Hyman has curated many significant art exhibitions and has published articles and monographs on both European and Indian artists.
Duration: 6 minutes, 26 seconds
Date story recorded: December 2008
Date story went live: 17 November 2010