NEXT STORY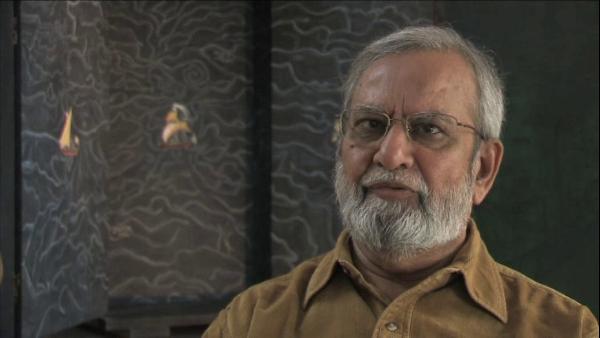 Life and people at Baroda
Family and going to Baroda
Gulammohammed Sheikh
Artist
1
2
3
4
5
...
7
Going back to family, my eldest brother used to paint. He did painting on glass. I remember that when I was very young, but after that he gave it up. But there were others, you know, around who also painted. One of them was a family friend. And then there were those who did sort of signboard painting. One of my great friends was a signboard painter. He died a few years ago. And so beside the school, there was that connection. It was something, you know, which was associated with home, where I painted. And brothers were also generally very supportive of the things that I did. It must, they must have found it a bit different, even odd, I don't know. And my eldest brother was also very, you know, I think, because he had tried his hand on that, so he was interested in that. So, even the family supported my studying further which none of them had the opportunity to, and in a way my father I suppose by proxy, you know, going to a college. Nobody had gone to college. So, he helped me in a number of ways and Ravishankar Raval, as I mentioned, he was a very crucial figure. He gave me a letter first that you could go and study in Baroda. I didn't have the vaguest idea of what Baroda was and I didn't know what I'm going, what I was going to do in Baroda. So, I asked my classmate, son of the librarian of Birdwood Library, to sort of accompany me and I remember we both travelled to Ahmedabad first and where we went to residence of Ravishankar Raval and with lunchtime they gave us lunch. Then they asked me, they said, 'What are you going to do, where are you going to stay in Baroda?' I said, 'I have no idea'. It was crazy. I don't know. I still don't know how I would have made it myself. So, he said, 'Okay, I'll give you a letter. Here is this photographer who is in a place which is called Tower, Raopura Tower, and you ask him. He'll put you up before you get some accommodation'. I thought that I'll stay in a hostel or somewhere but you don't get into hostel until you're admitted, and I had to go through the what they call aptitude test. I had to give examination. So, I took that letter and went to the photographer and he was, I think, bit confused but then he couldn't refuse Ravishankar Raval because he had asked him to put me up. So, he said, 'I don't have any place for you to stay but here is my studio. If you live in the dark room, will you be okay?' So, I said, 'All right, I'll stay in the dark room'. The first two or three days while I was giving aptitude test I stayed in the dark room and then I got admission in a hostel, so that is how I moved into Baroda. Well, here is the difference. You see, Surendranagar, with all its, you know, educational institution, school, my friends, my teachers and all, was still a very kind of a... what shall we call it... socially a very constricting place. I mean, you make friends but you are, friends are mostly men friends, you know, boys. Baroda was a kind of a great jolt because here you came in contact with women, you know, and at a very personal level. You know, it was almost immediate, you know, that you sat together, walked together, and these girls came from all over India. They were all either English-speaking or Hindi-speaking. Some of, few of them that were Gujarati-speaking. So, in a way it was both a kind of a national kind of a school where you had literally, mini-India and then, of course, we had both Europeans and even Americans, teachers and visitors.
Gulammohammed Sheikh is an Indian painter, writer and art critic who has been a major figure in the Indian art world for half a century. His artistic career is closely associated with the renowned MS University of Baroda in Gujarat where after gaining his Master's degree, Sheikh went on to teach in the Faculty of Fine Arts, and where he was appointed Professor of Painting in 1982.
Title: Family and going to Baroda
Listeners: Timothy Hyman
Timothy Hyman is a graduate of Slade School of Fine Art, London, in which he has also taught. In 1980 and 1982, he was Visiting Professor in Baroda, India. Timothy Hyman has curated many significant art exhibitions and has published articles and monographs on both European and Indian artists.
Duration: 5 minutes, 39 seconds
Date story recorded: December 2008
Date story went live: 17 November 2010