NEXT STORY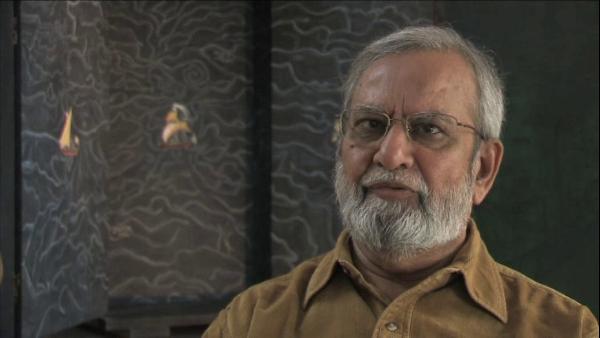 Meeting other artists and developing my own style
Life and people at Baroda
Gulammohammed Sheikh
Artist
1
2
3
4
5
...
7
So, it was a very... in a way an experience which, I think I was taken aback. It was difficult to digest. And the first 2 years were quite difficult and also financially I was not supported because my family couldn't support me. And I had applied for a scholarship, which I got, but only in few instalments and often I didn't get the scholarship. So, I'd do, I did sort of portraits and, you know, somehow I managed, you know, with that. You know, that is the early period, but the very excitement of being exposed to art, to be in the presence of artists who, you know, they're all sort of something like you eat, drink and sleep art, you know. It's one of those things. I mean, to think of that, this is a place where... which you do not want to leave. You know, it was a college, small college, and I was for the biggest batch, about 50 students. Earlier there were 25 or less and it had started only 5 years ago. And there were these sort of, you know, teachers, you know, they're all full of excitement because they were associated with a new situation. They were given free hand to develop an art school on different kind of... what you call... in a manner which they thought fit, you know, for an independent India. Amongst these was Shanko Chowdhury who was perhaps more politically conscious. He had association with many political leaders. He was from a very enlightened family. His brother is a very well known economist and all. And he had connections with Indira Gandhi, also the Nehru family. His wife had connection with the Nehru because Feroze Gandhi was a Parsi and Shanko Chowdhury's wife is also Parsi and there were family connections. He eventually made even a bust or a head of Indira Gandhi. I remember. We all were part of it. You know, he made it in front of us. Bendre was a very quiet man, very... I mean, he had great authority. He was known to be a great artist and, you know, he had sort of won an award in competition with Amrita Shergill. You know, that was the biggest thing that had, you know, and known as a major figure, very highly accomplished draughtsman and a very fine sort of, you know... he handled his oil extremely well, also a good portraitist and landscape painter, etc. Subramanyan was a younger teacher at that time but we came to know him soon. But there was the first dean called Markhand Bhatt, also a Gujarati, who had studied in Bapunagar and then gone to America and worked, studied in Barnes Foundation, near Philadelphia. So, he had brought with him ideas of an art school and the first vice-chancellor of the university was a lady vice-chancellor called Hansa Mehta, herself a writer.
She had translated Alice in Wonderland into Gujarati. She was open to, you know, building up a new university, and in a way it was sort of part of sort of building up the nation, you know, up... that project, you know, it's... they were all fired with ideas and imagination. So, Bendre had a background of indoor school, Sankho had from Shantiniketan and Subramanyan also from Shantiniketan but he had worked in Delhi, at least Bendre, no, at least Sankho and Subramanyan had Gandhian background. So, even... not in those days but until they were in college I remember Sankho, you know, continued to help the college clean up on 2nd of October, on Gandhi's birthday. You know, we all did that. And also in a way very secular, very pronouncedly secular and so they were all interested in kind of a college which will bring everybody together. So, we had students from Kashmir, we had students from... some students from, more students came from south at a later stage but there were many students from different parts of India. So, for me it was a great experience to know, so, I knew my first Kashmiri, I knew one Nepali Kashmiri, Santosh, GR Santosh, you know, was a government scholar and then I remember in second year he, along with my friend, Praful Davir, another painter, we shared, in fact, a place where we lived together for one whole year. Then there were these Bengalese, you know, Sarbari Roy Chowdhury, who became a great collector of music, besides being a sculptor. There was also an artist from Delhi. I think that was the first gay person that I ever knew in my life. Prem Saran, if I am not mistaken. He was also a government scholar. And there came many... then in those days, as I sort of continued, I even met or came to know people, you know, from many other regions. Eventually I also met British artists and also there was a Spanish artist, I remember, while I was in MA.
But what I was saying is that Baroda, this small institution called Faculty of Fine Arts, you know, was a kind of a, you know... it was a place which opened the whole world for you, something you had not even dreamt, that, you thought that you will learn painting, you will learn to draw, you will learn, but there was so much and you went to library and, as I was a kind of a library person, because I used Birdwood Library, I was absolutely thrilled to look at, and we used to have, you know, best European journals. You know, we had L'Oeil we had Aujourd'hui, we had Domus, besides Studio International. All these were there right there in front of us, besides some of the Indian, and they bought the best of books. You know, the volumes on Sanchi, volumes on Ajanta, they were all there. I think these pioneers, these four or five of them, including another man called Amberkar, who taught art history, who came from Bombay intermittently, he came as a visiting professor. He would spend a month and he would conduct art history classes. And all these teachers, their homes were open to us. So, it was not something you did only in the college or in the institution. It was, education sort of extended beyond, you know, to their homes and there were these kinds of, what you call, gatherings and I think that is where we also learnt, at least for me it was a new thing, to learn about exhibitions. I didn't even know what an exhibition was because in a place like Surendranagar you had no idea. And there was what is called a Baroda Group of Artists. That happened while I was in second year and my seniors like Jyoti Bhatt and others, you know, they all got together, Subramanyan, and I think we had a show in the Jehangir Art Gallery and where, when my work was selected I remember I was elated, you know, beyond... well, that is where, I think, it all started, in one word.
Gulammohammed Sheikh is an Indian painter, writer and art critic who has been a major figure in the Indian art world for half a century. His artistic career is closely associated with the renowned MS University of Baroda in Gujarat where after gaining his Master's degree, Sheikh went on to teach in the Faculty of Fine Arts, and where he was appointed Professor of Painting in 1982.
Title: Life and people at Baroda
Listeners: Timothy Hyman
Timothy Hyman is a graduate of Slade School of Fine Art, London, in which he has also taught. In 1980 and 1982, he was Visiting Professor in Baroda, India. Timothy Hyman has curated many significant art exhibitions and has published articles and monographs on both European and Indian artists.
Duration: 9 minutes, 20 seconds
Date story recorded: December 2008
Date story went live: 17 November 2010