NEXT STORY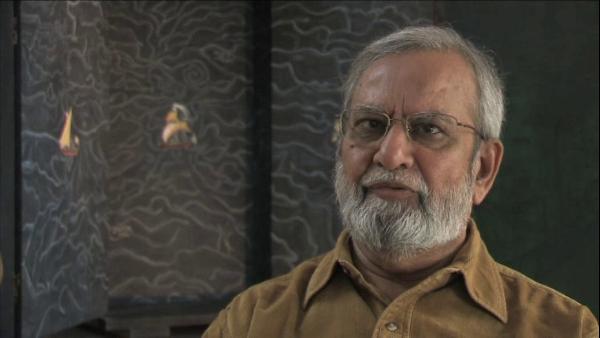 Social life in London
Developing my work, David Hockney and RB Kitaj
Gulammohammed Sheikh
Artist
1
2
3
4
5
...
7
I was still groping because I had struggled with, you know, that kind of expressionist idiom for a long time, and had come to some kind of a cul-de-sac. You know, it was sort of coming to an end and you had to turn the leaf, you know, perhaps a new chapter but where? What to do? How to? I didn't know. I kept on thinking that I should do something, take from Indian painting, take from something else and start, but it was difficult. It's... perhaps it doesn't come that way, you know. It had to be part of your being. Perhaps it had to get absorbed, perhaps, you know, then perhaps gradually it would evolve. What I did at the Royal College was some kind of work, you know, which was more or less a collage. I took photographs of my friends and I painted them. I also did some odd paintings, you know, in which I tried to incorporate some ideas which I thought were related to Indian painting, but actually they weren't. They were more or less connected with that, the painting of the period that is both minimal and kind of a flat surface. I was not very excited about them but anyway, I produced these works because I had to get through my examination and I did that.
And you weren't looking at Kitaj yet?
I did not. I did not, but I came to know about Kitaj.
Already?
I came to know right in the first year I came to know, because I learnt that Hockney had just left. He was around, and I used to hear stories of him coming there and doing his Rake's Progress. You know, he was re-invited. First it was rejected and then he was re-invited at the Royal College and then he produced Rake's Progress, but he used to come in his gold lamé jacket and things like that, and Kitaj. Kitaj I was immediately drawn to. Hockney I enjoyed, particularly his drawings I greatly enjoyed, but Kitaj somewhere took me... and I think Kitaj and Godard somehow made a connection in my mind, that kind of a world, a kind of, it was urban but at the same time just looking beyond, and it was a very disturbed kind of, you know, vision, a vision you know, in which the collage sort of seemed to create a kind of a collision of forces. And in a way it was different from American pop, you know, either Larry Rivers or Robert Rauschenberg and all that, who were quite attractive, but this was something in which I was taken by and eventually I got more and more interested in Kitaj and his later work really, you know, came closely in many ways to my concerns.
Gulammohammed Sheikh is an Indian painter, writer and art critic who has been a major figure in the Indian art world for half a century. His artistic career is closely associated with the renowned MS University of Baroda in Gujarat where after gaining his Master's degree, Sheikh went on to teach in the Faculty of Fine Arts, and where he was appointed Professor of Painting in 1982.
Title: Developing my work, David Hockney and RB Kitaj
Listeners: Timothy Hyman
Timothy Hyman is a graduate of Slade School of Fine Art, London, in which he has also taught. In 1980 and 1982, he was Visiting Professor in Baroda, India. Timothy Hyman has curated many significant art exhibitions and has published articles and monographs on both European and Indian artists.
Duration: 3 minutes, 2 seconds
Date story recorded: December 2008
Date story went live: 18 November 2010