NEXT STORY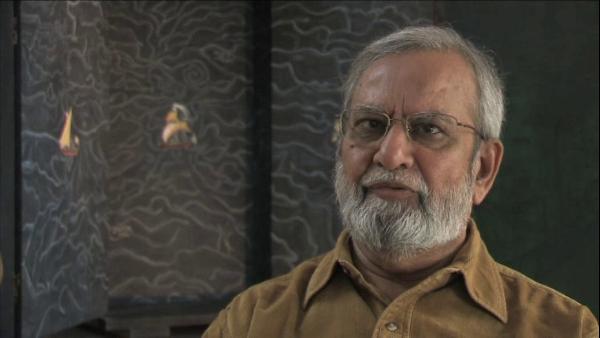 Surendranagar town
Gulammohammed Sheikh
Artist
1
2
3
4
5
...
7
And I went to the school. It was first kind of a, what you call, a district school but it was a private, first it was a private school. And it was the time of change when independence took place that new schools, well, even old schools, some of the old schools and government schools started education in Indian languages. Earlier there were many schools which placed a great importance on studying English and then the textbooks changed. I remember that the old school did not wish to change, for whatever reason, and the entire school literally left and we were housed in some kind of an odd place where for a few months we were nowhere. It was sort of a strange feeling of migration and as a young child, boy, I didn't understand what was happening. Then we went to the new school. It was called NPM High School but it had middle school as well and I was in middle school. And I found that there were new books. As you know that, everybody gets excited with fresh, new books and I was delighted to sort of see that I could study a number of subjects. But it was difficult. I saw that I couldn't do maths. I couldn't do science. We had a very nice maths teacher but then I couldn't make it. So, my interests sort of moved towards languages. But I do remember that we had a teacher, born an Anglo-Indian, who taught us geography and I loved it. And that is the first time when I saw an actual British watercolour, in his house. We had a drawing teacher but drawing teacher was not well-trained. In fact, most of us had played in the examination together at one point of time. But there was a senior drawing teacher who had studied in Ahmedabad, in the art school run by a great teacher called Ravishankar Raval. Now, this man called Tuljashankar Trivedi was my first art teacher and he sort of literally helped me how to do watercolour and I remember that I went to his home in nearby town called Wadhwan which is an ancient town. It's called Wardhmanpuri. It had a temple and it had a step well and it had, there was a little tram where, that you could go by and there was the shrine of Gebanshah pir, you know, which everybody sort of revered. And he took me home and from his little trunk he brought out this small watercolour painting. This was like in the old sort of quasi-Bengal style wash painting. But he was very dextrous. He was very sort of accomplished and I was very, very impressed. And he helped me a great deal. Well, then there was, no, he... in high school I had... No, he was in middle school but I then continued painting.
Gulammohammed Sheikh is an Indian painter, writer and art critic who has been a major figure in the Indian art world for half a century. His artistic career is closely associated with the renowned MS University of Baroda in Gujarat where after gaining his Master's degree, Sheikh went on to teach in the Faculty of Fine Arts, and where he was appointed Professor of Painting in 1982.
Title: School
Listeners: Timothy Hyman
Timothy Hyman is a graduate of Slade School of Fine Art, London, in which he has also taught. In 1980 and 1982, he was Visiting Professor in Baroda, India. Timothy Hyman has curated many significant art exhibitions and has published articles and monographs on both European and Indian artists.
Duration: 4 minutes, 11 seconds
Date story recorded: December 2008
Date story went live: 17 November 2010