NEXT STORY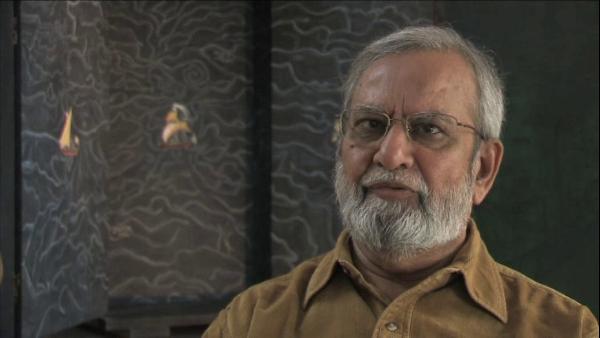 My teacher and mentor Labshankar Raval
Gulammohammed Sheikh
Artist
1
2
3
4
5
...
7
Town was sort of a kind of a middle order, lower middle grade town with a large population of a mercantile community, the Jains, as we called them. It's a very well-known, you know, term. I mean, Jains are generally merchants. And then there are a few other communities. A large number of Dalits, or what we call Dalit now, they are the repressed, but it's not a farming land. It had some...in the street had, actually had a cotton mill and majority of the population worked there. It was just across the street. In fact, it was in front of the street I lived in. And there was a wall that separated our lane from the mill. I do remember all those dreams that we had of what was beyond the walls. So, there was a river on the right, the town on the left, wall in front. We walked around the town and I do remember that on the whole it was a kind of a very broadly liberal sort of Gandhian type of a... atmosphere. You know, it was, communities generally sort of managed their sort of, you know, managed living to... but still there were ghettoes. The Muslims lived in a quarter which was a poor quarter, near the mill or around the mill. A large number of mill-hands were Muslims. On the other side was a rather... kind of a area where many Jain families lived and then there were many others, you know, around. I had a great friend and benefactor who was a Jain. His name was Shantilal Shah. And in my early days I got interested in different belief systems. I was curious as to who these Jains are. What do they do? And when I got interested in art, I must have chanced upon some paintings. And once he told me that in my, in our temple we have paintings, would you like to see? I was quite scared but I went and I... he showed me some old things that they had. He was a kind of a, what you call, a culture man, not interested in business, although he ran a business. And he sort of had a few boys around, mostly my generation, my classmates, and we formed a little culture group there and he would organise activities. We used to have some kind of a... what you call it? We call it a fair. It's sort of a mela and Shantibihai would be involved in organising it and all that. At a later stage I learnt that my friend Hasmukh Shah, you know, who became secretary of the Prime Minister in India and all that, was originally from Surendranagar and he also was part of that kind of, you know, activity.
Gulammohammed Sheikh is an Indian painter, writer and art critic who has been a major figure in the Indian art world for half a century. His artistic career is closely associated with the renowned MS University of Baroda in Gujarat where after gaining his Master's degree, Sheikh went on to teach in the Faculty of Fine Arts, and where he was appointed Professor of Painting in 1982.
Title: Surendranagar town
Listeners: Timothy Hyman
Timothy Hyman is a graduate of Slade School of Fine Art, London, in which he has also taught. In 1980 and 1982, he was Visiting Professor in Baroda, India. Timothy Hyman has curated many significant art exhibitions and has published articles and monographs on both European and Indian artists.
Duration: 3 minutes, 49 seconds
Date story recorded: December 2008
Date story went live: 17 November 2010