NEXT STORY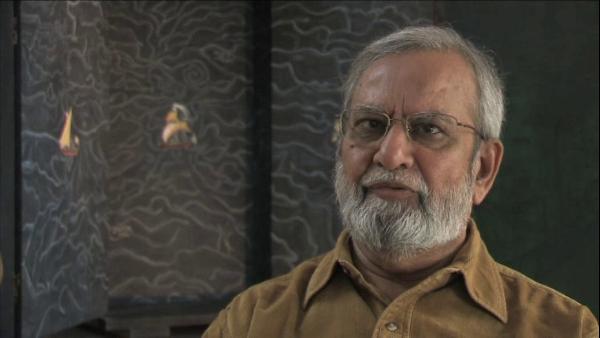 About my paintings (Part 1)
Benode Bihari Mukherjee and KG Subramanyan
Gulammohammed Sheikh
Artist
1
2
3
4
5
6
7
Well, I came to know of Benode Bihari through my teachers, both Sankho Chaudhary and from Subramanyan. I remember when I was a student I, no, when I started teaching, I think in '61, around that time, I had an occasion to visit Calcutta. I went to a conference and I made a point to go to Santiniketan especially to see his mediaeval saint's mural, you know, in the Hindi Bhavan, and I was very, you know, immediately taken by it. At a later stage I met his daughter who in a way was my student, and then I met him when he had lost his sight. He was living in Delhi with his daughter. In the last years of his life I came to know him a little better, and I also wrote a small essay on him in 1970. Very strange, you know, besides Subramanyan and a few others, nobody had written about him.
And the Satyajit Ray film.
Satyajit Ray film was made later. You know, even at that time that film was not made. So, not, people did not talk about him, you know. They talked about him when it came to Bengal School, they talked about Nandalal, they talked about even Abanindranath, who is a father figure, also Ramkinkar. Benode Babu I would not say was not, it's not that he was not known, but he was not spoken about, he was not part of a debate or part, and he never became part of our engagement. You know, all artists, all the six of us who gathered together, we all seemed to admire his work. So in a way Benode Bihari was also a part of that. That's why I am not at all surprised when you look at Benode Bihari's concerns they somehow, you know, corresponded with ours.
Do you think that brought you closer to Subramanyan? Do you think you came closer to Subramanyan?
I had known Subramanyan right from the beginning, although I did not study, you know, with him. I was around and I watched him and I attended his lectures and all that. I translated, I even interviewed him in Gujarati a long time ago, and you would be surprised, and he would perhaps vouch for it, he told me the other day, he said, 'It is because of you I write, I started writing'. I said, 'Why, how?' He said well, during the Abanindranath centenary, Tagore centenary, I was part of, you know, this Bhogilal Gandhi, one of my senior literary mentors and in whose house I lived, he published a volume on Tagore's centenary and I was to write on something, but I said it is better that somebody like KG Subramanyan wrote that. I was too young to comment on Tagore's paintings. So I went and asked him, and he wrote this piece which I translated into Gujarati. It got published in Gujarati first and then in English. So I knew him quite well, and I think generally we had that kind of a rapport, but I didn't meet him that much as I began to after the 70s when we lived in the same house. I got accommodation in what is called residence in Bangalore, and that had five, let us say, you know, teachers, four on the ground floor and I had one, I was one of them, and he lived upstairs in, you know, what was originally the dance hall. So that is when we met a number of times and we became quite close.
Gulammohammed Sheikh is an Indian painter, writer and art critic who has been a major figure in the Indian art world for half a century. His artistic career is closely associated with the renowned MS University of Baroda in Gujarat where after gaining his Master's degree, Sheikh went on to teach in the Faculty of Fine Arts, and where he was appointed Professor of Painting in 1982.
Title: Benode Bihari Mukherjee and KG Subramanyan
Listeners: Timothy Hyman
Timothy Hyman is a graduate of Slade School of Fine Art, London, in which he has also taught. In 1980 and 1982, he was Visiting Professor in Baroda, India. Timothy Hyman has curated many significant art exhibitions and has published articles and monographs on both European and Indian artists.
Duration: 4 minutes, 18 seconds
Date story recorded: December 2008
Date story went live: 18 November 2010